It's been a while since Sony announced a new flagship model was coming to Australia, but in the next couple of months, you'll find three, and one of them manages to outdo every single smartphone screen out there.
If you had asked us which of the many phones we reviewed last year was our favourite, this writer — who just so happens to do most of the reviews — would have told you that it was the Sony Xperia Z3, a 5.2 inch device that packed so much excellence into one body, it was hard to argue with it. There was a lovely screen, elegant design, an excellent camera, and a battery life capable of two days, something few phones have managed in the past year.
But that phone is now a year old, so what does Sony have up its sleeve?
This year, we're going to see three models, as Sony announces the Xperia Z5, Z5 Compact, and Z5 Premium.
A bit of a precursor, though, you may want to know how we're jumping from the Z3 to the Z5.
Earlier in the year, Sony did produce a Z4 in Japan which was called the Z3+ everywhere else, and in a surprise move, the company didn't release it here. That's unusual because mobile phones have tended to be on six month release cycles, especially from Sony. We would normally get one in the first half of the year, usually launched at Mobile World Congress in Spain, and then another later in the year, usually launched at IFA in Germany.
This year, however, Sony in Australia skipped the regular cycle and waited until something more substantial arrived, as the Z3+/Z4 was a minor upgrade of sorts.
With the Z5 models, however, that major update is here.
Just like last year, there will be two main models, with the Z3 and Z3 Compact bettered by the Z5 and Z5 Compact. Like those two models, Sony isn't changing some of the things that worked, keeping the screen sizes and resolutions identical, with the Z5 relying on a 5.2 inch Full HD display, while the Compact variant will be 4.6 inches with 720p HD.
Under the hood, the specs have taken a shift moving to a 64-bit eight-core processor made by Qualcomm, with the same Snapdragon 810 that appeared in the HTC One M9. The processors work with either 3GB RAM (Z5) or 2GB RAM (Z5 Compact), with Google's Android 5.1 "Lollipop" running here, as well as up to 32GB storage and room to upgrade it via microSD, something at least one smartphone maker has given up on (we're looking at you, Samsung).
The design language is still the same, with a flattened soft rectangular prism, with aluminium and glass still at play, with frosted glass now on the back, and Sony is also bringing in a fingerprint reader to the button on the side making the phones more secure across the board.
You'll also find an upgraded camera here, updated to 23 megapixel on the back using a large sensor (1/2.3 inch) reliant on a phase detection technology for autofocus delivering more clarity, an focus speed of 0.03 seconds, and up to 5x zoom handled by a processing technology that makes the digital zoom a little clearer and easier to work with.
In fact, the camera is one area where Sony is investing quite heavily, with John Featherstone, Head of Business Development for Asia Pacific at Sony Mobile Communications, telling GadgetGuy that the company is "basically taking an Alpha [camera] and chucking it into a handset", delivering almost two hundred points of phase detection.
"It is the most accurate autofocus in the [smartphone] market," he said, adding that "we wanted to have faster autofocus, and now it's under the blink of an eye."
To put it into perspective, a human blinks in between 0.1 and 0.4 seconds, and this is 0.03 seconds. Yikes.
Battery life is also said to be as good, with Sony focusing on two days of life again, though depending on how you use the phone, you may get less, of course.
And depending on how you use the phone, your device may survive an encounter with the elements, as water resistance has returned.
That's one of the things that made the Xperia range stand out in the past, though this time around, Sony will be talking about the slight ruggedisation in a different way.
"We're going to get some simple messaging to the customer," said Featherstone to GadgetGuy, saying that "it doesn't man you can go diving with it", but that "yes you can wash it off and yes you can dunk it in water."
Different messaging is something that people will need to get across because the simple fact is that IP ratings — what ruggedisation is judged by — tends to be rated for fresh- and clear-water, not sea- or pool-water. As such, there just too many elements to test with salted or chlorinated water, and while a phone might be fine, if you do go diving with it in either the pool or at the beach, washing it off under a tap when you're done will generally give you better piece of mind.
"We're going to put more explanations around it," he said. "We're just going to try to make it clearer."
Glass resistance is another issue that popped up in last year's model, with random breakages on various devices. We didn't see it, but plenty of customers did, and Sony tells us that it has investigated this and found a way to at least protect against it, making the glass thicker and pushing it deeper into the unit.
That should at least help the build quality this year, but it won't be the only improvement to the formula.
Rather, if the Z5 and Z5 Compact aren't special enough, you'll have the opportunity to look into a very, very premium model. So premium, in fact, Sony calls it the "Z5 Premium".
The Sony Xperia Z5 Premium is essentially the same phone in every way except at the screen level, because in this model you'll find the world's first 4K Ultra HD smartphone screen.
To put that into perspective, that means you'll find eight million pixels being powered in a 5.5 inch display, providing four times the resolution of Full HD and sharper imagery and text.
That's a resolution and size that outdoes everything else out there, trouncing LG, Apple, and Samsung with more pixel perfect clarity than any other phone. As a comparison, Apple's Retina resolution on the iPhone 6 comes in at 326 pixels per inch, while Samsung's Galaxy S6 reveals 576 pixels per inch, which was previously the sharpest display on the planet.
Sony's Ultra HD display on the 5.5 inch Z5 Premium shows 806 pixels per inch, beating all of them hands down.
Just to put that into perspective, the human eye is said to only be able to see around 300 pixels per inch, though LG has questioned this in the past with the suggestion that around 530 pixels per inch could be representative of fine art book printing.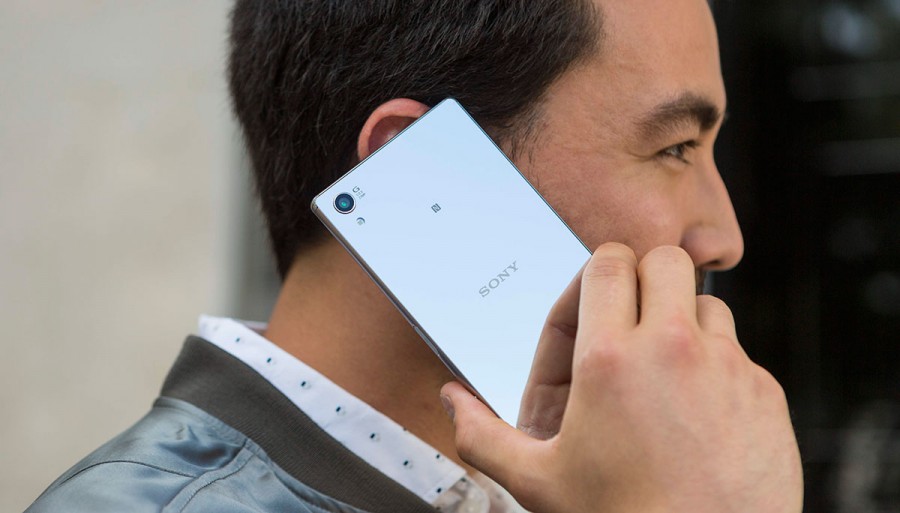 We're not quite sure if anyone will be able to see the clarity Sony's screen is putting out, but John Featherstone says that you can see the difference in quality.
"You will be able to notice the difference," he said this week to GadgetGuy. "[Regarding] the clarity of the image, you've really got to see it side-by-side. I didn't think it was possible, but it really is."
We can't wait, and the good news is you won't have to wait long, with Sony Mobile talking up October releases for the Z5 and Z5 Compact, while the Premium model will see local release some time in November.
Pricing isn't yet known, though we have been told it should be close to where the current Z3 models were priced at for the first two, while we anticipate the Premium might go for a hundred or two hundred more.