Sony is a prominent Japanese entertainment company. Like so many large companies it can lose focus. Sony at CES 2020 was where Kenichiro Yoshida, President and CEO, Representative Corporate Executive Officer, Sony Corporation set things straight.
Yoshida said during the Sony at CES 2020 keynote, "Its purpose is to fill the world with emotion, through the power of creativity and technology. Creativity is a powerful driving force that moves Sony forward. When combined with our technology, it is unstoppable."
Sony at CES 2020
Sony is in many niches – not just TV, camera and sound. Sony at CES 2020 highlighted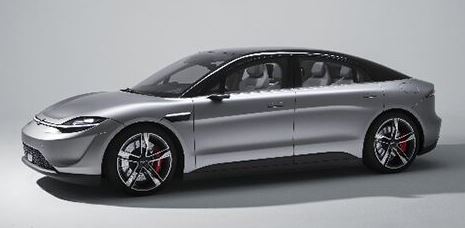 Autonomous driving aids including a safety cocoon (not a seat but a 360° view of the vehicle using Sony CMOS sensors, LiDAR, ToF and Sony AI
VISION-S – 33 sensors, including CMOS image sensors and ToF sensors, are embedded in the vehicle, to detect and recognise people and objects inside and outside the car, and provide highly advanced driving support.
Sony "360 Reality Audio" provides a deep and immersive audio experience through speakers built into each car seat to encapsulate passengers in sound.
5G connected cameras
AI-based Real-time Video Analytics
3D Spatial Reality Display Technology
Virtual Production Technology using 3D Volumetric Capture
But the real news for Sony at CES 2020 was its new TV products featuring the proprietary technologies previously found in its BRAVIA flagship MASTER Series.
Here is what we saw at Sony at CES 2020
Z8H 8K LED TV 85"
New Frame Tweeter technology offers an immersive experience with Sound-from-Picture Reality and slim design. A new backlit remote allows customers to enjoy their viewing experience in dark environments.
Uses Android 9 and new Ambient Optimisation enhances the picture and sound quality in any environment.
A8H OLED TV 55 and 65"
The A8H OLED TV utilises Picture Processor X1 Ultimate to provide crisp, high contrast and true-to-life images and is the latest addition to Sony's OLED line-up.
X-Motion Clarity technology will now be available for OLED, refining action on the screen in real-time, and a brighter and clearer picture than ever before.
Additionally, the A8H allows for quick access to an array of content and services with Android 9, and new Ambient Optimisation enhances the picture and sound quality in any environment.
X95H 4K LED TV 55, 65, 75"
Sony's best-ever picture and sound quality for 4K LED TVs.
An expansion of Sony's X-Wide Angle technology, providing vivid real-world colours from any angle while retaining more brightness than other conventional LED TVs. Includes a new shaped speaker unit, the X-Balanced speaker
X90H 4K LED TV 55, 65, 75, 85"
Sony's new mid-range Full-Array LED, offering Acoustic Multi-Audio (65" and above) with X-Balanced speaker, as well as Dolby Vision/Atmos. Features a Diamond-cut bezel for a slim design.
X80H 4K TV 43,49, 55, 65, 75, 85"
Has a 4K HDR Processor X1, reproducing more depth, texture and natural colours, with Object-based HDR remaster technology. The latest model includes a new shaped speaker unit, the X-Balanced speaker.
You can read more and watch the CES press conference here.
Sony products constantly rate well on GadgetGuy.