In the late 90s, Sony introduced a headset geared at letting you experience video game worlds and movies in a personal way. Called the Glasstron, it was Sony's first portable headset for entertainment. Now, Sony has revived the concept with a headset made for today's generation.
Features
Looking like something out of a science fiction movie, Sony's HMZ-T1 is a cinema screen for your eyes.
Built into the shell of an oversized pair of sunglasses, the headset takes advantage of two small 720p OLED screens that sit in front of each eye, effectively creating a stereo image for watching movies and playing games.
Audio is – as expected – a necessary part of the entertainment experience, and Sony has catered for this with built-in flat headphones that can be adjusted for three angles, depending on where your ears sit on your head.
The headset features adjustable straps for keeping the unit tied to your head, with Sony also providing padding not only for comfort, but also to make sure the fit is firm when the headset is worn. At the top of the headset is a detachable leatherette forehead supporter, interchangeable depending on how large your skull is and how tight a fit you're after. Two rubber "light blockers" are also included, attachable on the bottom of the headset to stop light from leaking into the experience.
The HMZ-T1 headset features very few buttons, with a directional pad surrounding a menu button, volume buttons, and a main power button.
You can't just plug the HMZ-T1 headset into a HDMI source, however, as you need to plug the headset into the HMZ-T1P, a Sony HDMI Pass Through box, included in the package.
This extra box plugs into the wall and not only provides power for the headset, but also takes in an HDMI feed and sends it back out to an external HDMI device, such as a TV or monitor. The front of the HMZ-T1P features the proprietary plug port for the headset.
The box also includes a quick setup guide, manual, two extra types of forehead support, a cover for the forehead support, cord and strap clips, a figure-eight power cord for the HMZ-T1P, and a HDMI cable.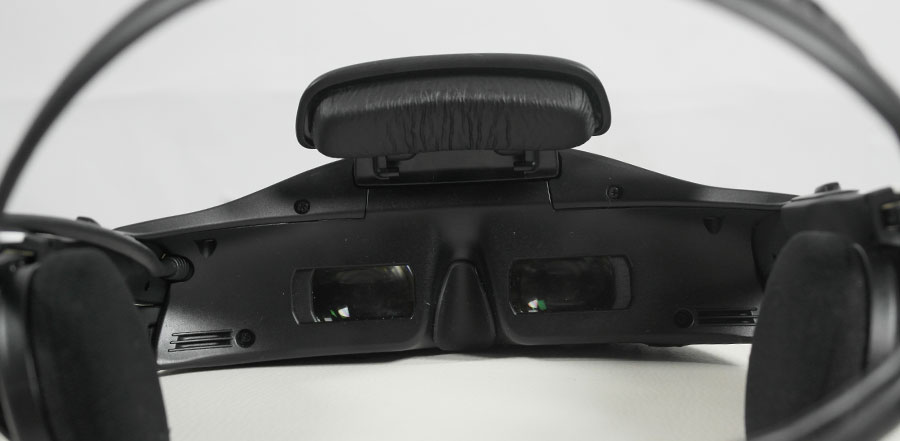 Performance
Using the HMZ-T1 is a completely different experience from watching something on your TV.
For starters, you have to actually put the headset on, an experience that requires you stick it in your head, tighten it to your skull, lower the headphones in place, and keep your head fairly level as you watch movies or play video games. It's not the speedy experience that is sitting on your couch and flicking the TV on, though, as this thing requires a little bit of patience. In fact, if you plan on playing a video game, make sure to have the controller in hands reach, otherwise you'll be grasping at air when the headset is in place on your head.
Once the headset is tight enough and comfortable, you can focus on what the HMZ-T1 is designed for: impressing you with its tiny OLED screens.