What can be more fun than a projector you can put in your pocket? That's where the Sony MP-CL1A projector will fit. Mobile projector it's called. Mobile projector it is.
Sony MP-CL1A features (website here)
GadgetGuy reviewed its predecessor back in late 2015  and stated it was time someone made a good pico-projector. There is a real need for mobile projection in sales and marketing as well as just enjoying larger screen movies where a big TV is not available.
The Sony MP-CL1A is a small slab with a laser light engine. According to the specifications, it is capable of producing an image of up to 40 inches. The resolution is 1920 pixels across – that's the horizontal specification for FullHD – and 720 pixels vertically. That's two-thirds of FullHD's vertical resolution.
It's portable not just because of size, but because it has a built-in rechargeable battery rated at up to two hours operation. According to the specification printed on the unit itself, the capacity of the battery is 3400mAh at 3.8 volts.
I see I've skimmed over the word "small". How small? According to my callipers, it's just short of 150mm long, a hair over 77mm wide, and 14mm thick. Perhaps add a millimetre or so to the width to allow for the controls and connections, which are all on one side. It weighs only 213 grams.
In short, it's about the same size as a larger Sony Xperia phone model, just a little thicker and heavier. It comes with a nice vinyl pouch. A little plastic bar clips on the front and doubles as a tilt stand and a lens cover.
Connecting the Sony MP-CL1A
The top, bottom and two of the sides of the Sony MP-CL1A are featureless. Except, that is, for a lot of product information printed on the bottom, and a small speaker. The front edge has the projector lens on the left-hand side, recessed into the case by perhaps a centimetre. There is no lens cap.
The right edge has:
a full-sized HDMI input
a 3.5mm stereo headphone/speaker output
a standard USB Type-A "Out" socket, so you can use the projector as a power bank
a Micro-B USB socket for charging up the projector's battery
a power button
a multi-function rocker key
The HDMI input supports the HDMI 1.4 standard – that is, not UltraHD. It'll work with full HD Blu-ray. It also supports the MHL standard, which provides high definition video from the USB connection on some mobile phones. The MHL "standard" is a pain. New versions were incompatible with previous versions. You need a special HDMI cable with some form of USB socket on the end. Most phones dropped supported for MHL. I guess it would work with a Sony phone. I didn't bother checking.
Going wireless
Far more usefully, the projector can be fed a signal wirelessly with Miracast. That's a fairly widespread standard available on many Windows computers and most Android phones. It won't work natively with iPhones. One of the irritating things about Google Pixel phones is that they won't work with Miracast. Google would rather you used Chromecast. However, I used it effectively with a Huawei Mate 10, a Samsung Galaxy S7 and a friend's Sony Xperia.
The nice thing about Miracast is that your phone forms a direct WiFi connection with the projector (it supports dual-band 802.11a/b/g/n connections). The projector does not connect to your home network.
In addition to the 3.5mm analogue output, the Sony MP-CL1A can also connect to an external Bluetooth speaker.
Laser light
There is more than one type of "laser" projector. Most I deal with are high-end models which shoot a high powered laser at some phosphor to make it glow. This projector just shoots lasers out its lens, drawing the image with scan lines. You know, just like a CRT TV did in the old days.
A warning sticker on the bottom of the Sony MP-CL1A suggests that you should "Avoid Direct Eye Exposure". The "Class 3R Laser Product" rating is similar to things like low powered laser pointers. Different rules apply because they are steady beams, whereas this produces a pulsed beam that spreads over a larger area. So even though it has a higher power output than any legal laser pointer – 206mW compared to their 4.99mW max – it's no more dangerous.
Anyway, just don't force yourself to look directly into it when it's working.
Picture
Now what we're talking about here is a low powered projector. The Sony MP-CL1A is a very low powered projector. It's rated to produce just 40 lumens of brightness. A typical home theatre projector produces a thousand to two thousand. Fortunately, the relationship between subjective brightness and such measurements is not linear.
The thing to understand with projectors is that how well they work will depend very much on two things: the current size of your eyes' pupils, and the amount of light in your environment.
As I write this paragraph, it's dark outside and mostly dark in my office. I've been running the projector through its paces, projecting a one-metre diagonal image. That's roughly the same as forty inches. The picture has been colourful and pleasingly bright because in the dark room my eyes' pupils have gotten about as large as they can to take in as much light as possible. But now I'm sitting in front of my computer, my eyes have adjusted to the relatively bright computer screen. So the projector image in the background looks rather weak and pale.
One downside of the low output is that even if the image seems subjectively bright enough, it seems a touch less sharp than it otherwise might. It is subjective, although it may be related to more difficulty many of us have in focusing in low light.
At this point, I should note that I am bringing to bear on this projector the same standards I might use when reviewing a projector costing tens of thousands of dollars. This is, of course, tremendously unfair. None of those expensive projectors will fit in your pocket.
Environment
If there is any room light, that will quickly crush out all picture detail in the darker parts of the image.
So putting all that aside, in nice low light conditions, as I said, the colours were strong, and the black levels were fine. There was good calibration across the grey scale. I could distinguish in test patterns between almost black and fully black, and between almost white and fully white. There was some colour shift in the greys though, with some having a slight magenta tinge.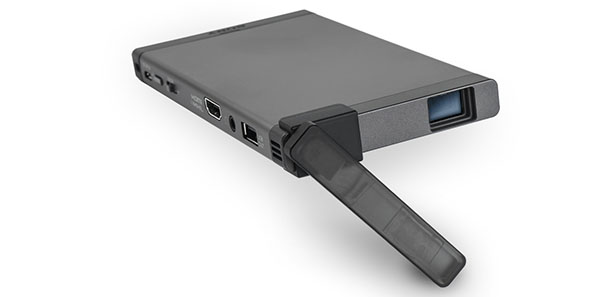 Now, how big a picture can the Sony MP-CL1A produce? An enormous one if you don't mind the low brightness. Given that you'll generally be using it in ad hoc situations, circumstances will probably determine the size of the image you go for. If there is more light around than you'd prefer and you can swing it, move the projector closer to whatever you're using as a screen. It'll be smaller, but it'll also be brighter.
Whether it's projecting a 100-inch or 12-inch image, the projector does not need to be focused. And that means even if the surface is curved or uneven, all parts of the picture will be sharp.
One final note on the picture: it's clear that the projection engine runs at 60 hertz or 60 frames per second. If you use it to watch Australian content, motion will be a little jerkier because of the conversion from 50 hertz or frames per second. (How are such conversions performed? Easily enough. Every fifth frame is simply repeated, which is why it looks jerky.)
Sound
The little speaker did work, and I guess you can use it in a pinch in intimate circumstances. But for more than a couple of people, the sound would likely get lost, and it is rather tinny. If you pack a Bluetooth speaker, even a small one, you're going to get much better results.
GadgetGuy's take – right in tight, low-light places
I could not recommend the Sony MP-CL1A projector for a home theatre room.
I would recommend it for the mobile road warrior who finds him or herself in places where a larger screen TV isn't available.
Carry a Sony MP-CL1A Mobile Projector, and all you need is a flat, whitish surface. And the ability to make the room dark to produce a more vibrant image.
Compact way of getting a big picture, Miracast and Bluetooth connectivity