Sony's latest all-in-one desktop joins the fight from other manufacturers to unseat the market leading iMac. What Sony brings to melee is a display with multiple inputs, 3D and its Vaio computing heritage.
Features
The first all-in-one with 3D to come across our test bench, Sony's VPCL229FGB L series desktop features some well spec'd components capable of handling just about anything you or your family are likely to throw at it in the next couple of years.
Let's start with the speed, because this computer has it in spades: a second-generation Intel Core i7 processor, 8GB RAM, NVidia's GeForce GT540M graphics processor with 1GB of memory, plus 1TB of storage.
All of this computing power operates behind a 24 inch LED backlit LCD screen supporting 1920 x 1080, also known as Full HD 1080p. The screen supports a few multi-touch gestures, and there's a 1.3 megapixel webcam built into the frame.
A Blu-ray drive is bundled in, but it's not just for playing HD movies on disc. The Vaio VPCL229FGB allows you to burn Blu-ray discs too, making the machine suitable for video editors and those who want to backup to 25GB and 50GB writeable Blu-ray discs.
Connectivity-wise, this Vaio brings lots of options. The left-side of the computer houses two USB 3.0 ports, one small Firewire video port, headphone and microphone jacks, and a card reader capable of reading SD cards and Sony's MemoryStick format. There are also three USB 2.0 ports on the back, as well as an Ethernet port for wired networking. Wireless networking is also taken care of, with the L series supporting the faster Bluetooth 3.0 standard and WiFi 802.11 b/g/n.
More than just a desktop computer, the VPCL229FGB also doubles as a monitor for connected video devices, including digital TV set-top boxes and games consoles.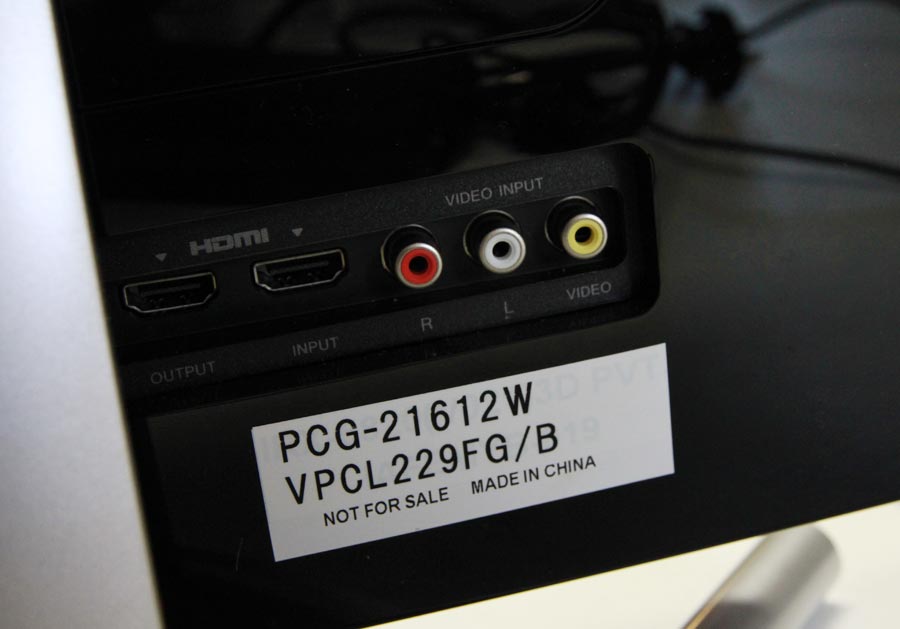 To accomplish this, you'll find both a HDMI port as well as composite AV ports on the back of the computer (above). If you want to export the VPCL229FGB's screen to a larger-screen TV, there's a HDMI-out port to do the job.
And then there's 3D, with the VPCL229FGB bundling one pair of Sony 3D active shutter glasses and NVidia's 3D Vision technology for games and watching 3D movies. Sony tells us that these glasses are compatible with its Bravia TVs.
Everything here sits inside of a plastic computer with a solid-metal stand. A few extra function buttons are provided on chassis of the Vaio, including a "web" button for surfing the web without having to switch the full computer on, volume, input selection, and a button to switch the monitor off when it's not being used.
Performance
Taking the Vaio out of its box, it's easy to see that the computer is well-built. Much like the iMac and every other all-in-one desktop, computing components are housed within the body of the screen, with the 24 inch display held up by a solid metal stand.
Plugging it in is simple, and there's a large 19.5v brick powering the computer. Making the power separate from the body – in the way that notebooks do – means the main body of the computer tends to run cooler, making the computer safer to touch, which is especially useful given that this is a touchscreen computer with extra buttons on the frame. After a day of operation, the Vaio was certainly far cooler to the touch than the aluminium-wrapped iMac that is our usual workhorse.
For the most part, the touch experience is decent, making it easy to use Windows 7 without the need for a mouse. Pointing and clicking the smaller menu shortcuts can be difficult, but scrolling web pages and double-clicking desktop icons works a treat. You'll still want a keyboard at your side, as the onscreen keyboard experience for Windows is slow and clunky.
Sony complements Windows 7 with its own TouchPortal software, which appears as a dropdown shortcut bar at the top of the screen whenever the desktop is touched. This software works to the Vaio's benefit, and includes media viewers, more touch-friendly desktop interfaces, and touchscreen test applications from Microsoft.
The TouchPortal desktop interface makes the Windows touchscreen experience just that much more interactive, in fact, that we wish it loaded automatically alongside Windows.
Some of the test applications from Microsoft show off the touchscreen functionality quite well: Microsoft's Surface Collage, for example, lets you zoom and rotate photos, and make layered-image artworks easily.
Unlike other touchscreen devices though, the multi-touch isn't strong here, with just two points of touch on offer and only a few apps supporting more than single-finger operations.
The frame around the screen has some level of touch interaction too: the "Sony" logo can switch from lit to unlit and 3D mode can be turned on and off.  Pressing the left or right of the Sony logo will also allow you to move backward and forward while surfing the web.
Beyond the touchscreen is a solid experience. Most games and multimedia needs will appreciate the high-end specs on offer, with 8GB of memory and the Core i7 good partners here.
If you opt for a regular 2D experience, in games, the combination of Intel's Core i7 and the GeForce 540 works well enough, providing solid graphics and speedy performance in current titles.
The mid-range mobile graphics processor doesn't stack up when trying to play games in 3D using the native 1080p resolution, however. Our test title of "Portal 2" – the same game we used when benching Apple's latest iMac – performed sluggishly when 3D was used, forcing us to drop the resolution down to 720p. Not such a good result from a computer advertising 3D credentials.
Watching Blu-ray movies on the 24 inch screen is made possible with the inclusion of Corel's WinDVD software, but it can be quite buggy. We experienced numerous crashes during playback of test titles, and each occurrence required us to restart the program.
Movies in 3D work fine when the software isn't crashing, but the best 3D effects are realised only when seated at least two metres away.
The "web" button on the top of the Vaio allows you to run a web browser and surf the web without booting into Windows. On a big TV, we're pretty sure we'd love this feature, but given this is a full-blown computer it seems a little superfluous. It may be that this feature was designed to satisfy the needs of a Japanese market, where smaller homes dictate that screens perform a dual function.
There's also no remote, which is an oversight for a device designed to look like a TV, and with ambitions of blending computing with entertainment. Plug in a PS3, for example, and you need to approach the Vaio, switch to the HDMI input and adjust the volume manually. We're also surprised that there's no inbuilt TV tuner either.
The Vaio's image quality was disappointing, too, especially in light of Sony's credibility in display technology. Images appeared soft, even from Blu-ray, and colours tended to be oversaturated.
Conclusion
Sony has brought elegance to the Windows touchscreen experience in this Vaio, and equipped it with a powerful processor, good headroom, adequate storage and thoughtful Blu-ray backup and output options.
For a hair under the three grand asking price, 3D gaming performance – it's point of difference in the all-in-one desktop market – should be better.
Good performance specs; HDMI and composite inputs; Good Windows touchscreen experience; Blu-ray burner;
Only one pair of 3D glasses is included; Blu-ray movie playback software prone to frequent crashes; 3D gaming should be better; No remote;