Sony's phones frequently dabble in water proofing, but it's usually only in the high-end. What happens when Sony brings water resistance to the mid-range?
Features
One of the most competitive places for smartphone makers to play is in the mid-range.
It is here that device manufacturers can come to play hard, producing devices that reach a solid middle ground for specifications and performance, attracting customers who don't necessarily want to spend that usually necessary arm and leg prerequisite that they might have to with another brand.
Sony's "M" range generally sits in that space, with that capital letter generally saying it all, making something for the middle part of the market (and we're not even trying to use an excess of "M" words).
But the M4 Aqua is a little different, and tries to show difference with a design feature few phones sitting in the top tier — the performance part of the market — generally include.
Let's start with the specs, though, because in this handset you'll find a Qualcomm Snapdragon 615 eight-core processor, running two sections with a quad-core clocked at 1.5GHz, with another quad-core section sitting at 1GHz.
This chip is paired with 2GB RAM and 8GB storage, the latter of which can be upgraded with a microSD card. Google's Android is the operating system of choice here, running Sony's own overlay.
If you were expecting a couple of cameras here, you're in luck, because there's a 13 megapixel rear camera with flash and autofocus, while the front camera is a 5 megapixel selfie camera. Both cameras can capture video, with 1080p Full HD supported with this phone.
Connections are fairly standard here, par for the course for a mid-range device, with 802.11a/b/g/n WiFi, Bluetooth 4.1, GPS with A-GPS, and Near-Field Communication, as well as 4G LTE technology for mobile broadband.
All of this sits under a 5 inch 720p HD display, which provides a pixel clarity of roughly 294 pixels per inch, around 30 shy of the Apple iPhone 6.
Ports are relatively normal for an Android phone, however, with both a microSD slot and nanoSIM slot, the former on the left edge and the latter on the right side, while the only two ports on the phone are a microUSB port on the left edge and a 3.5mm headset jack up top.
Buttons can be found on the Xperia M4 Aqua, too, with a volume rocker, a circular power button, and a camera button, all located on the right edge, while Android's back, home, and multitask buttons are all digital and soft, found on-screen and only when the phone is switched on, similar to other Sony Android phones.
A bit of ruggedisation can also be found on this handset, and that's where the special design feature comes in, providing IP68 certification for dust and water resistance.
The battery on the handset is rated at 2400mAh and is not removable.
Performance
If you loved the look of the Xperia Z3 but couldn't afford the flagship near one thousand dollar asking price, there's a good chance you're not alone.
The good news is that Sony was listening and has come up with something, with the M4 Aqua appearing and featuring a very reminiscent look and feel, but a different set of insides to target that middle price bracket.
Here in the Xperia M4 Aqua, you'll find on first glance that Sony has taken the look and feel of its excellent Xperia Z range of handsets and applied it to a more cut price body, dropping the metal edges and going with plastic for this, still leaving the glass front and back.
In the hands this translates to much the same feeling we had with the Z3, with softened corners and sides that are easy to grip, and a phone that has a real minimalistic quality to it.
There's a 5 inch display running in this handset, making it a relatively large phone for a mid-range model, and it comes with the less-than-desirable but still plenty useful high definition resolution of 720p or 1280×720.
While it may not be Sony's best screen ever, it's still one of the charming and bright In-Plane Switching (IPS) displays, providing decent colours from most angles and only a hint of washout as you move from side to side, thanks in part to the amount of reflections the glass display throws out.
One of the better features for this phone is also incorporated in its design, and that's the fact that there is no door for the microUSB port.
That might not seem like a big deal to some people because almost all phones have an exposed port for charging and transferring data to and from the phone, but water-resistant phones are a different thing altogether.
Generally, phones that can survive a tank of water have to cover any available port so they don't let liquid in, as that would normally destroy the active electronics the moment liquids touch anything. Even Sony's older waterproof phones had to block at least one of the main ports, and this even made it hard to close the ports on some models.
But Sony appears to have done something very impressive with the M4 Aqua, and has ditched the port cover for the microUSB charge port, finding a way to make this waterproof and stop the ingress of liquid to the rest of the phone.
This is brilliant, and more phones need it, as it means you don't have to worry about sealing a door on the phone when you take it out into the water, unless you've recently opened the doors for the microSD or nanoSIM slot, which we can't imagine will be opened all that often.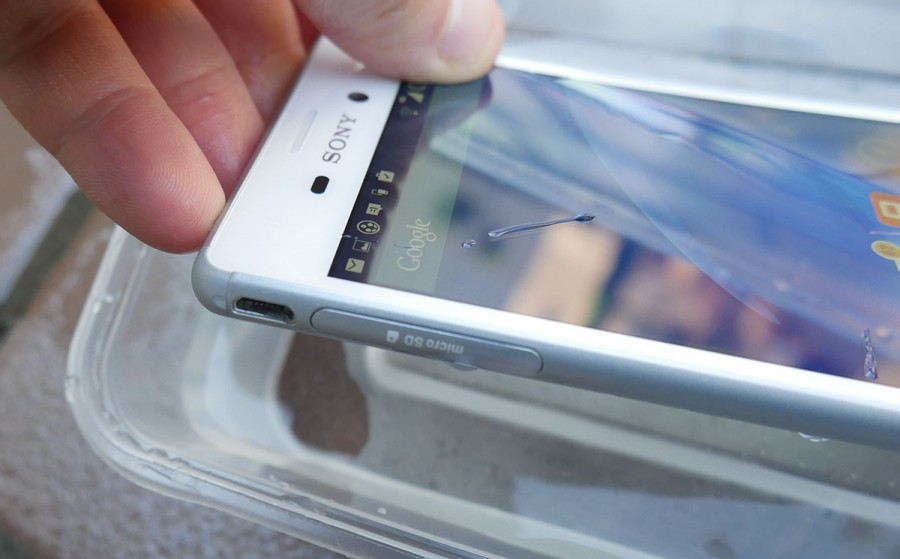 Performance, on the other hand, is a little hit and miss with the phone, providing the same Snapdragon 615 we've been seeing on quite a few mid-range models of late, but it doesn't appear to be as well tuned as on other devices.
On the positive, most of the operation is fairly speedy, and thanks to Android Lollipop, the phone is fairly slick, allowing you to jump from menu to app easily with only a second or so lag every so often.
The negatives rear their head some of the time, and you may find a press of one of the on-screen soft buttons doesn't quite work all the time, the animation of the press appearing with little else, and then nothing.
Press that button again and it'll do what you ask, telling us the processor and 2GB RAM may be struggling a bit, though we're not sure why.
Benchmarks also show this eight-core Snapdragon isn't quite cutting it as well as we've seen on other phones, with a synthetic score of 16000 slightly lower than the at least 20000 we're used to seeing with eight-core chips.
At least the 4G speeds are strong, offering as much as 100Mbps using what we suspect is a Category 4 modem, which should be solid for most people in this country.