Performance of the camera seems to be strong, at least for a mobile phone, and we were surprised as to how bright images appeared to be even under low light.
Looking back at those images, there's some obvious softness and artefacting, but the results were better than we expected.
Camera start-up time does need an improvement, with a three second delay often showing up, and the camera sometimes crashing to the standby screen, especially if you've started the camera from here.
Images also aren't necessarily shot as quickly as you press the shutter, though on burst mode, you'll manage a huge amount of shots. We stopped at 40, but you could probably get in more.
Testing it for a few days, we mostly found ourselves enjoying the company of the Xperia Z, and could easily see this in our pockets, but not everything is perfect for all customers.
First and foremost, the design won't be to everyone's liking.
The Xperia Z heralds a very simple look – it's a rectangle with a bit of thickness to it – but it's not the easiest to carry if you have smaller hands. The angles are softer on the side, which helps to make it less sharp, but it's still a very wide and tall handset regardless.
While some people in the office loved it, others – this reviewer included – wished there was more to the design to accommodate the palm of the hand.
Rather than rest inside the hand, you really have to grip this design, and unless your fingers are long enough, that's not necessarily an easy task.
We don't often drop our handsets, but it nearly happened with this one, the edgy sides and slick glass on the front and back not exactly lending itself to being an easy carry.
Plugging in headphones also comes with the annoyance that you need to remove the headphone port cover, which actually just dangles there along the side. It's one of the unfortunate parts about making a phone that is water and dust proof: you need a casing that protects the holes, and that's just part and parcel of this design.
Sony's choice of display appears to be high grade, and while we can't fault the fact that this runs so many pixels inside the 5 inch display, the viewing angles aren't as good as we had hoped.
Look at the screen dead on, and it's a lovely experience, but move to any angle and the images wash out slightly. It's not enough to bug people dramatically, but colours do become lighter, so try to keep your viewing focused straight down.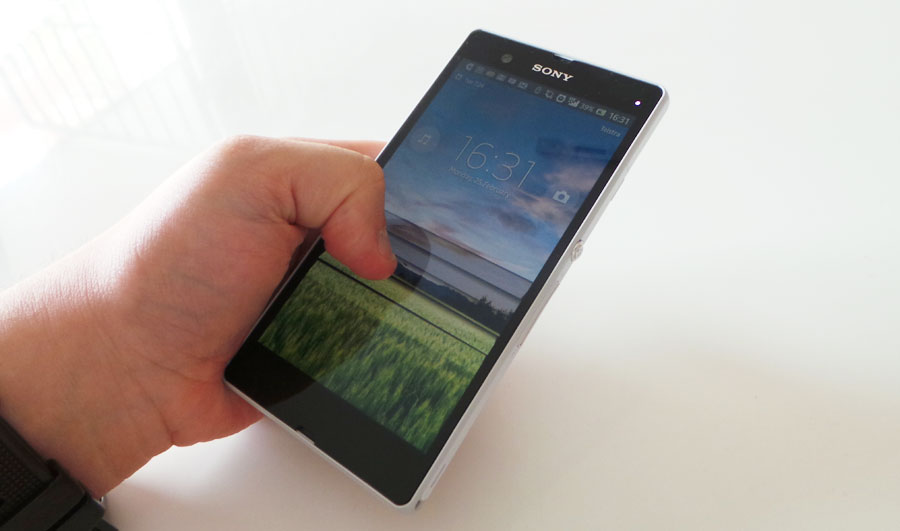 The mineral-resistant scratch-resistant glass covering the back doesn't appear to be as good as Corning's scratch-resistant glass, either, so you can expect to rack up a few micro-scratches as you drag it around from place to place.
And on a lesser note, taking the SIM card tray out from this phone isn't the easiest. It's almost like Sony made it to never be removed, because the tray is tiny, hard to grab with fingernails, and looks as though it can be thrown away.
We've spoken to at least one person who accidentally did, so do yourself a favour and don't: the SIM tray might look disposable, but it's absolutely not. You definitely need this.
Conclusion
While Sony's choice of a simple rectangular prism design won't appeal to everyone, it's hard to deny what the company has accomplished with this handset.
Between the excellent performance of Android, the solid camera, and knowing that it will survive the rigours of day-to-day life, Sony's Xperia Z is an excellent choice for a 2013 top-end smartphone. Recommended.
A water resistant flagship smartphone is pretty cool; Great performance from the processor and connection; Camera handles decently in darker environments; Small apps can be very useful;
Can prove hard to hold; SIM card tray is a little flimsy and hard to reach;