This is something we wish more mobile manufacturers wood seriously bring into their designs, and just like it was on the Z3 and Z3 Compact, it remains on the Z5 and Z5 Compact alike.
That is to say, if you're worried about rain killing your phone, or a splash of beer drowning it, or fearing that you'll take a dip in the water and forget to take your phone out of your pocket destroying it without realising it and forcing you to buy the biggest bag of rice you can find to dry it out, you don't have to worry with this handset.
From the get go, the Sony is rated as IP65/8, which means it is mostly dust proof and highly water resistant, though these water proofing ratings have been developed for freshwater.
If you do end up taking the phone into the saltwater of the sea or chlorinated pool water, run your phone under a tap when you're done, letting the clearwater remove any and as many impurities that may have been introduced from the not-quite-freshwater you've dipped the phone into.
The camera is also fairly strong, and it should be given there's a redeveloped 23 megapixel Exmor camera on-board, providing up to 4K video and up to 23 megapixel stills, though make sure to switch it from the 8 megapixels when you get the phone. For some reason, both Z5 variants were set to this out of the box.
Now loading the camera can occasionally through out some delays, much like we saw on the full-strength Z5, but this was by no means as frequent, and while it's not fast as some other cameras, it still gets up all the same, offering downloadable camera modes and Sony's neat augmented reality based modes if you need them, too.
In daylight, though, the camera really shines, and we're still a big fan of that camera button Sony keeps around, allowing you to hit the shutter by, well, hitting the shutter.
Remember when cameras had buttons and weren't all touchscreens? Sony's Z5 Compact (and by association Z5) let you do just that, you can either hit the touchscreen shutter or press the button.
Images aren't quite as strong at darker environments, though thanks to the high ISO sensitivity with a maximum of ISO 12800, you can get the shot without needing to resort to flash, it may just be a little soft, especially in the details.
We haven't talked about how you'll view these photos, though — the display — so let's do that.
For another year, Sony has kept its 4.6 inch 720p only display, offering up the 1280×720 resolution and around 320 pixels per inch, more or less just barely hitting the resolution many describe as "Retina", which makes it a lower pixel clarity than its Z5 brother.
That's pretty much bang on with what we saw in last year's Z3 Compact, and just like we liked it then, we still like it now, though it is a little behind what other phones are now offering.
This isn't necessarily a bad thing, mind you, but this screen is by no means as clear and pin-prick sharp as say the Samsung Galaxy Note 5 or even Sony's own Xperia Z5. Rather, it's sharp enough for most people, and vibrant enough for most people, though we wouldn't object to a higher resolution panel, since clarity is a big deal these days.
Granted, if Sony had included a sharper screen, there's a good chance it would have shot a few holes in the battery life, which doesn't fare too badly, easily producing a day of life, and a little more if you're not a power user.
Stamina mode can see you get a little further, and through our tests over the time we spend with the Z5 Compact, we found a day and a half was easily possible here when Bluetooth was switched on, telling us that without Bluetooth, two days could probably be found.
In truth, Sony's Stamina mode can help to bring the life up, but be aware this may come at the cost of less notifications and a bit of lag between apps as they load. For some people, these may actually be features.
And mobile 4G performance was also pretty solid, boasting speeds of between 90 and 130Mbps in Sydney's CBD on the Telstra 4GX network.
We suspect this is a Category 6 device, that said, so if the conditions are right, you could hit speeds as high as 300Mbps, though surfing the web and downloading YouTube videos, you're unlikely to realise it beyond feeling that the Z5 Compact is certainly fast enough.
While we had a much more successful run with the Z5 Compact than we did with its sibling, the Z5, and found almost nothing negative to say about the handset, one interesting glitch did pop up: no matter which microUSB equipped thumb drive we would plug into the Compact, it refused to recognise it.
That's a solid difference from what we found on the Z5, which ran it without problems. And yet here, nothing would load. Weird.
Perhaps it's one of those "patch later" things that we suspect the Z5 suffers from, though at least it's not a bug that can ruin your whole experience, so best not to worry. Instead, there's this thing called the cloud…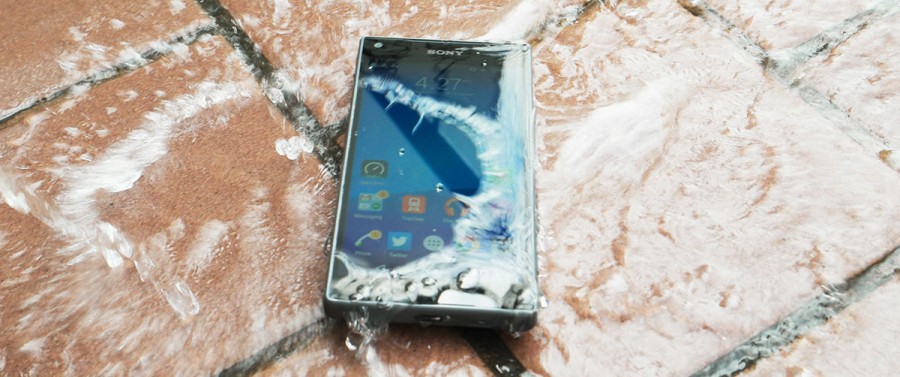 Conclusion
Sony has three mobiles coming this year, and we've already checked out one of them, with the Z5 passing through our reviews desk with considerable difficulty. Unlike this review (Z5 Compact), the Z5 was a dog, with huge performance issues, major glaring bugs, and a battery life that refused to get close to what Sony was trying to tell us was possible. The company did tell us that it might have been a preproduction issue and that we could wait, but wouldn't provide a firm availability date, so we had to go with what we had.
That was unfortunate, as it was a phone we had been looking forward to all year.
Fortunately, the Xperia Z5 Compact appears to be Sony's saving grace, offering none of the quirks, none of the dilemmas, and pretty much all of that performance, design, and value we had wanted in a phone this year.
Sony's Z5 Compact also offers something else practically no other phone maker is considering anymore: a small size.
Talking to a lot of people, big may well be "in", but quite a few people wish phone manufacturers would continue to make smaller devices, and that is something the Z5 Compact definitely is, and Sony has even managed it without making compromises. Highly recommended.
Excellent construction; Perfectly and properly small in a world constantly throwing out big devices; Spec'd to perform, which it does; Upgradeable storage; Can play PlayStation 4 over a network (if you have a PS4 in the home); Supports high-res audio; Resistant to water with a capless microUSB charge port;
Screen hasn't changed much, if any; Camera can sometimes take a few seconds to load; MicroUSB drives won't load up;