Admit it: the last time you sat near the pool or went to the beach, you really wished you brought your tablet and caught up with some Netflix. Ok, that may not be all of us, but if you can relate, a new tablet is on the way from Sony.
Previewed earlier in the year, Sony is finally getting its act together with the follow-up to its Z2 Tablet, with a new 10 inch device set to arrive through Telstra stores either outright or on a plan.
This is the Z4 Tablet, a follow-up to the Z2 only because that was the last time Sony made a 10 inch tablet, as the Z3 was a compact 8 inch tablet named accordingly (Z3 Tablet Compact).
Inside the tablet is fairly high end eight-core processor, with Sony relying on a Qualcomm Snapdragon 810 clocked at 2GHz with 3GB RAM, Google Android "Lollipop", up to 32GB storage, with a microSD slot to let you add more if need be.
The screen is 10 inches, but relies on one of those high end 2560×1600 displays, higher than Full HD's 1920×1080 and using the quantum dot-based technology Sony uses in its panels known as "Triluminos", which should mean bright and dynamic colours are a given.
There's also a degree of waterproofing applied, with IP68 certification here guaranteeing dust resilience and water-proofing in freshwater down to 1.5 metres, which also means it is pretty much splash proof at the pool and ocean provided you run it under fresh water afterwards. Sony has updated the USB port, too, and just like what we saw on the Sony M4 Aqua smartphone, this is now cap-less and sports water-proofing too.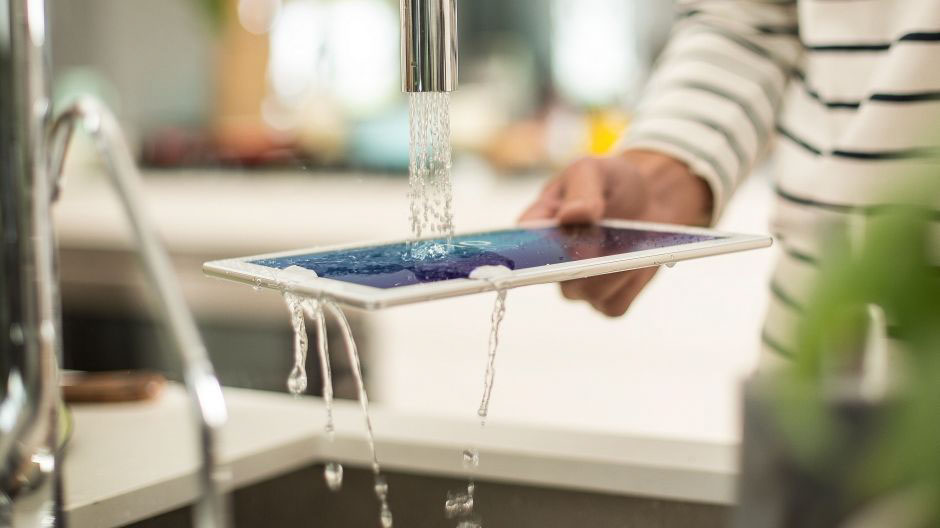 But more than the semi-rugged design and more than the specs, perhaps the most important element in its design is the thickness and weight, with Sony laying claim to the "world's lightest and slimmest 10 inch tablet" with this one, offering a weight of 393 grams and a thickness of 6.1mm, with the body reliant on stainless steel and glass, among other things.
It's a little bit of a catch, mind you, because while it may well be the slimmest and lightest 10 inch tablet, Samsung's own Tablet S2 — which has been announced globally but is yet to be released locally — is one gram lighter for the 9.7 inch model and even slimmer, clocking in at 5.6mm.
Regardless, it's still very thin, measuring just a hair thinner than the iPad Air 2 and a good 40 grams lighter, not that you'll probably notice either.
"The Xperia Z4 Tablet builds on the success of the Z2 Tablet, enhancing all of the qualities that consumers loved from the previous device," said John Featherstone, Head of Business Development for the Asia Pacific region at Sony Mobile Communications.
"Consumers love to see and experience innovation first hand, and it becomes increasingly special when it can bring value to their lives. Not only is the Xperia Z4 Tablet sleek and lightweight, it's incredibly powerful and offers standout entertainment and smart productivity features that make this extraordinary tablet a perfect fit into your day-to-day life."
Pricing of the Sony Xperia Z4 Tablet comes in at $888 outright for the 4G LTE version (4G/WiFi) or on a $62 per month plan for two years at Telstra, with availability in black now exclusively from Telstra stores. Buyers of this model will receive a $299 Bluetooth keyboard free with the tablet, however, at least until stocks last, making the tablet more like a computer.
A WiFi-only model will arrive soon, priced at $799 when it does rock up in late-September.