Noise cancelling is one of those things you simply must have if you're planning on taking a flight, and Soul is showing us just what the brand is capable of as it moves away from the Ludacris hip-hop style and goes for something a little more subtle.
Features
The latest cans from one of the more obvious competitors to Beats by Dr. Dre, the Soul Jet are a pair of headphones sporting noise cancellation, a subtle design, and the ability to fold up easily to take them on the go.
The headphones are made from a combination of plastics, with a metal covered frame underneath, with foam and vinyl used on the ear pads.
Soul's metal and plastic headband includes hinges along the inside that makes it easy to fold the headphones up for easy storage, and even provides a carrying case with a carbine clip to make this easier.
Detachable cables are used here, with two included. One cable includes an iPhone compatible remote with microphone and music controls, while the other is for devices that don't support the iPhone remote (such as Android and Windows Phone handsets) with a microphone in place of the remote.
An airline headphone adaptor is also included, as is the 3.5mm to 6.25mm headset jack converter, while a single AAA battery is packaged in with the headphones and is required to make the Soul Jet's active noise cancellation work.
The AAA battery has to be installed on the right headphone, with the compartment opening up when you push up on the exterior of the can.
The Soul Jet headphones can be played without noise cancellation switched on.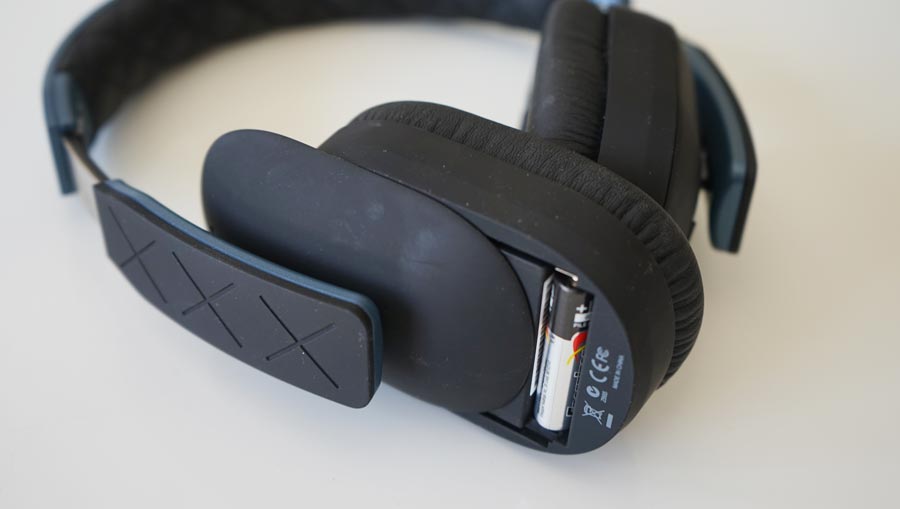 Performance
Ever since noise cancellation was a thing we could afford, writers like this one have encouraged others to embrace noise cancelling headphones when they're planning on taking a flight, with the technology equipped headphones helping to make the flight more enjoyable thanks to the way these headphones kill the drone of the aircraft engines.
Active noise cancellation isn't a new thing either, mind you, and headphone manufacturers have been trying to improve the technology since it was first introduced to consumers in the 90s.
Soul's attempt at innovating in this area is to take a four microphone setup, throw it into some smaller headphones, and make these collapsible so you can take them where ever you go.
Design-wise, what we're seeing from Soul is a clear departure from what the company was doing when we first caught wind of the brand in 2011 when it teamed up with hip-hop artist Ludacris. Back then, it seemed as though Soul was trying to give Beats a run for its money with similarly focused celebrity headphones painted in bright white, glossy black, and even a very metallic gold that King Midas would have sitting around his neck.
Fast forward a few years and the company is less about the hip-hop and more about the subtlety, with an almost rubberised matte black finish sitting on the cans, while the band features an almost metallic blue that is much less noticeable than the bright colours we've seen from Soul in the past.
The headphones are also a little taller than you might be used to, with a long ovular design providing an almost circumaural design, with our ears sitting inside the padding and surrounding the ear. If you have bigger lobes, you may find the ear pads are closer to supra-aural and sit on top, but we had a different experience, and were happy with the comfort levels on offer.
Once the Jet headphones are in place on your head, there's a reasonable seal in place, blocking some of the outside world out, which is particularly fitting given that's exactly what these headphones are supposed to do.
That said, Soul is encouraging more isolation with noise cancellation, which can be switched on using a toggled on the left headphone.
When you do end up powering on the noise cancellation, four microphones go to work sampling the outside world, inverting the noise and cancelling out what you don't want to hear, which would be repeating hums and drones that could negatively impact your listening experience.
But the hum of the airplane, drone of a train, or noise from a bus isn't the only thing you need to be concerned about in the Soul Jet headphones, because the sound just isn't as impressive as other noise cancelling headphones competing with them.
Across the board, we found that the bass is more pronounced than it should be, while the mids and highs can really come out muddled.
For example, Kate Miller Heidke's yodel-like operatics in "O Vertigo" sound closer to distance shouts in these headphones, while the bass line sits clearly in front of everything else.
In the Ben Folds and Regina Spektor duo "You Don't Know Me," the noise cancelling comes off as if you're listening to the two of them sing behind a window, with heavy bass beats, but lacklustre mids that feel beneath everything. Similarly, Imogen Heap's "Lifeline" is slightly muddled too while active noise cancellation is switched on, with the high sounds of her voice lost to the sharp mids which overpower them.
Muse bucks that trend, with reasonable balance, though its clear the bass sounds are heavier here, with "Undisclosed Desires" losing the vocals to the instruments in the mid and low sounds.
It's a shame, too, as the separation is clearly there, and in Gary Clark Jr's "Ain't Messin' 'Round," there's obvious distinction, but it still feels like something is in the way, lacking that full immersion you expect from a pair of decent cans.
There's also clearly an issue with fuzz, because while the noise cancelling is cutting out a fair amount of the consistent hum of the aircraft, you can still hear fuzz and light noise in the cans.
The cancellation also seems to pick up on movements and outside sounds, sending the dulled background sound to one of the cans, usually the one on your left ear, almost as if the microphone was working solely on the left side of your head. It's interesting because you'll be listening to music, but still able to hear things going on in the background, just with less body to the sound.
Where it gets really strange is when you switch the active noise cancellation off, which obviously lets in the hum of the aircraft, but balances the music a little more. Bass is still heavier than it should be, but the mids and highs feel more distinct without noise cancelling.
Nicki Minaj's "Super Bass" showed us a better sense of clarity when the active noise cancelling was switched off, the music coming together here better than when the the headphones were powered, pushing out heightened bass with more subdued mids.
The feeling was the same in Daft Punk's "Get Lucky," which sounded less muddled with noise cancelling off, but with a more emphasised bass section when noise cancelling had to be switched on.
Conclusion
It's strange, but Soul's Jet noise cancelling headphones appear to be better when they're used as passive headphones, as opposed to the active noise cancelling ones, providing more balanced sound when the cancelling microphones aren't in use.
Soul hasn't produced a bad pair of headphones, though, as they're comfy and offer some decent audio, but they're certainly not the best value noise cancellation cans you can find, so unless the design really catches your attention, we'd say to try these with your own music before you buy them.
Audio plays without noise cancelling switched on; Foldable for easy transport; Detachable cable; Runs on one battery; Design won't draw attention to itself;
Muddled mids that take a backseat to all the other sounds; Music can sound hollow; Doesn't cancel as well as similarly priced noise cancelling headphones; Fuzz still heard while wearing the headphones;