Swann has long been a significant player in the home security field. Swann at CES 2020 is all about showing consumers how easy it is to set up comprehensive, wire-free home security.
When you think of Swann, you probably think of the products you see at Bunnings including those large, multi-channel wired security camera kits. Well, Swann at CES 2020 is about simplicity – using home Wi-Fi and a range of next-gen products to secure your home.
Channel Seven Sunrise GadgetGuy Val Quinn looks at Swann at CES 2020 and says, "Be simply secure with Swann's next-gen wire-free home security.
Swann at CES 2020
Before we get into the new products a word on what wire-free means. In this case, Swann next-gen, wire-free connections to your 2.4Ghz Wi-Fi home network. Our only caveat is that you need a home router with the 'legs' to transmit signals. Many telco supplied gateways are not up to the task or placed in the wrong position so you may need to get a Wi-Fi extender.
Wire-free also relates to a rechargeable battery or solar-powered devices (its solar panel is one of the best).
But just as wire-free is important, so too is hassle-free. Swann has consistently scored well in GadgetGuy reviews for ease of setup and reliability. We give it extra points for great value – it does not mandate annual cloud monitoring fees to offer all its features.
Swann's expanded Smart home line-up now includes its Wire-Free Security Camera; Wire-Free Doorbell & Chime; and the Wi-Fi Security Tracker Camera (CES 2020 Innovation Award Honoree).
Swann CEO Mike Lucas said,
"We recognise the security needs of everyday home users and are committed to simplifying this for them. They want access to high-quality, reliable home security solutions that prevent crime, interconnect with one another, and offer value, with no recurring fees."
Price and Availability:
Wire-Free range and Swann Wi-Fi Indoor Security Tracker Camera – TBA but in the coming months. Not yet on the Australian website.
Wi-Fi Alert Indoor Security Camera – $119.95. Available on Australian website.
Wi-Fi Spot Outdoor Security Camera 189.95. Available on Australian website.
Swann Wire-Free Security Camera
Swann has released a new Wire-Free indoor/outdoor 1080p camera with Google Assistant of Alexa can control it too – so important as part of the future smart home. This 180° camera has IR night vision (mono), Smart Sound Alerts (in addition to 10m True Detect Passive Infrared movement detection), two-way talk/listen/siren and on-board storage.
Pro: Great price, comprehensive Android or iOS app, ability to recognise up to 10 people, comes with a USB charger.
Swann 1080p Alert Indoor security camera SWIFI-ALERTCAM
At $119.95 (twin pack $229.95), the camera has two-way audio also allows users to talk to their guests or warn off intruders with a siren. The camera can be set up on a smartphone via Wi-Fi within minutes.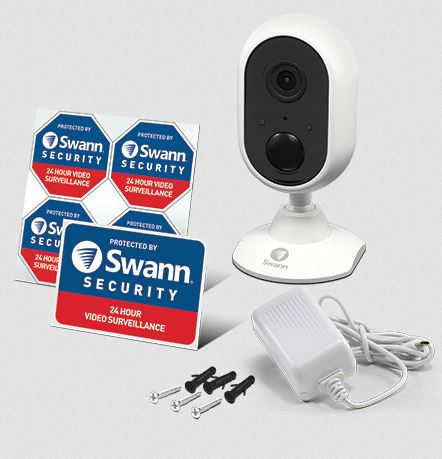 Swann 1080p Spotlight Outdoor security camera SWIFI-SPOTCAM
At $189.95 (twin pack $379.95) two LED spotlights to enable colour night vision. Otherwise, it has the same functionality as the indoor camera.
Pro: Weatherproof, colour night vision and a motion-activated spotlight can be handy in dark areas.
Con: externally powered (comes with 18m cable) and needs to be within Wi-Fi router or extender range (30metres or so).
If you need extra light, Swann also makes a 2500 lumens 'floodlight' Wi-Fi security camera (permanent fixture that can replace para-flood lights).
Swann Wire-Free Video Doorbell & Chime
This is one of the smallest integrated video doorbells. A 1080p HD camera with a 180° wide-viewing angle, optional 10-person facial recognition and a two-way talk feature. It runs on replaceable batteries or hardwired into an existing standard doorbell connection.
It comes with a portable battery-powered chime unit with 36 melodies.
Pro: Small, can use existing wiring and chime, wide-angle view and can hook up to Swann Wi-Fi security cameras and spotlight.
Con: requires enough ambient light at night.
The Swann Wi-Fi Indoor Security Tracker Camera
This is the world's first 'non-mechanical' pan and tilt camera. Swann calls this Light Flow Detection. It takes a higher-res, wider angle image and electronically clips, auto zooms and tracks moving objects. It has a micro-SD card slot for on-camera storage. See more here.
See live footage from multiple cameras, wherever you are
Receive push notifications when activity is detected (less false positives with True Detect)
Capture, playback & share video and still recordings on your mobile device
Can recognise up to 10 people or pet faces
The one app controls all of Swann's wired and wireless devices (wired DVR and NVR systems, powered Wi-Fi cameras, wire-free cameras and video doorbells etc ) from multiple sites so you can stream live video, receive notifications and know what's happening. Swann is the only vendor that offers a complete line up of wired and wireless security solutions that completely integrate with Google Assistant and Amazon Alexa.
It has a free secure cloud (rolling two-day) and local recording (rolling seven day – memory card extra) is great if the internet is down. If you need more cloud storage details are here.
GadgetGuy's take – Swann at CES 2020 is about simple security
We review lots of home security products. Swann offers an easy DIY way to add one to several cameras, a video doorbell, spotlight and more to the one ecosystem. I mention DIY because it is that easy and Swann has great install videos and good support – as it should after 30 years in the business.
You can start with one camera and easily rip down to Bunnings (or your favourite retailer) to add more cameras, solar panels and accessories as you identify more security needs.
Yes, it is DIY wire-free home security.