The new Series C TVs from TCL come in three sizes: a relatively modest 50 inches, a mid-sized 55 inches and a nice large 65 inches. This review is of the middle-sized TCL 55C715 QLED Android TV. I kind of shudder about its price – and I mean that in a good way – a matter to which I will return.
Review: TCL 55C715
Australian Website here.
Manual here (towards bottom of page).
Price: A$1,299 – Seen around the Web for $100 to $200 less.
From: All major brick-and-mortar retailers.
Warranty: 3 years
Country of Manufacture: China
About: TCL is a Chinese company that spent a lot of time making gear for other companies before breaking out and making stuff under its own name.
The TCL 55C715 TV and the past
My records show – yes, I'm a bit like that – that way back in 2001 I purchased a Loewe Xelos 5381ZW TV for (gulp!) a heavily discounted $2,708. That's $4,200 in today's dollars, so says the Reserve Bank of Australia. (Disclosure: I was in this biz then as I am now, so I managed a discount. The RRP was $3,749, which is $5,800 today.) That was a CRT TV, standard definition, although with 100Hz screen refresh since it managed to perform motion smoothing. Yes, that technology has been around for twenty years. Oh, and its screen size was … 32 inches. Actually, in those days they measured things differently. 32 inches would imply a picture of 82 centimetres. In fact, it was just 76cm in size.
Then the plasma revolution hit (here's our review of an early 50-inch full HD plasma – $9,400 in today's money! Then LCD.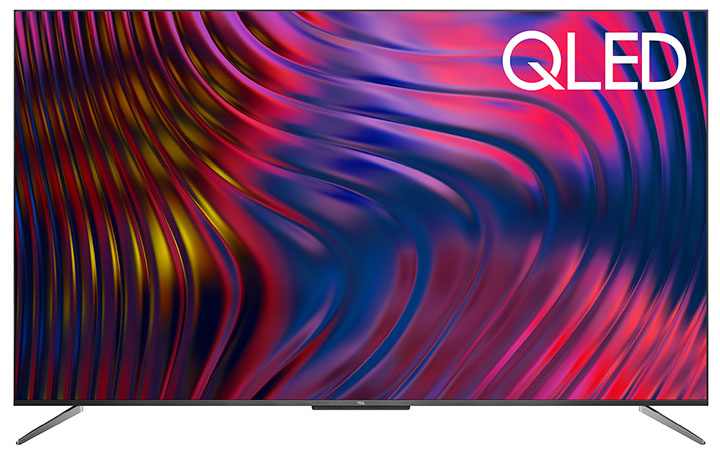 Each generation got better and cheaper. So now you can buy the TCL 55C715 55-inch UltraHD TV with Dolby Vision, Dolby Atmos sound and Android smarts for just $1,299. In today's money.
This TV has a slim bezel – just a few millimetres wide, with a nice metal frame. It's not super thin at nearly 75mm, but the top half is closer to 25mm. There are three HDMI inputs, optical and analogue audio out, dual band Wi-Fi and Bluetooth.
TCL for some reason doesn't participate in the numbers marketing game. So it's picture specifications are unusually modest at 330 nits brightness and 5,000:1 contrast ratio.
The TV is provided with two remote controls. One is a regular IR model while the other is RF. The latter has a Google Assistant button for talking to the TV.
Installing the TCL 55C715 TV
As is usually the way with these things, the TV comes with its legs packed separately into nooks in the polystyrene blocks. They're thin and spidery, but made of metal so decently sturdy. They can be attached in two positions: 40cm apart toward the middle of the TV, or 100cm apart near the ends. Nice to have options.
At the start the network stuff seemed was very easy to set up because, well, Android. I told Google Assistant on my phone'  "Set up a new device", then just followed the instructions. But it only got as far as successfully connecting the TV to my network via Wi-Fi when it stopped working and the devices lost communications. There are two backups: one is just to continual manually with remote, while the other is to go to androidtv.com/setup and enter a code number the TV displayed. I did that, it was instantly accepted, and the TV setup proceeded with no further trouble.
Well, except for one thing. The sound was coming out of the TV's speakers, not the soundbar into which I'd plugged the TV's ARC-compatible HDMI input. Time to search the setup menus. I went to the Sound menu but there was nothing there. In the System menu was "T-Link", which is TCL's name for CEC – the Consumer Electronics Control facility of HDMI. I clicked on that and switched it on and instantly sound came from the soundbar. Except it was still coming from the TV's speakers. It took a while to find out how to fix that. (Answer: the name of the soundbar appeared in the T-Link menu. Click on that and down the bottom was an entry called "Amplifier" which was off. Switch that on and the TV's speakers go off.)
Watching with the TCL 55C715
TV reviewers tend to concentrate on things like colour and miss some of the more important determinants of picture quality. Those are things like how motion is handled, and how legacy material from the past is presented on a modern screen.
With all TVs you have a lot of control over colour. As you do with this one. By default, TCL has gone for a restrained, natural look. In the UltraHD version of Billy Lynn's Long Halftime Walk, the intense reds and blues of the uniforms and decorations at the football came were bold enough, but didn't quite poke me in the eye, unlike my usual OLED. There is a series of people who come up and talk right to camera early in the movie, and they look hyperreal thanks to not only the HDR UltraHD presentation, but the 60fps high frame rate. Their skin tones seemed almost muted compared to my OLED, but on closer examination, I think they were actually more natural, more realistic. Does that mean that the TCL 55C715 TV is more realistic? Probably not. I think the faces are supposed to look overblown.
Still, I liked it. And if you find it too muted, just tweak the colour saturation and "Tint" a little in the settings.
Black levels
One of the reasons colour is so impressive on OLED is that it sits on perfect black levels. Clearly we're not talking OLED black levels here, but they were certainly adequate. Note, this TV does not try any kind of independent zone lighting. It adopts one brightness level across the screen. With a full-black screen, there was a little of the usual breakthrough of the backlight, although in an unusual way. The breakthrough appeared to be in arcs at the corners of the TVs: slightly lighter streaks. Again, this was not visible during normally use, but appeared only when I used test patterns.
In fact, the black levels were really quite impressive. That 5,000:1 figure is probably accurate. And that figure is probably appropriate for the great majority of other LCD TVs out there, most of which claim much higher contrast ratios.
Motion, scaling and deinterlacing on the TCL 55C715 TV
I have a suite of test clips I used to check out how the TV works in real life. First, though, if you like to get the full picture, go into the settings and switch off "Overscan". Overscan zooms the picture in by perhaps five percent. This is only applied with standard definition material. It makes the picture overlap the edges of the screen in order to ensure nice clean edges. But I don't care about edges. I do care about getting all the picture and, let's face it, with standard definition you can't really afford to just throw away pixels.
That done, both standard definition and HD material both scrubbed up remarkably well, except for one weakness. Even DVDs were shown with decent sharpness on this TV, while Blu-ray looked first class. That one weakness was that the TV didn't seem to try to detect whether a 576i50 input was film or video sourced. It just assumed the latter. And that meant that it pursued the wrong deinterlacing strategy (motion adaptive rather than a simple weave) for most Australian DVD movies. And that results in visual distortions, particularly in the form of moving moiré pattern on finely spaced geometric patterns on the screen. That's quite disconcerting.
I suspect that this could be fixed in a firmware update because clearly the necessary detection and processing is in the TV. I can say that because with 1080i50 input, the results were first class, with the TV correctly weaving most of the problematic scenes I used to test this.
The TCL 55C715 TV includes frame interpolation to smooth motion. It worked quite well but did result in visible artefacts.
Smart stuff
The TV runs Android, so it supports just about every streaming service there is … other than Apple TV+ of course. Most of the biggies are pre-installed: YouTube, Netflix (there is a button on each remote for this), Prime Video, the various broadcast station catchup apps. (Also, the TV supports FreeView+.)
You can stream local network content to the TCL 55C715 TV too via either DLNA or Chromecast protocols. I sent it FLAC and MP3 music, photos and even 4K video. Note, as usual Chromecast bottlenecks visual content – photos and video – down to a lower resolution before displaying it. So use DLNA if possible. That way you get full UltraHD resolution video, although your photos will still be bottlenecked. If you want to see your photos in full screen resolution, stick them on a USB and plug that in.
The TV does not support Miracast, so I couldn't cast my Windows PC screen to it, nor mirror the screen from my Huawei phone. Well, I could download a TCL app for that phone. The iOS version of the app won't directly mirror, but suggests that you install ScreenPlay on the TV, an app that supports AirPlay and Miracast. This worked quite well with an iPhone, but I still couldn't get the Android phone or my computer to detect the TV to mirror their screens.
Finally, the voice control worked quite well. There's a built-in microphone in the TV if you want to shout at it, but I preferred just to use the RF remote.
Gadgetguy's Take – TCL 55C715 is brilliant value for money
It's great to see so many advanced capabilities flow down into the TCL 55C715 TV, available for not much more than a thousand dollars. And, note, for that you also get a three year warranty. And it isn't just what it does, but that it does everything snappily, and without fuss.
Excellent value for money
Good picture quality
Good smart features
Easier ARC setup would be good
Resolution of photos displayed from local network should be higher in resolution