This week at CES 2023, TCL announced a whole host of portable smart devices, including phones, tablets and headphones. The gadget that piqued everyone's interest, though, was the TCL RayNeo X2, a pair of smart glasses that can live translate a variety of languages, give directions and play movies on a screen the equivalent of a 130" TV.
Smart specs with TCL RayNeo X2
What makes the TCL RayNeo X2 special is that, unlike previous generations of TCL NXTWEAR smart glasses, you can actually see through them. The lenses are clear and just look like normal glasses on a chunky frame. Like the Meta/RayBan Stories sunglasses, the RayNeo X2 also has cameras mounted near the lenses to take photos and record time lapses from the perspective of the wearer. There are even speakers built into the arms so users don't need to wear headphones while watching content or listening to music.
Unfortunately, the RayNeo X2 won't be available to the general public for a while yet, with them only available to developers with the commercial launch later. The second generation NXTWEAR S AR glasses will be available in the US in Q1 2023 for US$399 with Australian info coming later. There's even more competition in the smart wearables space, too, with Lenovo showing off its Glasses T1 device at IFA in Berlin last year.
More NXTPAPER tablets incoming
The other big innovation from TCL is that NXTPAPER technology will be coming to more products in 2023. While the shouty, all-caps name suggests something extreme, it's actually just an e-ink alternative. The new version of NXTPAPER is up to 100% brighter than its predecessor and filters out 61% of blue light compared to traditional screens.
The hero NXTPAPER device is the TCL NXTPAPER 12 Pro, which is a tablet running Android 12. It has a 12.2" 2K NXTPAPER screen, e-pen, 8000mAh battery that can reverse charge other devices, SD card slot, keyboard stand and promises a 13-hour battery life. It's available in both wi-fi and 5G models (with the 5G model expected later than the wi-fi).
There will also be a 2-in-1 detachable laptop, a first for TCL. The TCL Book X12 Go has a 12.2" 2K NXTPAPER display, Windows 11 Home, Qualcomm Octa-core Snapdragon 7c Gen 2 processor and 12-hour battery life. There is an optional e-pen accessory available, with pricing and availability still to be announced.
Budget mobile devices aplenty
Of course, being TCL, there is also a whole host of budget mobile phones on offer in the form of the TCL 40 Series. The 40 Series will include the flagship TCL 40 R 5G, the more budget TCL 40 SE and the camera-focussed TCL 408, which sports a 2-in-1 hyper camera.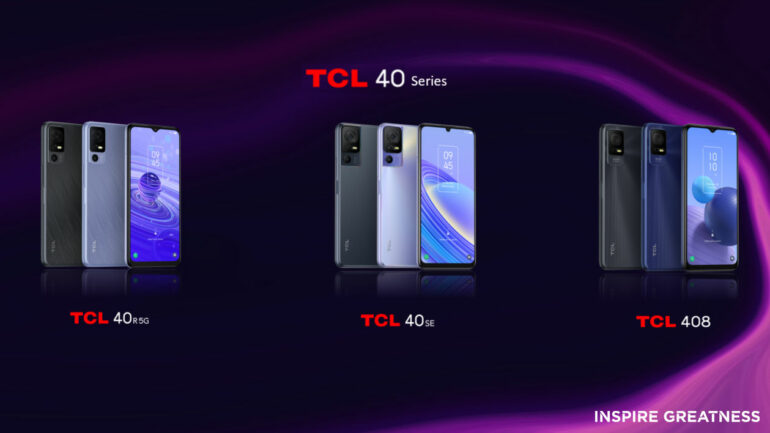 If you want some earbuds to go with your new phone, TCL is launching the TCL MOVEAUDIO Air. It's a name that both accentuates the portability of the product, and reads like someone in the marketing department accidentally left their capslock on until close to the end and decided they didn't feel like retyping it. TCL promises that the new earbuds will have an "all-day battery" with up to 9 hours of music, and "super-fast audio", which may refer to low latency Bluetooth.
Australian pricing and availability have yet to be announced for these devices, but we'll likely see more information on the company's official site in due course. Also on the TCL front, the company revealed its 2023 TV and air conditioner range, with two of the TV models earning CES Innovation Awards.
Visit our event hub page for the full rundown of everything CES 2023.
Read more smart wearable and mobile technology news on GadgetGuy