Telstra has just purchased a controlling share of the popular video streaming platform, Fetch. In case you aren't familiar, the service is centred around the Fetch Box, which is a device that plugs into your TV to deliver a choice of free-to-air and catch-up TV, subscription streaming apps and specialist internet TV 'channels'.
Fetch can be purchased outright in electronics retailers like Harvey Norman and JB Hi-Fi or it can be bundled into a subscription deals from Telstra's competitors including Optus and TPG.
We recently reviewed Fetch's latest 4th generation Mighty box, and you can also check out our Fetch Box review to see what we thought.
While week's announcement is still pending ACCC government approval, it looks likely to proceed. So what does this mean for the everyday person? Here's what we think will happen: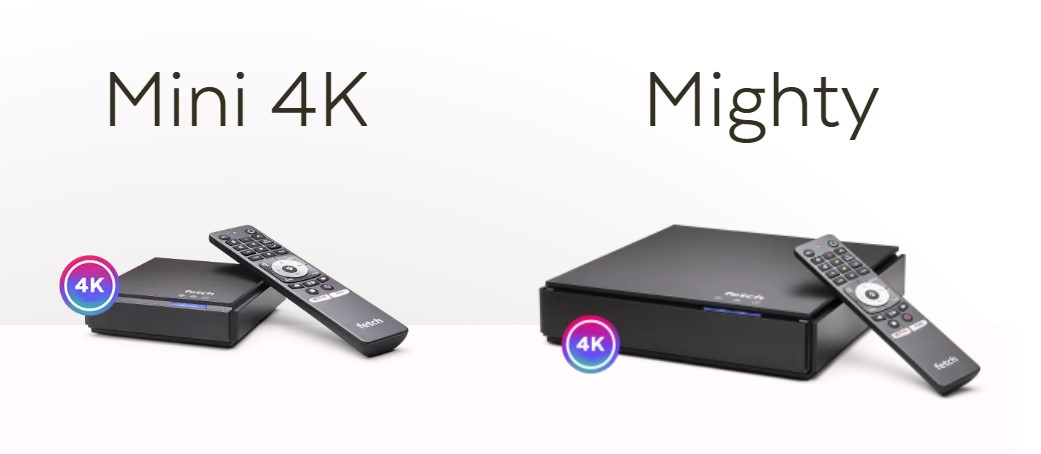 Telstra TV will be replaced
As part of the announcement, Telstra stated it will be replacing its Telstra TV offering to which it currently has 800,00 subscribers. Fetch has an installed base of around 750,000 Fetch boxes, and some houses have multiple subscriptions/boxes.
Telstra's Group Executive of Product and Technology Kim Krogh Andersen believes that Telstra TV's underlying technology needs to evolve in order to provide future content offers, account management capabilities and rewards. Andersen also stated that Telstra needed a platform "…to support future entertainment options and be delivered via the hardware options customers want including Smart TVs."
Fetch will gain Kayo Sport
Telstra is a major shareholder in Foxtel. Foxtel owns the streaming platforms Binge (Movies & TV series), Kayo (Sport) and Flash (news). In our review of Fetch, a weakness is the lack of Kayo. We expect Kayo etc., to become available on Fetch, which is a great thing for users who can now truly have one box that combines just about all free-to-air and subscription services into one package.
Advertising comes to your TV menu
The likes of Samsung, Google, Apple and LG(WebOS) at a global level compete to own the TV menu system in your home. The is the menu interface that controls what you consume on your TV. Why is it so important to own this space? TV advertising is coming to your TV menu as well as within TV shows.
Telstra wants to own the customer and maximise any revenue to be made. This move gives Telstra a completely Australian flavour. The implication is most likely more advertising. Still, any which way, whatever TV/Menu platform you are on, advertising is inevitable. Who knows, you may be able to pay more to ensure no advertising.
"After a strategic review of our options, we have selected Fetch TV for its ability to deliver this functionality at scale for our customers, given Fetch's software development capability, innovative roadmap and strong track record delivering capability for other Australian telco partners.

Kim Krogh Andersen, Telstra Group Executive of Product and Technology
Ads will become more relevant
Fetch has some very powerful data in they know exactly what all of their 750,00 users are watching. Data is very valuable, and if Telstra converts its 800,000 subscribers, it will have over 1.5 million users. This means that Telstra could sell targeted advertising based on household viewing habits so the advertisements you see will be extremely relevant to you. More precisely, advertisers will pay more to reach you.
Fetch TV chief executive Scott Lorson said "This investment from Telstra will allow Fetch TV to accelerate growth and deliver a genuinely competitive Australian home and entertainment solution. Fetch has a hard-earned reputation for localisation, innovation and partnership, and today's announcement will ensure a bright future for our subscribers, content partners, our emerging advertising partners and, importantly, for our telco and retail distribution partners."
Fetch will be more competitive
Given that multinationals such as Google, Apple and the TV manufacturers have large war chests and want to own the customer interface, competitors including Fetch would have struggled to exist in 10 years. This investment means that Fetch will will be able to compete at an Australian level, offering hopefully a superior Australian flavoured user interface. This development could also include gaming and control and monitoring of smart home devices, and is good news for all existing Fetch owners.
GadgetGuy's take
This announcement may upset Telstra's competitors, but for us, at home, it will mean a better product with more services that will evolve with our households. It will provide a truly Australian user interface, however this likely also spells more advertising in some form. Any recent Samsung or LG TV is already advertising to you from their menus independent of the media you are consuming.
Editor's note: Angus Jones, is a Telstra shareholder and a Fetch box user.