Need fast speeds to go? Telstra is letting us check out the next generation of speeds on its network, now being upgraded to Category 6 with 300Mbps speeds.
Features and performance
Getting online is a must have these days, and while Australians have had access to 3G and ADSL2+ for some time, we're all craving faster speeds, whether it's because we're watching more streaming videos or wishing to download content more quickly.
Telcos are listening, however, as are hardware manufacturers, and working together, the two parties evolving mobile broadband so that it's faster than ever.
We started with the 100Mbps download speeds of Category 3, saw Category 4's 150Mbps last year, and this year, Australians will be able to get their hands on 300Mbps with Category 6.
Telstra's newly renamed 4GX network is being upgraded to work with this new category of 4G, meaning it needs devices that let people take advantage of the speeds.
Right now, there are only two we can think of, with Samsung's Galaxy Note 4 and Huawei Ascend Mate 7 providing smartphones that can take advantage of these speeds, but if you don't have one of these mobile handsets and don't wish to upgrade, you'll need something else.
If that's you, Telstra is hoping to bring you over with the WiFi 4G Advanced II, a mobile hotspot with a small touchscreen up front and a rubberised back.
The hotspot is about the same size as others, resembling a small 4 inch phone, though with a much smaller 2.4 inch touchscreen for use inside the device.
The screen is colour, but won't offer much in the way of viewing angles, but you won't be using it for this anyway, so no need to worry.
Two antenna ports are available in case you want to plug in external antennas, but for most people, the hotspot will be all they want, relying on the internal antennas provided here.
There are numerous positives for Telstra's WiFi 4G Advanced II, not least of which is the speed, but we'll get to that shortly.
First we check out the interface, and thanks to a touchscreen, this has to be one of the easiest to use wireless hotspots we've seen.
For starters, there's only one physical button found on the unit, and that just switched the hotspot on and off. The rest of the buttons are either soft or part of the touchscreen, with a home and back button making up the soft button, and the touchscreen letting you get the rest of the operation worked out.
Like most hotspots, you likely won't be spending your time fiddling with features on the hotspot, and that's a good thing, but if you decide to, the touchscreen will offer a modest amount of WiFi settings, such as the ability to kick devices off your micro network, range controls, a guest account, password and SSID editing, and dual-band control, all from the touchscreen.
Sure, you can get it too if you decide to log in to the hot spot using a computer, but if you don't have one, on-screen controls help even more.
If you're not changing anything, though, switching on the hot spot should initiate contact with Telstra's mobile broadband system, connecting you immediately if you've disabled the PIN, or asking you to enter it before you start working online.
We disabled ours and every time we held the power down on the Telstra 4G Advanced II hotspot, the connection kicked in, working in the space of a minute and giving our WiFi devices a connection to a fast mobile broadband.
One thing to be aware of, though, is that the touchscreen can be a little slow, with touches to WiFi, messages, or settings suffering from some lag every so often. Most of the time it's when you've just turned the device on, but we've seen it other times, too.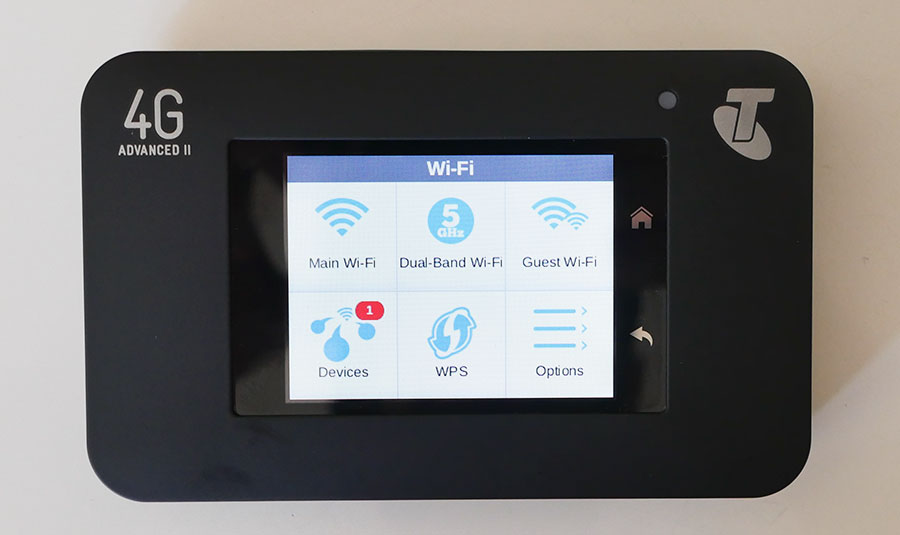 Inside Telstra's WiFi 4G Advanced II hotspot is a modem capable of jumping onto a Category 6 compliant network, which means speeds as high as 300Mbps when you're downloading, while upload speeds can grab as high as 50Mbps.
At the time of publishing this review, Category 6 LTE compliance was still being applied to Telstra's network around the country, and so while we could theoretically see speeds as high as that 300 mark, we didn't.
But because Cat6 is backwards compatible with existing LTE categories, it meant the Category 4 compliance was in effect, providing the GadgetGuy tests speeds around the 125Mbps mark when we needed them.
For the most part, we found download speeds in our tests of around 25 to 55Mbps were more frequent on the Telstra 4GX network, and that was fast enough for us, but as time goes on, we expect to see more.
Helping this is the network technology, with 802.11ac used for the WiFi technology, though you can drop this if needed, which is especially handy if the devices you're connecting to don't have the ability to connect to AC networks.
You can either use this as a dual-band 802.11ac device solely, or switch on each band as a separate network, offering the 2.4GHz network for one set of devices and the 5GHz for another, with as many as 15 devices connected, using the web interface if needed to control the amount appearing on each.
Even computers are catered for, and while one of our computers refused to see the network transmitted by the hotspot — only one out of around five computers and numerous smartphones — we found that because of the USB 3.0 plug on the Advanced II hotspot, we were able to plug it directly in and simultaneously charge and download across that connection, making for hyper fast downloads with a fully charged gadget.
Awesome.
There is an issue we found on the hotspot, which is technically created by Netgear (AirCard 790S) but used by Telstra and rebadged for the purposes of being sold and used on the Telstra 4GX network.
That issue was more of what pops up on the screen for the estimated download meter, and unfortunately, it just isn't updated all that often. We're not sure why, but the download meter tends to only update on every restart, meaning the estimation is almost always wrong as you leave it on.
We wished it updated more frequently, and it's not helped by Telstra's messages informing you of how much of your download count is left which don't come very often, either.
Basically, if you're at all concerned that you're consuming too much data, restart the device and check, because that's the only way the estimated download meter is ever going to help you.
Conclusion
If high-speed data is a must where ever you are, Telstra's Advanced II 4G hot spot is one of those gadgets that should probably be in your arsenal.
Owners of the Samsung Galaxy Note 4 and Huawei Ascend Mate 7 won't need it, mind you — they already have Category 6 support in their phones and can share the mobile broadband whenever they want to — but if you can't live without high-speed internet, we'd look into this.
And sure, Category 6 might not be totally here yet, but when it does, you'll be thankful you have something so future-proof that it nets speeds 30 times higher that of ADSL2+ at home.
Easy to use, with both a touchscreen and two soft buttons; Shares internet easily between up to ten devices; Network name and password can be easily defined by the owner; Very quick speeds on offer, ranging from between 25 and 125Mbps, though more is possible thanks to Category 6 support; Charges through microUSB yet offers USB 3.0 for plugging it into computers;
On-screen data usage doesn't refresh often; Touchscreen can be a little slow to respond;