Under normal circumstances the OS swap from iOS to Android and visa versa is almost equal – win some, lose some. New US research reveals that the era of smartphone OS swap is far from over, and it is heating up again.
Our article last October 2018 Smartphone OS switching is all but over relied on research from respected US researcher CIRP (Consumer Intelligence Research Partners) that reflected the market then. It found that Android loyalty was now at 92% outstripping iOS loyalty at 89%. Times change and OS swap from iOS to Android is rapidly increasing.
We surmised that Apple users were basically loyal to the brand and ecosystem, having invested a lot in its proprietary products like iTunes and apps. It was too hard or too expensive to move to Android.
Apple iPhone users are deserting the ship at an alarming rate
iPhones loyalty rate is now down to 70.8% from 89% over the past half-year (Q4, 2018-Q2, 2019). That is the lowest retention rate since – well almost ever.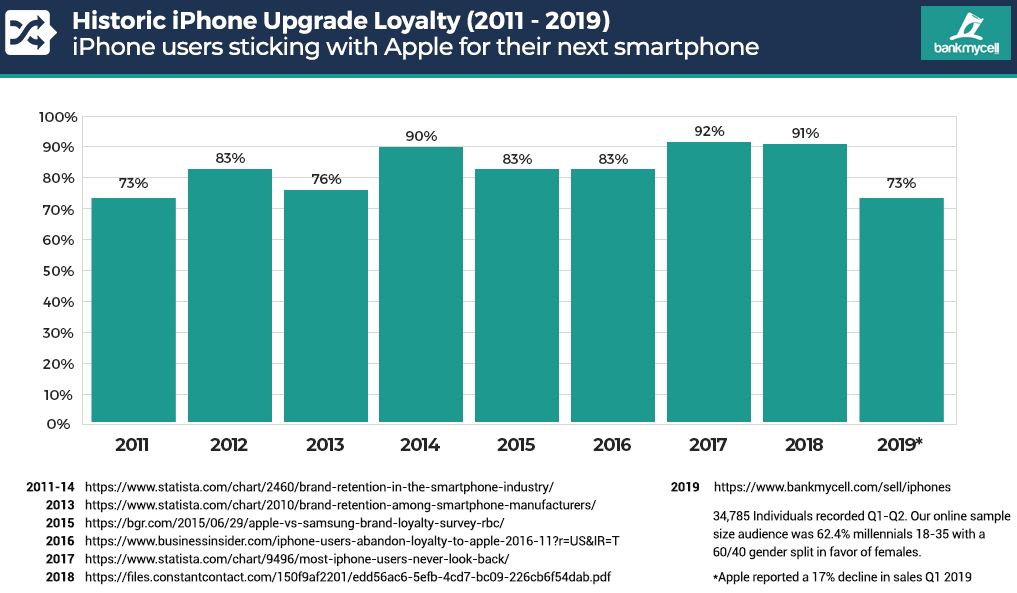 In part that is due to the lack of take up with the XR/XS/MAX released in late 2018 with only around 66.4% of current iPhone users (when trading in) staying with Apple. It's no surprise that Apple's significant price increases and lack of innovation over the X affected loyalty more than expected.
Where are they going?
24.5% of iPhone users moved to a new Android brand – Samsung (13.8%), LG (8.2%) or Motorola (2.5%).
18.5% of people selling an iPhone XS moved to Samsung Galaxy S10 – the most significant Apple to Samsung brand switch out of 16 phones users purchased.
26.2% of individuals trading in their iPhone X moved to another brand compared to only 7.7% of Galaxy S9 users switched to an iPhone
92.3% are now on Android
BankMyCell says Samsung's Galaxy was the only brand/model to 'sway' Apple loyalty. We suspect the reason was Samsung's brand cred and the great public reception of the Galaxy S10 range at comparatively lower prices to Apple.
GadgetGuy's take – The era of smartphone OS swap from iOS to Android is not over
First, a caveat. BankMyCell is a US-based trade-in organisation. It can track what phone comes in and what replaces it. So, the figures in percentage terms are representative of a snapshot of loyalty (buying intent) for the US market – not overall sales figures. US figures don't necessarily reflect global figures
The smartphone market is volatile. Look at the pasting Apple has suffered in China where local Android brands like Huawei, OPPO, vivo, Lenovo (Motorola) and Xiaomi have eaten Apple's lunch. It's not all Apple's fault – although its larger than expected price increases were the catalyst – but the fact the Chinese are now more patriotic than ever and supporting the Government's mandate of Made In China 2025.
It seems that the Chinese millionaire middle class – once brand snobs – now consider their home brands just as good. That contributed to Apple's 67% drop y-o-y in Q1, 2019 alone.
And I think we are beginning to wake up to the fact that you don't need to spend $1629-2369 for a base iPhone Xs to a fully speced iPhone XS Max.
Add to that the two interesting wild cards
First, as of 25 June Telstra has stopped bundling phones with voice/data plans (a move we heartily applaud). Now an iPhone Xs costs $68 a month ($1632 over 24 months), and Xs Max costs $99 per month ($2376 over 24 months) plus voice and data plans.
Many buyers are suffering hip-pocket nerves, and we hear that the Samsung Galaxy A70 at $20/30 per month ($720 over 36/24 months) is going gangbusters – read our review here, and it gets 4.9-out-of-5 stars. You can also buy it for $649 outright.
Danny Adamopoulos from Motorola reports a 'huge pick up in sales' of its g7 series and expects sales of its new Motorola One Vision at $499 to pick up those who simply can't afford an Apple. He says its g7 Power at $9.33/14 for 36/24 months as Telstra's lowest-cost offering is 'walking out the door' especially for business buyers.
Second, Apple also has an aggressive trade-in program offering from $155 to $725 (iPhone 6 to iPhone X) to stimulate new sales. It is also offering 0% interest for 12 months (a $4.95 per month account fee applies and 22.99% on the total purchase amount if you miss a payment) for purchases over $300.
These schemes create an artificial market for its new phones, and the trade-ins/refurbished could cannibalise future iPhone sales.
Note on the global smartphone market
Huawei was going great guns in 2018 and Q1, 2019, maintaining second place globally. Since Q2 the US Presidential Executive Order black banning Huawei has led to a reported 60% decline in sales in Q2, 2019. It will make no difference to Apple's market share in China, but it will affect the top 5 placements.
Read whatever you like into these figures – one thing is for certain that all the excitement is now in the $400-800 mid-market category where you can get everything you need for as little as 20% of a flagship cost.