We are always looking for new ways to reduce our carbon footprint. The Mate X eBike may just be the tool to help reach your carbon neutral goals.
About the Mate X
eBikes are fast becoming the new trend in the bike-riding world. Mate.Bike, is a Copenhagen-based startup founded in 2016 by the siblings Christian Adel Michael and Julie Kronstrøm Carton who want to engage today's mobility challenges. The Mate X is one in a range of Mate.Bike's models sold in Australia by SmartMotion, a leading electric bike retail store that also provides servicing and repairs.
The Mate X is rugged urban-focused machine that's easily storable. It has an electric motor that can tackle most terrains including city streets, beaches, fire trails and everything in-between.
The Mate X can be pre-ordered or pop into one of the 25 SmartMotion stores in Australia to try it out. Our review unit is $2,199 so not cheap, but still not overly priced for an eBike of its stature. You can also choose upgrades such as fenders or a rear storage rack to make your commute slightly more practical, but none are essential.
Although our bike was pre-assembled, the Mate.Bike website includes multiple troubleshooting and instruction videos that allow you to get your bike rolling quickly. You can also pay $100 to have it assembled for you.
Design
We love the design of The Mate X. It really grew on us over the short time we had the bike with a very modern, minimal aesthetic. There are many colour choices, however, our bike had a rather menacing look, with its matte black paint and chunky tires. The bike includes a 250W motor hidden in the rear wheel that blends in seamlessly, so there is no need to worry about an ugly-looking mechanical slab attached to your new set of wheels!
Every component of the bike feels sturdy and robust, with a fair amount of 6061 aircraft grade aluminium used in its construction. Individual joints, hinges and swivels are sealed, meaning that washing any dirt or mud off the bike is quite easy and will not get stuck in any nooks and crannies. To keep your bike in pristine condition, there are additional front and back fenders that can be purchased. These are very easy to remove via a few screws.
The bike folds in half, making it easy to store, however, don't think that this means it is easy to carry up a flight of stairs – as it weighs in at approximately 29kg. The dimensions of the bike are: 124cm tall, 180cm long and 65cm wide, but once folded, they're reduced to: 78cm tall, 103cm long and 59cm wide. As practical as a folding bike may seem, you will need to fold and unfold the main frame, the pedals, the handlebar and lower the seat to achieve the aforementioned dimensions. This can make it a bit painful for a quick ride.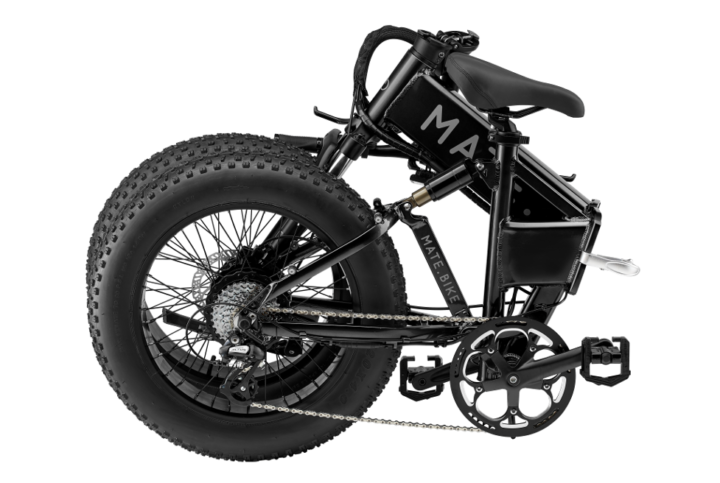 As with most bikes, it's quite easy to step on and off the bike and the seat and handlebars are adjustable to your height and preference. We also thought the kickstand was good however it might have been more functional to place it towards the centre, allowing it to maintain more stability, but it does serve its purpose.
Battery and range
The frame hides a 48V lithium-ion Samsung battery, which can be removed via an easily accessible handle once the bike has been folded up. It can take up to 8 hours for the Mate X to fully charge. It is possible to purchase the "Speed" charger, which means you can reduce the charge time to as low as 3 hours, but the standard 240V charger that comes with the bike is perfect for an overnight charge cycle. Pedalling does not add any energy back into the battery for those wondering.
The Mate X has an estimated range of 55-120 kilometres, but this does vary on the usage of assist levels and how many hills the bike climbs. We would say that the bike can comfortably manage between 70-80 kilometres for the average user.
Quick disclaimer, once the battery has run dry, you are obviously on your own! We tried riding around without any power functions enabled and, sure, you could still ride it, but it takes a lot of effort due to the weight and size of the bike.
Brakes and gears
The Tektro braking system comes in two variants on purchase: mechanical or hydraulic. The hydraulic system is an upgrade, and ensures smoother braking, requiring less braking force, but we found nothing wrong with the default mechanical system. There are brake and front driving lights, as well as rear turning indicators. There is a small indicator control on the left handlebar, and the front headlights are automatically switched on via a light sensor. It's also great to see that a horn is included.
Gear shifts are made easy via a simple twist in the handlebar with the Shimano gear shifter. There is a maximum of 8 gears with an easy-to-read display of what gear you are currently on, but with the motor assisting you, every gear feels easy!
The ride
Now here is the fun part. When we took the Mate X for a spin, we instantly fell in love. It had a really smooth take off that doesn't jolt you forward as many electric modes of transport tend to do, while still offering impressive acceleration. The motor is adjustable to different levels of power depending on your preference and cuts out once you reach 25km/h. So, this means you can enjoy both power-assisted pedalling or just use the throttle.
The thickness of the tires combined with full front and rear suspension provided a very plush ride, even over dodgy pavement bumps. Although we are based near Sydney's CBD, the inclines we did take the Mate X over were no issue, even at the lower assist settings. If you are looking to take the bike on casual off-road paths, we believe you would not find any problems in doing so.
The console display is fantastic, showing speed, energy consumption, and an easily readable battery level. To access all the settings, you will need to navigate via the buttons on the left side of the handlebars. We recommend giving the bike a quick test run and seeing what settings match your preference before going all out. The only thing we couldn't find was a Bluetooth setting, which can be a handy way to connect your bike to a phone app for tracking distance, etc.
As for speed, we managed to sit comfortably at 26km/h in the assist mode, however, there is an extra mode unlockable in advanced settings called "Ludacris Mode" which allows for speeds up to 42km/h. When we were about to turn this feature on, a large warning was displayed asking if you wish to proceed knowing that the warranty will become null and void so we obviously didn't test it out, but we were intrigued!
GadgetGuy's take
If you are looking for a new mode of transport for short commutes to work or casual rides, the Mate X is a fantastic option that's fun, practical and looks the goods too.
Compared to other eBikes on the market at a similar price point (AU$2,199), it offers a step up in terms of design, quality, and enjoyment.
Although we don't come by eBikes that often, we would be crazy not to recommend such a fun experience. For urban living, the Mate X is a fantastic way to traverse the city and even take on weekend adventures.
Details: Mate X
Website here
Support Pages here
Price: AU$2,199 – $2,748
Pre-Order From Official Website
Warranty: 14-day-trial (see more here)
Manufactured in China, soon Europe as well
About: Mate is a Copenhagen-based start-up founded in 2016 creating affordable eBikes as a preferred mode of transportation for people in urban areas.
The Mate X eBike – raising the bar (review)
Positives
Fantastic range with massive battery
Cool looking, sturdy design that's easy to wash
Great suspension for multiple terrains
Urban commutes are made easy
Negatives
No Bluetooth compatibility
Battery cannot be charged via pedalling