Beyond the kettle, you'd be hard pressed to find a more necessary small appliance for a home than the toaster. As Aussies, we tend to crave this for breakfast during tea, for lunch with cheese and tomato, and for dinner with pretty much anything.
But sometimes the toaster needs to be replaced, and some times it's just ideal to get a new one altogether.
If you're keen on buying a new toaster, our guide to one of our favourite small appliances is for you.
The cheap and easy
Toasting technology isn't exactly super complicated, not like a coffee extraction system or a blender.
Really, this just needs to cook bread lightly, to singe and toast it from each side, so if you just need something that works, you've found the right category. Bring your own butter and jam.
Sunbeam Quantum Thick & Thin TA4200
Price: $30
About as simple as it gets, the Quantum is a white roaster made of plastic that toasts and offers a high-lift lever.
Kambrook Essentials 4 Slice Toaster KT60
Price: $35
Raising the simplicity just a little, Kambrook's Essentials increases the width of the slots to accomodate an extra two slices and makes the browning control something a little more electronic. It's clear we're getting a little more gadgety with this one, and we're still well under $50.
Russell Hobbs York Long Slot Toaster
Price: $49
If there's one thing you've probably noticed about all of these budget toasters, it's that they all more or less look the same. Russell Hobbs' York changes that with a slightly softer look, with curves that make the toaster seem a little old school and retro. It's still a toaster made for budgets, it's just one that doesn't look like a rectangular box.
Breville The Lift & Look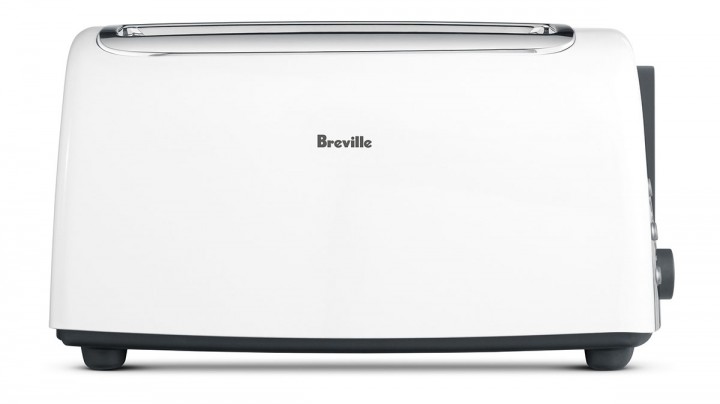 Price: $59
A little more than a standard toaster, Breville's Lift & Look is your standard "I can toast bread!" toaster, but with a little control over that lever when the bread is down, allowing you to get a slight peek as to how the bread is doing, ideal when you're unsure if you're toasting too much.
The all-rounder
When a $50 toaster is "too cheap", we turn to the all-rounder, a device that does a little more than basic toasting with one setting, and feels more like it's going to last a while in your kitchen, rather than the expectation of a year-ish before you need to throw it out. These are those toasters.
Sunbeam Long Slot 4 Slice Toaster TA4540
Price: $55
The first all-rounder off the rank takes what you can see in the best budget boxes, and adds a feature or two, supporting crumpets as a specialised cooking option, because no one wants burned bread that honey will bounce off of, rather than melt into.
Sunbeam's Long Slot brings crumpet cooking to the package, as well as that quick check level, because you know you want to be teased with breakfast as it cooks.
Kambrook Long Slot 4 Slice Toaster KT630
Price: $70
An update to the Essentials toaster in the cheap and easy section of this guide, the Long Slot is silver, semi-futuristics, and has been tested with over 290 hours of continuous testing to assure you that it can cook nearly 20,000 slices of bread, just not at once.
Rather, it will do four at once, and for less then $100. Get cracking.
Russell Hobbs Heritage Vogue 4 Slice Toaster
Price: $99
One of the toasters GadgetGuy has been testing of late, the Vogue is a delightfully retro toaster offering two wide and large slots for four slices, a high lift lever, and easy to use buttons and browning controls.
It also happens to look like a vintage toaster, and yet doesn't appear to weigh much, which is dramatically different from the old vintage-looking toaster that actually was vintage, as that weighed down the bench up until this one came along.
Sunbeam London Collection 4 Slice Toaster TA2240
Price: $149
Shiny and simple, Sunbeam's London collection is a minimalist's approach to a four slice all rounder for the kitchen. There's something lovely and nice about the aesthetics of this one, and since it offers two wide slots for four pieces of bread, simple controls, and a matching kettle if you're keen to buy something else for your home.
The futuristic
In the future, robots will serve you. They'll greet you at the door, take your jacket, give you your messages, make you your food, feed your dog, and potentially be your butler and maid.
Until that point, however, we have appliances with a sense of automation, and in this category, a bunch of toasters that are as automated and futuristic as it gets. For now, anyway.
Sunbeam Maestro
Price: $90
The future starts with electronics, and with one of the only two-slice options in our list, the Sunbeam Maestro.
One of the few toasters we've reviewed, the Maestro not only gets an LCD with a countdown timer for how long it should take to toast the bread, it also lets you take a quick gander at the toast as it cooks with a lever that doesn't lock for a "QuickCheck".
Russell Hobbs Aston 4 Slice Toaster
Price: $149
There are regular toasters, and then there are electronic and motorised toasters, because why should you have to do anything when the magic of a motor can take care of the work for you.
The Aston is one of these concepts, and when you load the bread in, the toaster will take care of the rest, as seen with GadgetGuy's reviewers recently. It's a surprising experience, as if your toaster has just become sentient and is doing what it does: toasts.
Breville The Smart Toast
Price: $220
Like the futuristic Aston from Russell Hobbs, the Breville aims to be smart, living in the future and not just bringing the bread in, cooking the sides, and telling you when it's done, but bringing in buttons specifically for checking to see how the bread is cooking, for toasting it a bit more in case it wasn't done, and for toasting fruit bread (my gran will be pleased).
The future is apparently filled with buttons. For toasters, anyway; your phone is still a touchscreen slate.
KitchenAid Artisan 4 Slice Toaster KMT423
Price: $249
KitchenAid's take on the future of toasting isn't totally distinct from what either Sunbeam or Breville believes is the future — because LEDs are in here, too.
You'll also find motorisation — just like the Breville — but carrying differing temperatures for each pair of slots, with a countdown timer.
Yes people, the future is timed.
The luxury
A luxury toaster is a rather odd concept, you know, because toast isn't exactly a luxury food. Still, you can either make it luxury by adding caviar, or just use some proper artisanal bread (or even some you've made yourself).
Or maybe you just prefer a more spesh toaster.
Whatever the situation, these bets are for you.
Smeg 50s Retro 4 Slice Toaster TSF02RDAU
Price: $199
About a retro as it gets, Smeg's designs haven't changed a lot over the years, and the Smeg's "50's Retro Style Aesthetic" toaster continues that tradition, with a polished chrome body that reveals a shiny body and the brand "Smeg" in the original font.
It's very much like the Smeg fridge, so if you have one of those, you know exactly what this looks like. Oh, and it toasts bread, so you also know exactly what it does.
Sunbeam Marc Newson 2 Slice Toaster TA8820R
Price: $199.95
One of the only two-slice options on this list, Sunbeam's luxury take is one developed by Australian design icon Marc Newson.
If you're not familiar with the name, he's probably one of our most famous design exports, conceiving appliances for Smeg, chairs for Qantas, a pen for Montblanc, a camera for Pentax, and a design for Apple responsible for aspects of the Apple Watch, to name but a few. He's even had an exhibit covering his works at the Powerhouse Museum.
And now he has a toaster, with a rather retro look bringing a motorised carriage and self-cantering slots to the table. It's about as automatic as it gets, and designed by a legend, at that.
DeLonghi Distinta 4 Slice Toaster
Price: $209
DeLonghi's take on the toaster is almost always a little more expensive, but that's likely because its toasters are larger, wider, and offer a design ideal for modern kitchens.
For the Distinta, you'll find gauge-like browning controls for a retro experience, and a manual "extra life" lever to make sure that bread leaves the toaster.
KitchenAid KMT2204
Price: $399
KitchenAid's take on the luxury toaster looks a little like its long-running KSM160 Stand Mixer, except made into a toaster, so if you already have a retro mixer from KitchenAid, you sort of know what you're getting into.
Here, you'll find a curved metal box that could be a car from the 50s or even a soft robot head, but it's actually a deluxe toaster that can handle bagels and crumpets, and also do regular bread, cooking it with one of seven settings and a series of LED lights to tell you when it's done.
Hint: it's done when the bread smells good enough to eat.
Magimix Vision 2 Slice Chrome
Price: $499
For some people, the luxury of spending on a big important gadget should highlight precisely what the gadget is doing, and Magimix's Vision kind of does that.
While you won't get Paul Bettany to voice out loud "your toast is cooking" with this Vision, you will at least see the toast as it cooks. For $500.
However, if you happen to be Paul Bettany or even know Paul Bettany, don't hesitate to get a recording of The Avengers' "Vision" saying "your toast is cooking" and "your toast is ready for human consumption" to make that Vision complete.