Last year's Galaxy Camera was one of the more intriguing propositions out there: a 21x optical camera that ran Android, and meant you could post images from the middle of somewhere. Awesome, and we made great use of it during CES, but now a new beauty has our attention.
Announced in London this week at Samsung's ATIV and Galaxy special event, the Galaxy NX is the first interchangeable lens camera that sports a computer inside capable of running Android.
Like the last Galaxy Camera – which was also the first Galaxy Camera – this is basically a slightly stripped down Galaxy smartphone sitting inside the body of a camera, in this case a Samsung NX range camera.
Samsung has stuck with a 20.3 megapixel APS-C sensor – one that's likely not too far from what we've seen in the NX300 – and offers ISO up to 25600, 20 megapixel images in both JPEG and RAW, 3D photos at a maximum of 4.1 megapixels, with more electronics for some fast auto-focus, 8.6 frame per second shooting, and a maximum of 1/6000 second shutter speed.
The same lenses available for the current crop of NX cameras will work here, complete with that older "iFunction," allowing you to control the camera which ever way you prefer.
Then there's the phone inside, and for that, it looks like we're seeing a return to the 4G Galaxy S3.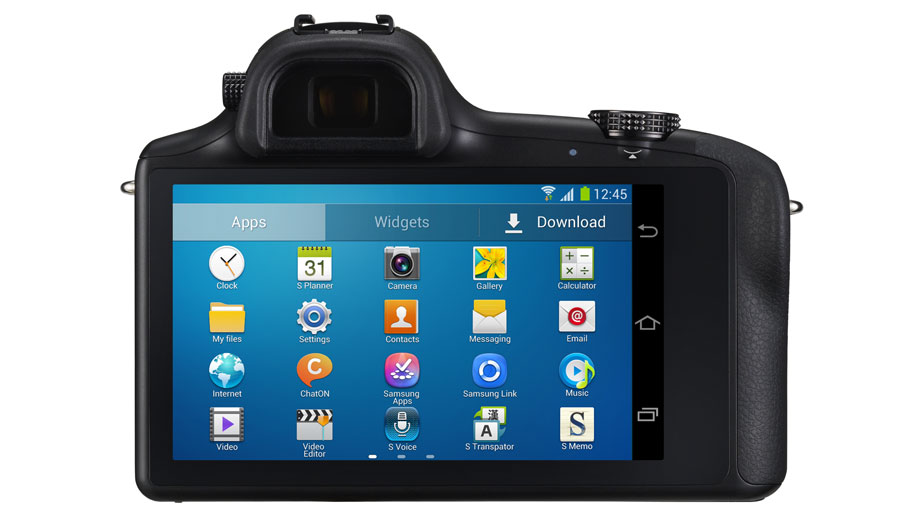 Proving this, the Galaxy innards of the NX camera include a 1.6GHz quad-core processor, Android 4.2 "Jelly Bean," support for both 3G and 4G LTE, WiFi, Bluetooth, GPS, 2GB RAM, 16GB internal memory, support for a microSD slot, and a 4.8 inch HD 720p screen.
Those specs remind us of the 4G Galaxy S3, though we doubt the phone feature will be here. Missing in the original Galaxy Camera, we suspect it will remain the same in this new model.
The battery is much larger than before, likely to deal with the fact that this is a camera and not just a smartphone. As such, the 4360mAh battery is twice that of what's in most phones and that of the first Galaxy Camera, but we hope that's enough to keep it running for longer than a hundred shots.
Pricing and availability has yet to be announced locally, though if we were taking guess, we'd say Australians should see this between August and October, in possibly a post-IFA release.
We're looking forward to it, as the idea of post-processing images in Snapseed right after we've shot them in RAW sounds like an awesome idea.