The future of the Thunderbolt port on Apple computers just got a little murky as Intel changed tactic for the next generation of the technology.
Some interesting things are happening at Computex in Taiwan this week, and Intel is behind one of them, as the company unveils the next generation of Thunderbolt.
Don't know what Thunderbolt is? Don't worry, you're not the only one, but if you have an Apple Mac purchased in the last three years, you probably have the technology, even if you don't know what it is.
If you do have one, take a look at the side where the ports are, with the left and right on laptops or the back on a desktop or the iMac. When you see a short stumpy squished rectangle with two corners softened almost like they're circular instead of sharp, that's the Thunderbolt port.
For those who don't know, Thunderbolt is a high-speed transfer technology that was developed by Intel (the makers of the computer chips) and Apple (the makers of the computers), and it's a concept that kind of rose out of the ashes of FireWire, another high-speed transfer technology.
Years ago, FireWire was relied on by video camera makers, hard drive manufacturers, and sound and video accessory designers to provide a high-speed link that always offered a solid and fast speed no matter what you were doing.
It wasn't quite as plug-and-play friendly as the USB standard that was gaining attention across the planet, though, and eventually lost that battle as more manufacturers started to adopt USB, especially when the faster USB 3.0 standard started coming in.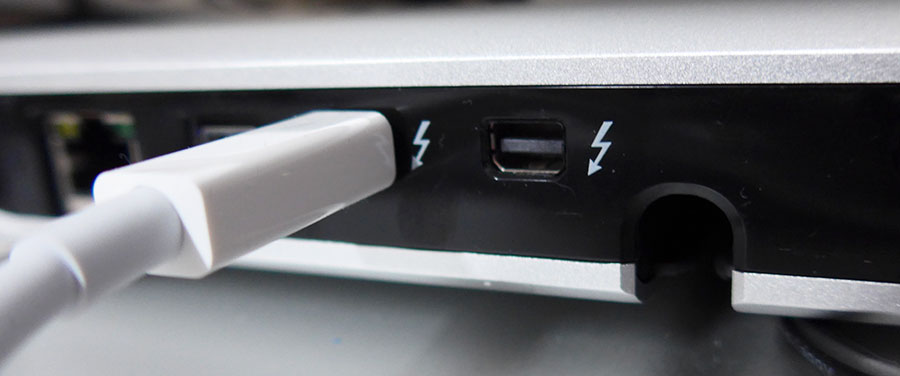 That led Apple and Intel to push out Thunderbolt. Originally called "Light Peak", this technology offered more power, faster speeds, and a connection that could deliver video through the Mini DisplayPort connection, meaning it wouldn't need a new port again.
And that's part of what ports have to deal with when being thrown into new machines, because as computers get smaller, we want less ports on them, and more compatibility.
This week, Intel has found a way of doing that for its third version of Thunderbolt, and it might throw a spanner in the works for Apple.
At Computex in Taiwan, Intel has announced Thunderbolt 3, the next generation of the technology which will offer faster speeds as high as 40Gbps for compatible devices (compared with 10 and 20Gbps for Thunderbolt versions 1 and 2), up to 100W of power, up to two 4K displays, 10 Gigabit networking, and even the ability to run USB devices through it.
That last one is vitally important because it points out a huge change Intel has made, as Thunderbolt 3 is also reliant on the USB Type-C port.
Don't know what that is? No worries.
Remember the very thin new port Apple showed off on its ultra-thin MacBook a few months ago? The one that not only charges the laptop, but also provides a way for USB devices to be plugged in?
That's USB Type C, and while Apple's MacBook is the first computer in Australia to receive the port, it isn't the only computer in the world.
In fact, it's expected that USB Type C will even replace microUSB as the charging technology on smartphones in the next few years, as a new standard that works on phones, tablets, and computers will mean a plug technology that works everywhere around the world for everyone.
"Thunderbolt 3 is computer port nirvana," said Intel's Navin Shenoy, adding that it delivers "two 4K displays, fast data, and quick notebook charging."
"It fulfills the promise of USB-C for single-cable docking and so much more. OEMs and device developers are going to love it," he said.
This makes the situation interesting for Apple, because while Thunderbolt 2 — the version currently seen on Apple computers — is likely to be supported for some time, Thunderbolt 3 will gradually be trickled out to more computers, and Apple has just finished its current crop of updates.
Does this mean we'll see Apple push out updates very quickly to its computers? Time will tell, and we'll certainly let you know when it happens.