While we all love the idea of owning eye-wateringly expensive Apple iPhone 11, Samsung Galaxy S10/+/Note and other bright shiny toys, the facts are that there are many top phones under $500.
Top phones under $500 – don't be surprised to learn that >$1000 flagship phones only account for about 10% of global sales. Over 55% of phone sales are below <$500 and the value there is killing the $500-1000 sales.
For example, the cheapest Qi wireless charging phones were all over $1000 – Samsung Galaxy, Pixel, iPhone, LG and Huawei but cheeky upstart Mintt has it on the $399 Ultramintt Y3 – that is one of the top phones under $500!
Channel Seven Sunrise GadgetGuy Val Quinn reports on the top phones under $500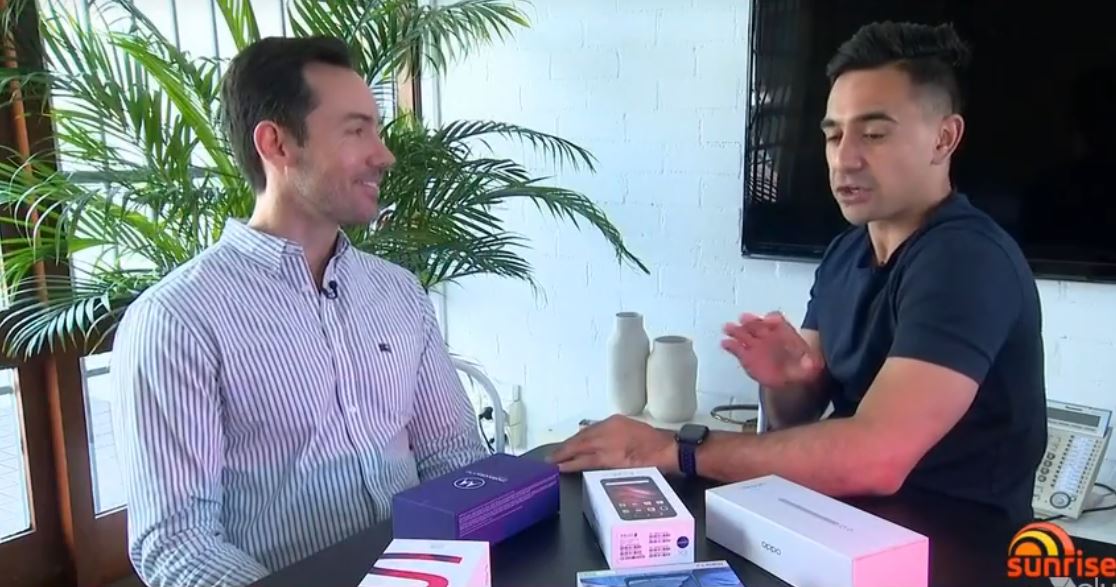 A 6.4-inch screen was the province of iPhone and Samsung Galaxy. Now all our contenders have them, and some are AMOLED as well.
Or how about a 48MP snapper? Formerly the domain of high end 'cameraphones' there are now several at $499 – OPPO Reno Z, Motorola One Vision and Nokia's new 7.2. And some of these have a tri-camera setup with ultra-wide and depth as well as a huge 25-32MP selfie camera. No, they may not beat the Huawei P30 Pro camera, but at 30% of the price, they are outstanding.
And the days of cheap meaning slow processors, little memory or storage are long gone – the OPPO Reno Z has a massive 8/128GB (no microSD), and others have microSD slots to add more memory.
About the only thing missing at this price is IP68 waterproofing.
Top phones under $500

Here are how the top $499 phones stack up
Model
OPPO Reno Z
Motorola One Vision
Samsung Galaxy A50
Nokia 7.2
Screen
6.4" AMOLED
6.3" LCD
6.4" AMOLED
6.3" LCD
RAM/Storage GB
8/128
4/128/micro-SD
4/64/micro-SD
4/64/micro-SD
Rear Camera
48+5MP
48+5MP
25/8/5MP
48+8+5MP
Zeiss lenses
Selfie Camera
32MP
25MP
25MP
20MP
Comms
Wi-Fi AC, BT 5.0
NFC
Dual Sim
Same
Same
Same
Battery
4000mAh
USB-C fast charge
3500mAh
same
4000mA
same
3500mAh
same
Website
GadgetGuy rating


Review 4.9
Review 4.8
Announcement
Expect 4.7
Announcement
Expect 4.8
Colour
Aurora Purple, Jet Black
Bronze
Blue, Black
Charcoal, Cyan Green, Ice
Why buy
Huge screen
Dolby Atmos
Under glass fingerprint
Great pedigree
Motorola (Lenovo) quality 21:9 CinemaVision Screen
Pure Android
Samsung reliability and good specifications
Nokia is trying to regain the 'throne' and is making excellent handsets with Pure Android
These all have high levels of AI (for an idiot-proof photo), fingerprint reader, and a build quality par excellence.
Lower cost <$450
While the $499 bracket has redefined what you can expect (and would have paid a few hundred dollars more for a few months ago) there are some diamonds in the rough you should consider.
Model
UltraMintt Y3
Vivo S1
Vivo Y17
Ultramintt X3
Screen
6.3" LCD
6.38" LCD
6.35" LCD
6.3" LCD
RAM/Storage GB
4/64/microSD
6/128/microSD
4/128/microSD
3/64/microSD
Rear Camera
20+16+5MP
16+8+2MP
13+8+2MP
13+2MP
Selfie Camera
24MP
32MP
20MP
8MP
Comms
Wi-Fi N Dual Band
BT 4.2
NFC
Wi-Fi AC
BT 5
NFC
Wi-Fi N dual-band
BT 5.0
Wi-Fi N dual-band
BT 5.0
Battery
4050mAh
USB-C fast charge
Qi charge
4500mAh
micro-USB fast charge
5000mAh
micro-USB fast charge
4050mAh
USB-C fast charge
Website
GadgetGuy rating


Review 4.9
Review 4.8
Not reviewed yet
Website
Review 4.4
Colour/Price
$399
Amethyst
$449
Aqua Blue
Cosmic Purple
$369
Mystic Purple
Mineral Blue
$265
Cobalt
Why buy
'Obscene value'
Qi Charging
You would pay hundreds more in a store


Vivo (OPPO) quality and very high specifications
Huge battery and good specs
A quality phone that offers the best for the money
The Mintt Y3 stands out for Qi charge and overall functionality for the price. The vivo models are very well specified and aggressively priced.
GadgetGuy's take – top phones under $500 – heaps of choice and not a lemon in sight
Later this month another Chinese brand realme will enter the market with four smartphones from $200-500. Watch out – this is OPPO's little brother, and there will be strong sibling rivalry (vivo is also OPPO's brother).
The most surprising is the Mintt Y3 – it offers obscene value via an online sales model only. We are told that soon Mintt phones will have the option (at extra cost) of a 'white-glove' home install to copy all your data, photos and contacts from your old phone – that is impressive and will overcome one of the chief pain-points to getting a new phone.
But, hey, any of these are excellent phones and punch well above their weight proving that you don't need to mortgage the firstborn to get a decent daily drive.
Most buyers will eschew Telstra, Optus and Vodafone and buy pre-or-post-paid $20 monthly sims from MVNOs like Woolworths, Boost and Aldi – Telstra's cheapest plan is $50 per month.