The videogame industry has become a truly global phenomenon. And among the great global developers are four Australian mobile game developers that deserve recognition.
It's a great time to be among Australian mobile game developers. There's been a renaissance in the Aussie gaming scene, with studios like Firemonkeys and Team Cherry creating titles with global audiences that number in the millions.
GadgetGuy asked guest Gadgeteer, author of Wicked Games and gaming commentator Arjun Krishna Lal to pen a few words on the top Australian mobile game developers.
Australia hasn't missed out on the mobile game developers action
We've seen big name titles popping out from places you'd never expect: The Witcher franchise is Poland's best-known export, and Metro Exodus does a better impression Russia than any Fox News special ever could. A lot of this growth is on mobile, and top mobile developers around the world regularly release titles with hundreds of millions of downloads.
We are looking at the top four Australian mobile game developers, highlighting prominent, home-grown mobile studios that have made it big internationally.
If you have time, click on the links to the gaming studios to see their other work. Quality games are being developed in all kinds of places, by all kinds of people.
1) Firemonkeys
If you've ever played Real Racing 3 or Need for Speed: No Limits on your Android phone or iDevice, you've seen Firemonkey's work.
Since its launch in 2013, Real Racing 3 has been a runaway success in the mobile space. The Free-to-play racer has visuals well advanced for the time. Apple featured the game in their iPhone 6S reveal as a showcase for its A9 chip's graphical prowess.
The Melbourne-based developer is a merger between two homegrown development teams that were acquired by Electronic Arts: Firemint and IronMonkeys.
Firemint is the creator of the Real Racing franchise. 2010s critically-acclaimed Real Racing 2 put them in the spotlight and caught EA's attention that acquired them a few months after Real Racing 2's launch in 2011.
IronMonkeys was acquired by EA a year earlier. Before the merger, they developed mobile spinoffs for EA-licensed franchises such as Dead Space and Mass Effect. Their take on Dead Space was well-received incorporating almost all of Dead Space's signature gameplay features. But 2011 is eons ago, and Dead Space was one of the first true console-quality experiences on mobile.
After the Firemint-IronMonkeys merger, the combined team worked on Real Racing 3 and, later, 2015's Need for Speed: No Limits. With over 250 million downloads these two games have kept Firemonkeys busy—they now employ over 170 staff in their Melbourne office.
 You can find out more about Real Racing 3 on Firemonkey's website here.
2) Mountains
Melbourne-based Mountains describes itself as a "craft games studio.
If this reminds you of artisanal beer and dimly lit corner booths, it's for a good reason: Mountains' debut game, Florence, isn't a quick, free-to-play cash-grab.
It's a surprisingly deep, interactive meditation on many of the daily issues we have in mind. Using simple touch-based minigames as a point of physical connection, Florence tells a moving tale that deals with love and loss, race, and growing up, all packed into an incredibly intense 45-minute experience. Whatever your taste in games, this is one we suggest you don't miss out on.
Read more about the Mountains team on their homepage, here.
3) Halfbrick Studios
This might be hard to believe, but there's actually an Australian export with more fans than Vegemite: Fruit Ninja.
Wait. What? That's what we thought, too at first. But the iconic pineapple-slasher was Brisbane-based Halfbrick Studio's breakout mobile title. With over 1 billion downloads, Fruit Ninja's easily the biggest thing that ever happened to the Australian videogame industry. The game was so successful that Halfbrick was inducted into the Queensland Business Leaders Hall of Fame in 2017.
Halfbrick has gone on to develop Jetpack Joyride, Dan the Man, and a whole host of Fruit Ninja spinoffs for various platforms. The studio's been around since 2002 and had moderate success developing licensed titles like Avatar: The Last Airbender and Star Wars: Republic Heroes. But the huge success of Fruit Ninja has overshadowed just about everything else.
Check out Halfbrick's homepage here.
4) Playside
Melbourne-based Playside Studios is one of those mid-sized mobile developers that just generally flies under the radar.
Their biggest hit, Dumb Ways to Die 2, netted over 75 million downloads. Building on that success, they've developed over 30 mobile titles over the past seven years. In addition to their IP, they've collaborated with the likes of Nickelodeon and Pixar on several licensed mobile spinoffs. While few of their games have had Dumb Ways to Die 2's runaway success, nearly all of Playside's titles netted over 100,000 downloads. Not too, shabby!
 Visit Playside's homepage here.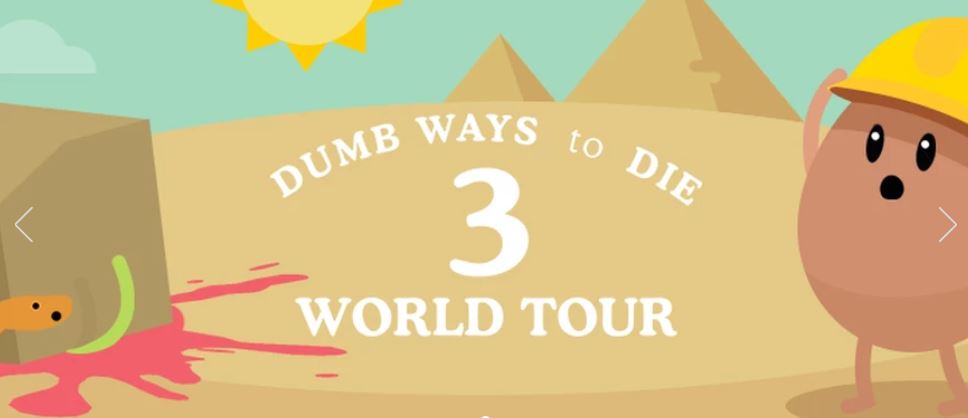 Gadgeteers take – Australian mobile game developers are bigger and prolific than you'd think.
Watch this space: we'll return soon with a feature on top Australian game developers in the PC and console space.