Recognised for its TVs and computers, Toshiba is now seeking to forge a name for itself in the emerging small-screen arena of tablets with the AT100.
Features
The AT100 is not Toshiba's first tablet, but something of a laggard follow-up to the T100X released 15 years ago. This tablet featured a 9.5 inch greyscale LCD with 40MB of space and 4MB of memory. Designed to be a replacement for note-taking, the T100X ran on Microsoft's Windows 3.1 operating system and included special software to let you jot down your thoughts with a stylus. The AT100, however, is a very different animal to its predecessor, although not quite so different from other tablet life forms currently available.
Like many current model Android tablet devices, Toshiba's AT100 has a 10.1 inch screen with a fairly standard 1280 x 800 resolution. There's also the Nvidia Tegra 2 processor – the same chip we've seen on countless 10 inch tablets this year – and Corning's scratch-resistant Gorilla Glass is coating. Again, something we're seeing in competing tablets.
There's no 3G in this incarnation of the tablet, although Toshiba says it's coming. Wireless-wise, the AT100 supports WiFi b/g/n, DLNA and Bluetooth 3.0 with A2DP – features that are, once again, common to many other 10 inch tablets.
There's not much to mark Toshiba's interpretation of Google's Android tablet OS apart from other Honeycomb devices, either. A few extra applications, such as a file manager and a video application to take advantage of unit's DLNA capabilities are provided, but generally it's the same stock Honeycomb version that Google designed.
Toshiba has provided 16GB of storage for your photos, music, movies and data files, and there is room to expand capacity via the SD card slot, capable of expansions over 32GB thanks to the compatibility with SDHC and SDXC cards.
You'll also find a USB 2.0 port, similar to what you'd see on a laptop, allowing you to plug in external hard drives. With this option, you could easily plug in a 1TB portable drive, though the required cable wouldn't make it the most convenient option.
Available ports are similar to what's on offer in the Viewsonic ViewPad 10s, with full-size HDMI, mini USB, combined headphone and microphone jack and AC charging port. There's also a proprietary docking port covered by a piece of plastic.
You'll also find a couple of cameras on the AT100, a feature that, once again, appears in other devices. On the AT100, Toshiba has included a 5 megapixel camera on the back and a 2 megapixel camera on the front. Neither is accompanied by a flash.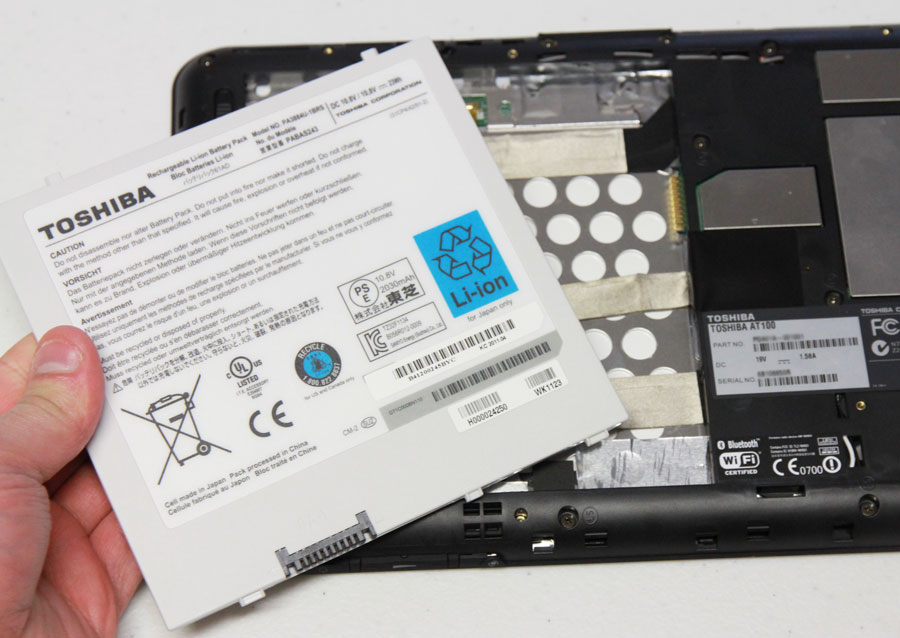 Performance – the good
Toshiba's first effort feels very nice in the hand. Unlike Apple's devices, it isn't slippery, and the rubberised backing material allows for a comfortable grip. At 771 grams, it's heftier than similar devices, but manages not to feel overly heavy.
The Tegra 2 processor is quite snappy; the screen responds quickly to keystrokes made via the onscreen keyboard and navigation of the operating system is slick. There doesn't seem to be anything to limit performance here, which is not surprising considering how little Toshiba has intervened with the Google's stock Honeycomb experience.
The included USB port and SD card slot work just the way you expect them to: plug a peripheral in and run the Toshiba file explorer to see your files. It's a nice touch having these ports available, especially considering that you need to pay for the Camera Kit on the iPad to enjoy the facility they offer, and even then the device supports only one at a time.
Sadly, you can't plug a 3G modem into the USB as there are currently no drivers available. Perhaps later down the track Google will add support for the mobile dongle in its tablet OS, but for now, you'll have to jump onto WiFi or a wireless mobile hotspot to get the AT100 online.
That brings us to the battery. You'll get about a day's work from the AT100's built-in power source, which is about par for the course with 10 inch Android tablets using the Tegra 2 processor. This isn't enough to go the distance with you on a long-haul flight to the US or Europe, of course, so the enlightened guys in marketing at Toshiba have made available an optional battery. Small, light, useful and just $80, it's a genuine point of difference between the AT100 and other Android 10 inch tablets.
The not so good
While the tablet's performance and feature list will make most customers happy, the quality of some of the components may not.
We're a little surprised at the screen quality of the AT100. Toshiba produces high grade TVs, but the screen on our review sample exhibited a yellow tinge, and there was noticeable colour banding on some images.
We love the replaceable battery on the AT100, but removing the rubberised back to make the swap is a real dog of a job. Toshiba includes a lock switch for keeping the case in place, but with all the effort required to remove it, a lock is hardly necessary. Oh, and the lock switch doesn't really indicate when it's locked and when it's not.
And why bother putting a cover on the docking port at the bottom? It's not anchored to the tablet in any way and stands to become lost the moment it's removed.
Conclusion
Overseas, the AT100 is called the "Thrive." In Australia, this is the name of a popular garden fertiliser, which is why it won't be marketed locally under this moniker. Toshiba, naturally, doesn't want any connection between its flagship tablet and what's sprinkled over the veggie patch to make your carrots grow.
But "thrive" is precisely what the AT100 might do, especially as it offers the speed and performance to be a good alternative to Apple's iPad. Features like the replaceable battery and SD card slot make the AT100 shine brightly too, but next time around we'd like to see more custom touches by Toshiba to make the tablet truly special.

Rubber back makes the tablet easy to grip; Replaceable battery;
Screen has a yellow cast to it; Docking port cover will get lost quickly; Back is hard to remove; No 3G SIM slot;