Performance
The last Toshiba seven incher didn't do much for us, managing to feel thick, plastic, and lacking in design, so it's nice to see the company has taken it back to the drawing board for the new model.
With this year's take on the tiny tablet, Toshiba has slimmed down and shaped up, ditching the plastic and rubber chassis and opting for aluminium instead.
In the latest incarnation, the tablet is thin and light, coming in at 7.85mm and featuring a slightly bigger 7.67 inch screen than its predecessor.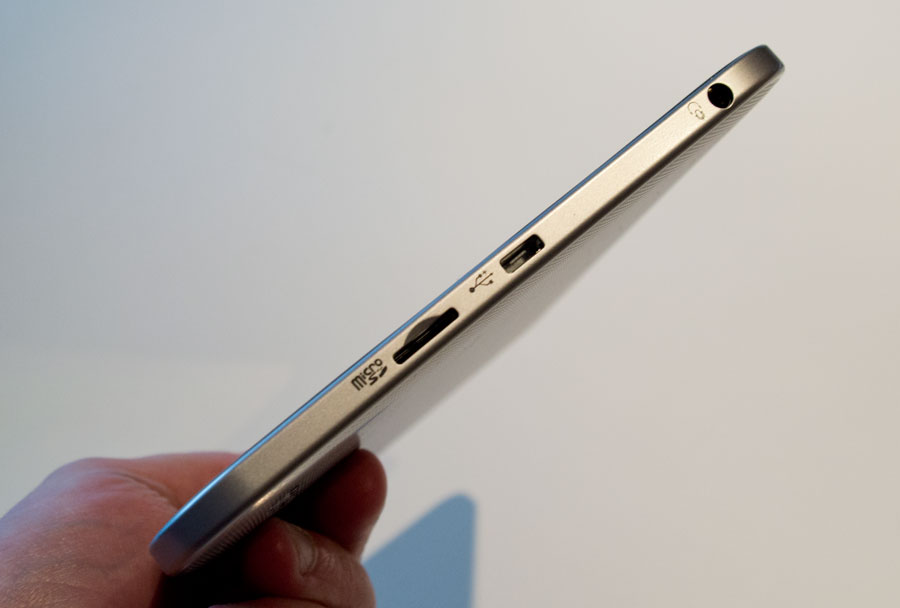 It also feels excellent in the hands, with a solid metal back textured with tiny dots so that the tablet doesn't slip out of your grip.
The screen is coated in Gorilla Glass and sports a pixel ratio of 197ppi, higher than the quality offered on the first- and second-generation Apple iPads and making the text clarity slightly better than a lot of 9-10 inch devices out there.
Toshiba has equipped this tablet to run one of the latest versions of Google Android, with a fairly untouched Ice Cream Sandwich taking centre stage here. The recently announced upgrade to ICS – Jelly Bean – isn't here yet, but we wouldn't expect it that quickly. In any case, Android in this current version should be absoloutely fine for most people.
An untouched version of the operating system means that Toshiba hasn't really personified the operating system, but we do have some apps specific to Toshiba, including a file manager, service and upgrade software, and media player with DLNA support.
Using the tablet as a media consumption or eBook reading device, the tablet shines. We've comfortably read quite a few pages of books and magazines on the bright screen of the AT270 this week.
There were no major problems testing the tablet with our usual smattering of games and apps, as Angry Birds, Temple Run, multiple tabs in the web browser, live wallpapers, and menu switching showed us just what the speedy Tegra 3 processor was capable of doing in this slate.
Even the amount of vibrating haptic feedback in the tablet surprised us, with some strong and noticeable vibrations making us more aware of the virtual buttons we were pressing.
Battery performance was also interesting. Through our testing, we found that if you use it for a few hours every day as a reading and media consumption device, you'll find a rough guide of three to four days life.
A more aggressive use of the AT270 will see you needing a charge daily, but most people should average between two to three days of regular use, which is strong for a tablet.
In fact, according to the benchmarks, Toshiba's seven incher sits just below the Asus Transformer Prime in regards to overall speed and performance, which isn't bad at all.