Budget Windows tablets are a big deal this year, and Toshiba is here in this area with a new machine of its own, bringing Windows 8 to a 7 inch tablet for $199. Worth it, or could you do better?
Features
Toshiba isn't new to tablets, but with the 7 inch Encore Mini, it's resizing them for a different audience, the group of people that wants to cut costs and still find a way to bring Windows with them on the go.
That's the purpose of the Encore Mini, a tablet from Toshiba that packs in the quad-core Intel Atom Z3735G clocked at 1.33GHz and paired with 1GB RAM.
Microsoft's full version of Windows 8.1 runs here out of the box, none of that RT stuff Surface RT tablets get installed with, meaning an update to Windows 10 is possible later on, too, though it might get tight with only 16GB storage found on the tablet. Fortunately, upgrades are possible, too, with a microSD slot included on the unit.
You'll find two cameras here, with a 2 megapixel shooter on either side, while connectivity caters to 802.11b/g/n WiFi and Bluetooth 4.0, as well as a microUSB port for charging the tablet and data transfer.
The screen sits at 7 inches, running the slightly unorthodox resolution of 1024×600, with touch support also here, since it is a tablet.
Ports and buttons are limited, being a touchscreen computer, with a power button and volume rocker provided for the physical buttons, while the ports can be found in the form of a 3.5mm headset jack, microSD slot, and microUSB charge and data transfer port, all of which are found along the top edge.
The battery is built into the Toshiba Encore Mini and is not removable.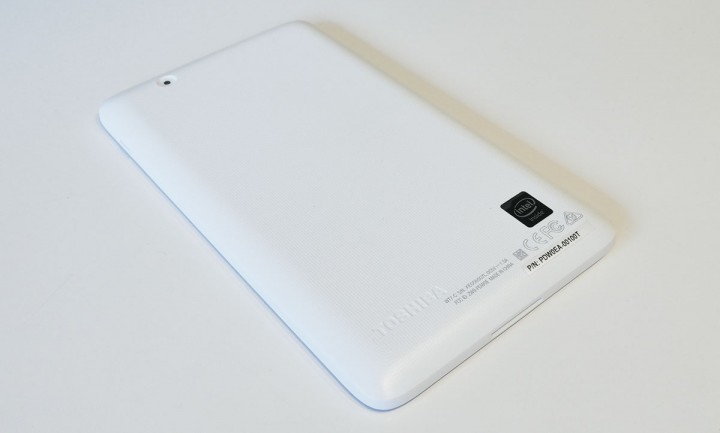 Performance
How small can a full Windows experience get? If you're Toshiba, the answer is 7 inches, as Toshiba lets us take a look at the Encore Mini, a product that in some circles is known as the Encore 2 Mini, and in others, comes with the rather long product code of "PDW0EA-00100T".
To most people, though, it will simply be Toshiba's 7 inch Windows tablet, as the company that practically created the laptop gets into truly portable Windows computers made for a budget, of which this definitely is.
With a recommended retail price of $199, Toshiba is clearly targeting the back to school group with this one, with the Encore Mini joining the slew of budget Windows computers we're beginning to take notice of as Microsoft teams up with manufacturers to fight against the similarly budget machines running Google's Chrome OS.
Will Toshiba's Encore Mini make a dent? Let's find out.
Starting with design, Toshiba's Encore 2 Mini doesn't have much going for it in this department. Don't worry about looks, because they're definitely not here, with a simple white plastic case and a textured back, but nothing at all else.
It's not quite as generic as the basic black tablets we've seen from other manufacturers, but it's definitely cheap and feels just like a random plastic pad in the hands, with no quality exuded to it.
At least it's light and balanced well, comfortable in the hands with a small size that will suit small hand luggage and backpacks, because that's what it's designed for.
We'll touch on the screen shortly, but thanks to an Intel Atom processor, the performance is reasonable here. We're not sure why Toshiba has decided to run with only 1GB RAM, barely enough for a Windows machine to run confidently, but the combination of that alongside the quad-core Atom Z3735G running at 1.33GHz at least makes it possible to grab apps from the Windows Store and run several without too much lag.
You may find a bit here and there, and the memory (and lack thereof) isn't helping here, but a few tabs of Internet Explorer and a writing app will be possible here.
Storage isn't strong, though, with the 16GB of in-built only providing a little over 6GB when you actually get to using the tablet.
That's a piddling number, and more or less screams "buy me a microSD card" the moment you get it out of the box. We are very surprised not to see one included, just as we're curious why Toshiba decided on 16GB instead of 32GB, which would have been far more effective given how much space has been left for the end-user after Windows 8.1 was installed.
We're guessing the answer is one of cost cutting, and if that's the case, we think we know what else the move has affected, and that's the screen.
Unfortunately for Toshiba, the screen choice used on the Encore 2 Mini shoots this tablet in the foot, because it is definitely not good. Not good by a long shot.
Let's start with the basics, because that's pretty much what Toshiba has provided here: a basic screen. Windows 8 tends to need at least 1280×720, with preference to 1366×768 since quite a few apps run at 768 as a minimum on the height, but Toshiba hasn't exactly catered for that. Rather, there's a 1024×600 screen upscaled for 1280×768, and it comes off looking hard to read and impossible to touch properly.
Fonts are pixelated, things are unclear, and generally we're left with a question of how exactly did Toshiba let this get out of its factory floor?
Toshiba tries to clear this up with a small app that increases the size of text on the Windows 8 desktop, but it doesn't impact the main Start menu grid, and all the fonts there still look just as bad.
Interestingly, if you go through the driver, you can set the display to render at its native 1024×600 resolution, and hey, it actually looks usable here.
But Windows, unfortunately, isn't usable with the native screen resolution, with pretty much every app we ran in the Windows 8 "Metro" mode being thrown back thanks to the low-end screen size. Mail, Weather, Evernote, and Photos all failed to run at 1024×600, the native screen size of the Encore Mini, and even Internet Explorer wouldn't work, all citing the same "screen resolution is too low for this app to run" error.
The desktop mode will get things working in this resolution, hardly surprising since Windows desktop has always run lower resolutions, but that's about it.
It's no wonder that Toshiba upscaled the resolution to the uncomfortable-to-read 1280×768, because without it, the apps just won't work, making its inclusion in a tablet a rather odd inclusion.
Worth noting is that screens of this resolution — 1024×600 — haven't really appeared on Windows devices since the first netbooks started appearing on the scene six or seven years ago with Windows XP on them.
Windows 7 and 8 need a little more display real estate, and Toshiba would have known this, so we're curious why the screen size is as low as it is, especially when seven inch tablets from other companies offer much higher resolutions, such as the 1280×720 displays seen on the Android-based Nexus 7, as well as the Full HD models that popped up after.
Not helping this low-res screen has to be one of the most appalling set of display angles we've seen on a tablet, so bad that you'll wonder "why bother" when you see them.
There is pretty much one angle to offer on the Toshiba Encore Mini 2: dead on. Anything less than "dead on" and the colours wash out terribly, with inverted shades and colours that don't look good in either landscape or portrait.
Holding this tablet in a continually comfortable position while keeping the screen looking good will likely frustrate customers trying to have a decent experience. and really, this should not be a tablet screen. This is barely a laptop screen, and screen qualities of this sort are expected on low-end laptops.
The touch isn't terribly reliable here, something we suspect comes from the low-grade screen choice.
You'll also find another inclusion seen on many a tablet missing in action here, and that's an "on-the-go" adaptor. For those at home who don't know what this is, it's essentially a small plug that converts the microUSB charge and data transfer port into a full-size USB, making it possible to plug in a USB stick or wired keyboard into the tablet.
Toshiba appears to have left this out of the box, while its rivals have kept it in. Why? We're guessing cost cutting again, but when you're competing in this section, this type of omission seems bizarre.
Conclusion
Even though $199 might seem like a good price for a budget Windows tablet, we find it hard to recommend this tablet simply because the screen — you know, the entry mechanism for a tablet — is so poor, offering a barely usable experience that can't possibly make the case for owning a portable touchscreen computer.
We're stumped, we really are, because a tablet should be much better than this, and there is already solid competition in the budget Windows slate market.
If this dropped to $99, maybe — maybe — but with similar retail price points from the likes of HP and Pendo, we'd look at those options first, because at least you'll have usable computers there.
Charges over microUSB; Arrives with a copy of Office 365 in the box; Includes a microSD expansion port;
Feels cheap in the hands; Screen quality is dismal, with weak viewing angles and a terrible resolution; 1GB RAM isn't enough for a confident Windows experience; No USB on-the-go (OTG) adaptor included in the box;