Like most of the computer manufacturers out there, Toshiba is ready for Windows 8, and has updated several of its notebooks for the touch-friendly generation of Microsoft's all new operating system.
Five computers have been brought up to speed for the new version of Windows, updating not just specifications, but adding touch screens in some computers, designed to let customers get the most use out of an operating system that had finger-friendly fun in mind.
New to the line-up of computers is an ultrabook that packs as much technology into a small space as humanly possible. Measuring 2.5cm high, the Satellite U920t features a 12.5 inch touchscreen working with an Intel Core i5 processor, 4GB RAM, and a 256GB solid-state drive, adding support for multiple connection options, including USB 3.0, HDMI, SD card, Bluetooth 4.0, Intel's wireless display technology known as WiDi, and even a GPS – something we see on so few computers.
"It's the device that has it all," said Justin White, Toshiba Australia's Product Marketing Manager. "For consumers who want to combine portability and performance without the need for multiple devices, this is a smart solution."
The Satellite U920t doesn't follow your typical laptop design either, taking advantage of a sliding hinge that allows it to quickly shift between an upright notebook or a fully flat tablet, with up to six hours battery life.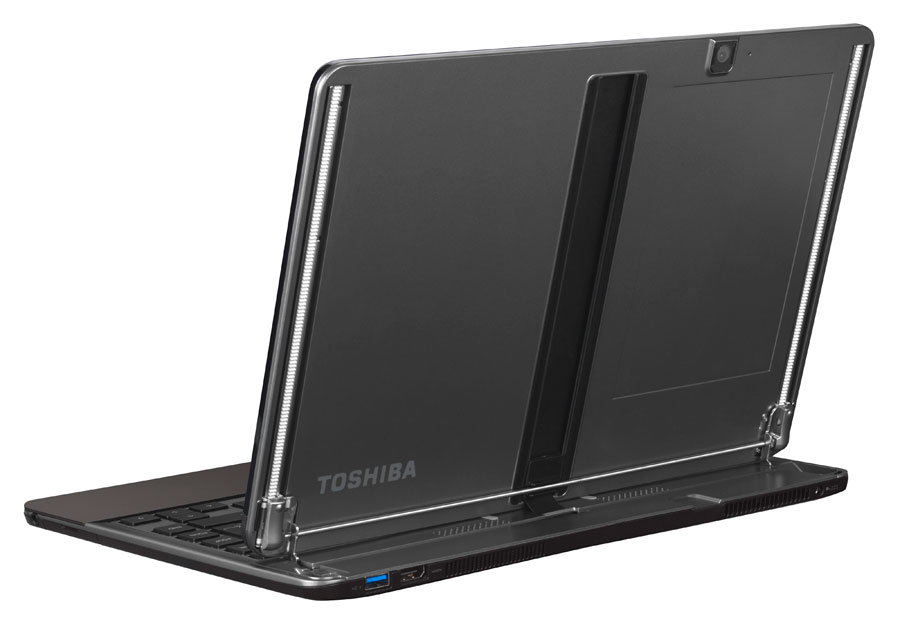 Pricing comes in at $1699, and it should be in stores now.
Moving slightly higher in the model numbers but jumping down in dollars is the Satellite U940, a 14 inch Ultrabook that packs in similar specs – Core i5, 4GB RAM, USB 3.0, HDMI, SD card slot, Windows 8 – but switches the solid-state drive out for a more convectional 500GB hard drive and ditches the touchscreen.
Lacking that touchscreen, it's a different machine altogether, and is offered up for a recommended retail price of $999.
One machine that isn't on the receiving end of a major refresh is the Satellite U840W (above), Toshiba's 14.4 inch ultra-widescreen laptop adopting the 21:9 aspect ratio used in cinemas.
The model hasn't changed much from when we saw it a few months ago, and still features that elongated screen, an Intel Core i5 processor, 500GB hard drive, USB 3.0 ports, HDMI, SD card slot, and a two-tone finish with rubberised grip.
Windows 8 is included, as expected, but there's sadly no touch screen, with the price sitting at $1399 for this model.
Another 14 inch machine is also getting an update, though it's a much more useful refresh than some of its brothers.
Still in the Satellite range is the P840, offering a 14 inch touchscreen with faster Intel Core i7 processor, 1TB hard drive, 8GB RAM, Windows 8, Bluetooth 4.0, USB 3.0, HDMI, VGA, SD card slot, and Harmon Kardon speakers.
Considered a reasonably premium touchscreen notebook for lovers of multimedia, this one costs $1699 and should be in stores now.
And finally, Toshiba's all-in-one solution is being made better for Windows 8, with the 23 inch LX830 updated with an Intel Core i5 processor, 4GB RAM, 2TB hard drive, Bluetooth 4.0, USB 3.0, HDMI, SD card slot, and unsurprisingly Windows 8.
Storing everything behind the 23 inch Full HD display, you'll also find a Blu-ray drive here, hybrid digital analogue TV tuner, and even a pair of Onkyo speakers, coming to stores now for $1699.