With the next generation of Nuance's Swype keyboard replacement for Android, sci-fi buffs will get an original series of Star Trek-inspired designs to boldly take with them where no phone has gone before.
While the previous paragraph might have been the most sci-fi catchphrase-filled thing we've ever written, it serves a purpose, because with a rollout of the new version of Swype, Nuance, the makers of the app, have joined forces with the company that owns Star Trek for some specially branded keyboards.
In Australia, you'll be spending between $2.69 and $10 to grab the special keyboards, which aren't so much Star Trek inspired but rather backed with art featuring the characters and schematics of the ship, with a couple of changes here and there.
Those changes are kind of cute, especially if you're a fan of the show, complete with a little starship to get you to the settings, a phaser to delete your words, and a Starfleet communicator to activate the voice functionality to make speak to text work.
We do need to note that you need an Android phone to make these work, and the update to version 2.0 of Swype isn't just here for science fiction keyboards, but also for an improved Emoji keyboard.
"The latest Swype keyboard for Android demonstrates that the keyboard experience goes beyond just the words on the screen, with more options for users to incorporate their personalities and interests," said Scott Taylor, Senior Vice President for Mobile Devices at Nuance.
"So while we continue to innovate our pioneering predictive input and intelligent tracing technology, we're also focused on equipping Swype with new features and options to give consumers the best possible experience on Android."
Having tested the keyboards this week, we're not sure if the prices really justify the keyboards being offered, as they're essentially just art of the characters from "The Next Generation" (Picard) and "The Original Series" (Kirk) with a keyboard on top.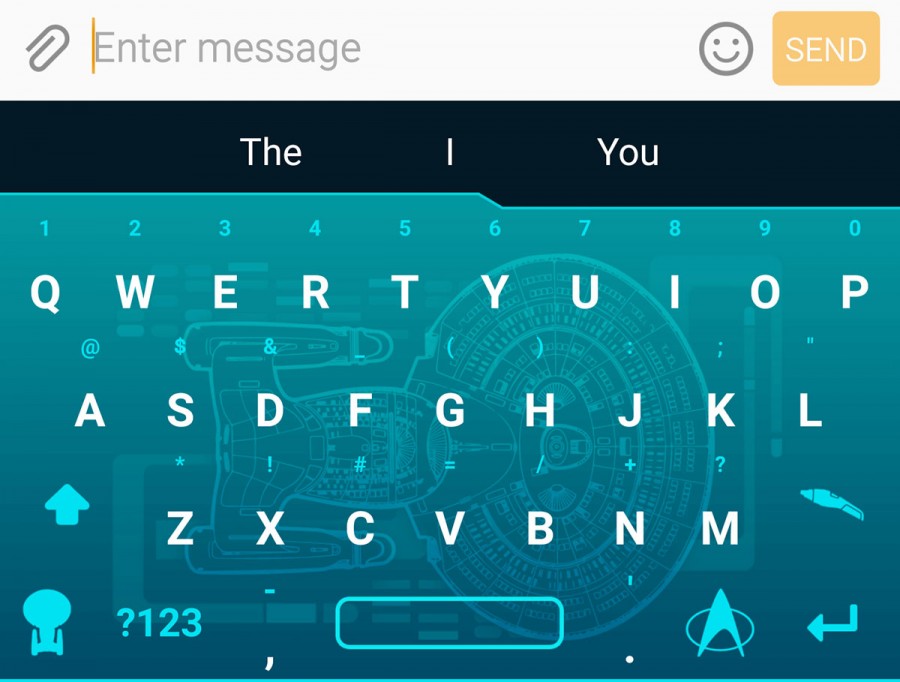 In fact, some of the time it feels like this art really gets in the way, with only the ship schematics feeling like a decent keyboard experience, and only just for these.
Still, if you're an avid fan who can't wait for 2016 for the next Star Trek film "Beyond", you'll at least find a little bit of Trekdom in this release, which is available now through the Swype keyboard app on the Google Play Store.