Trend Micro Home Network Security is a little black box that sits between the gateway and the router and screens all network traffic. That includes stopping automated bots trying to gain access, hacks on insecure IoT devices, attacks on Smart TVs and smart devices.
The Trend Micro Home Network Security has been around for a long time. I first reviewed in for iTWire in early 2017 and still use that unit to protect one of my home networks. It sits there quietly doing its job and screaming if the network is attacked.
So, we will dissect exactly what the Trend Micro Home Network Security black box does and how it does it.
Trend Micro Home Network Security black box
Australian website here
Price: $299 with 24 months auto-renew* subscription (current promotion price – Box $99 plus software $200 – normally $399)
Warranty: 2-years
In the box: The unit (208.5×161.5×81.5mm), a240V to 12V/1A DC power pack and 1.2m Ethernet cable
*Auto-renew by credit card is for $99 annual subscription
Trend Micro Home Network Security setup
The box must plug into the router (via an Ethernet cable) nearest the gateway as it can only protect traffic behind it (downstream). It is not a firewall rather an intrusion protection system.
Download the Trend Micro Home Network Security app for Android or iOS
Enter the pairing code and scan the 2D Barcode
That is it!
Default settings are fine – expert users can tighten security even further
Two years later you will get an auto-renewal for $99 for the next year – ouch. At that time, you need to know if it has saved your bacon or not.
What the box/software does
Basically it inspects all network traffic for nasties.
It finds all devices in your network IP range. So, if you have devices connected to a sub-router, it may not see them, but it is still supplying full network protection.
Identifying devices is handy – you can see if there are 'strange devices' on the network and track them down. It generally manages to associate a correct name to the device, but if not, you can use network sniffer software to track the device down.
You can allocate devices to people or groups and track activity like down/uploads and when it is being used. You can block a device if you wish.
Once set up, it puts all activity in a timeline format, making it easy to see and act.
It also watches each device for downloads and shows these separately. You can find data hogs!
But it is what you can't see that is more important!
Network incoming traffic protection as well as internal device-to-device attacks
It uses Trend Micro's cloud-based attack database
Blocks known infected files from download
Blocks known dangerous websites
Access control – set it to block as it discovers new devices – you can authorise after detection
A network scan checks all devices for known vulnerabilities and passwords and can close these.
Parental control per device – content filtering, App filtering, time limits and connection alerts
Control your network by Google Assistant or Alexa (new)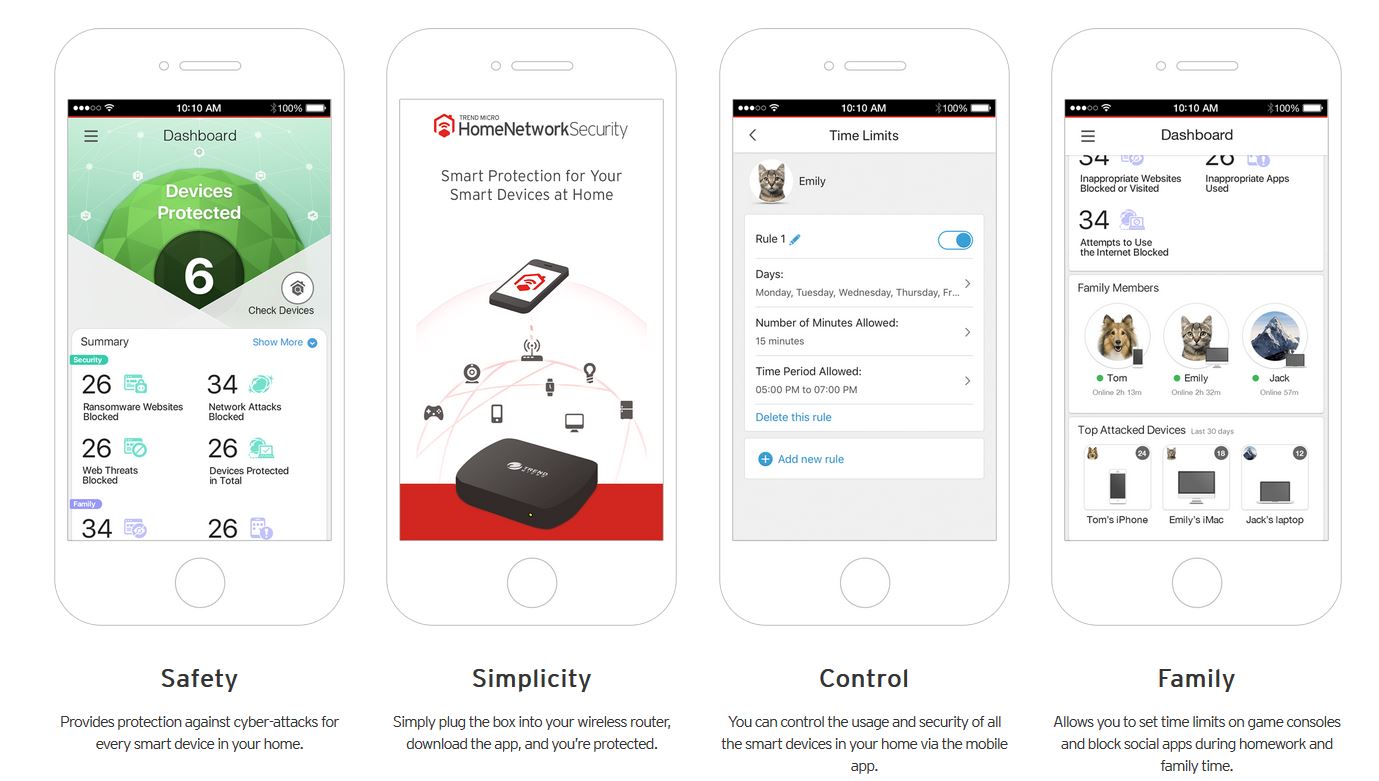 In the past three years, my network has experienced thousands of attacks and warnings about visiting poisoned or ransomware sites. It also helped find a corrupted IoT device making DoS attacks.
Network impact
Traffic flow is via the box – it sniffs the traffic and can control it if required. So, there is a negligible delay – a few percent at worst. You may also experience some issues installing IoT devices. We found that if you turn it off during a problematic install, then switch it on, and all is well.
You can monitor this from the app over the internet.
What it will not do
It is not antivirus/malware endpoint protection – it is network protection. It has the potential to do much more like geo-fencing and preventing Wi-Fi war driving attacks, but the app has not really improved that much since 2017!
GadgetGuy's take – Trend Micro Home Network Security is a peace of mind
Sometimes the best security is the kind you cannot see. Remember this has been around for a few years and while the detection software is regularly updated there are now viable alternatives for some or all of what this does.
These include comprehensive endpoint security suites, new routers like D-Link's D-Fend AC2600 Router (that runs McAfee on the router and provides endpoint licences as well) and even browser apps.
The advantage is that it is all in one box. If I were Trend, I would bundle Windows, macOS, iOS and Android endpoint protection – that would make a compelling product.
If you want to read more detail here is Trend's Blog.
It is an add on appliance – no need to change the network
Set and forget except when you get a subscription notice
Transparently protects all downstream IoT devices
Easy to use, if dated app
$300 renewal after two years (included) is steep
Can create a lot of notifications - it is just doing its job
Would like a desktop interface
Could do a lot more but has not seriously changed since its release