Internet security is one of those things we all have to keep on top of, and now that we all have mobiles, we need security on these, too. Trend Micro wants to be there, and even has a new app to help make it happen.
The solution to help make this happen is Trend Micro's "Mobile Security," a small piece of software built for devices running Apple's iOS (iPhone, iPad, iPad Mini, iPod Touch) and anything with Google's Android, whether it be a smartphone or a tablet. Amazon's Kindle devices are supported too, provided they're of the tablet variety.
"About 60 percent of Australians own smartphones and use them to access everything from Facebook to their bank accounts," said Trend Micro's Tim Falinkski.
"In 2014 we will see mobile become the attack vector of choice for cyber criminals, which means keeping smartphones – and therefore personal identity – secure against mobile threats is more critical than ever."
Some of the expected things are, of course, here, such as scanning apps for problems and risks of privacy, while also offering the ability to check links ahead of when you type them in, making sure you don't get ensnared by any malicious programming.
That last one is a big deal, especially as scammers attempt to find ways to breach the security of mobile devices, where most of us are spending time these days.
Trend will attempt to deal with this in two ways: depending on the operating system, you'll find a safe browser in the Mobile Security app to check the website with, or a program that constantly monitors what sites you're visiting in real time.
After playing with Trend's solution, we're in two minds about what the company is attempting.
On the one hand, it's a solid idea, and it's great that Trend Micro really wants people to check their URLs in its own web browser before they visit for real.
But on the other hand, depending on the operating system you have (which of course means the device), you might have a totally different experience.
On Apple's iOS, there is very little Trend Micro can do to constantly have something monitor what you're doing, thanks to safeguards put in place by Apple.
As such, you need to check the URLs on an iPhone or iPad by using a browser built directly into the Trend Micro Mobile Security app.
It's great that it exists, and you could just as easily switch to it for all your web surfing (though it won't be set by default), but we highly doubt anyone will specifically run an application just to check out the URL ahead of time, waiting for a confirmation that, yes, it's safe for them to visit.
Most people will likely run Safari or Chrome on the iPad or iPhone, so having an extra browser built specifically just for checking site authenticity seems a little broken to us, especially when it costs $30 for the privilege.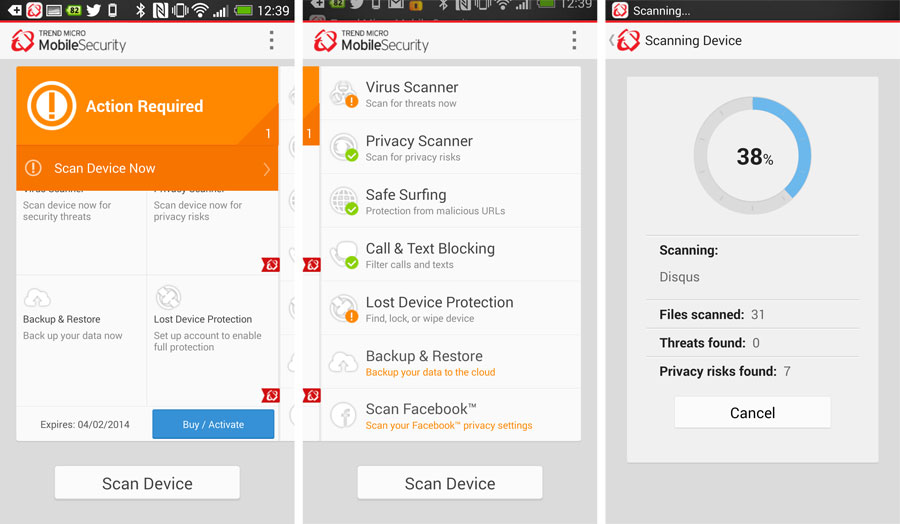 On Android it's a different situation as Trend Micro can integrate a little more easily with a web browser, which is something you don't have the option of over on iOS.
In fact, with an Android device, your default browser seems to be protected, so as you type in a possibly problematic URL, it stops you here.
The good news is that you don't have to buy the app or service for each device, and one license seemed to work (at least for us) across both an iPad and an Android phone at the same time.
For Android, Trend Micro's solution certainly seems to provide a decent job, too, not just protecting you from malicious sites, but also scanning your Facebook page and installed apps for vulnerabilities, as well as providing an element of cloud storage for backing up.
Over on iOS, however, we're not so sure, and unless or until Apple starts to open up its operating system to let internet security companies like Trend Micro provide an active monitor of what's going on, this might not be the best use of $30, especially when competing internet security companies have less exy options out there.
Thankfully, the app is free to start with, and offers itself up as a 30 day trial for anyone that wants to see whether they'll get use from it, with availability across both the Apple App Store for the iPhone and iPad, and Google's own Play store for Android devices.