With more of us turning to our phones and tablets than ever, less of us are sitting down to watch the good old TV, at least when it comes to updates for, the world, so Twitter may have a way of dealing with this, at least for teens.

There was a time when you used to have to sit down in the living room and switch on the telly to find out what was happening in the world in a dynamic way. Nothing against newspapers, but TV was where it was at, and it made sense to come home, flick the switch, and tune into the world of information at 5, 6, 7, and 10.
That's just what you did.
Not anymore.
These days, we can access content whenever we want from anywhere we want, and as we all take the internet under our wing and conform to its easy way of accessing this information, how we get that stuff past our eyelids and into our brains is going to change as well.
For Twitter, this has come from teaming up with an Australian production house Marquee Studios to build what are essentially all day rolling news updates of things a younger audience might appreciate, say a younger audience that is getting its news delivered via the Internet on social media than say needing to sit down and watch it on the television.
Given that the younger audiences are the ones tuning out, this is hardly a surprise, and so Twitter's take on this — Amplify — appears to be geared specifically for them, with short video updates on teen-centric topics that will run inside the various Twitter apps they're using on each operating system, as well as on the website.
"We regularly see emerging artists and digital creators using the Twitter platform to share amazing content and build their profile for a global audience," wrote Twitter's Chris Ledlin on a blog post for Twitter. "Now, in a global first, @thisisamplify and @MarqueeStudios have created a new entertainment hub exclusive to Twitter featuring their talent in a fun and innovative format."
The little updates aren't made for every audience, and the younger generation certainly seems the target here, with short videos presented live from Kings Cross watching out over Sydney by a fairly charismatic individual with hair that waves to one side like blonde and amber fairy floss.
We're told this is Nic Kelly, an editor of the Project U music website, while radio host Kent Small (or "Smallzy" as he's known on the show) co-hosts.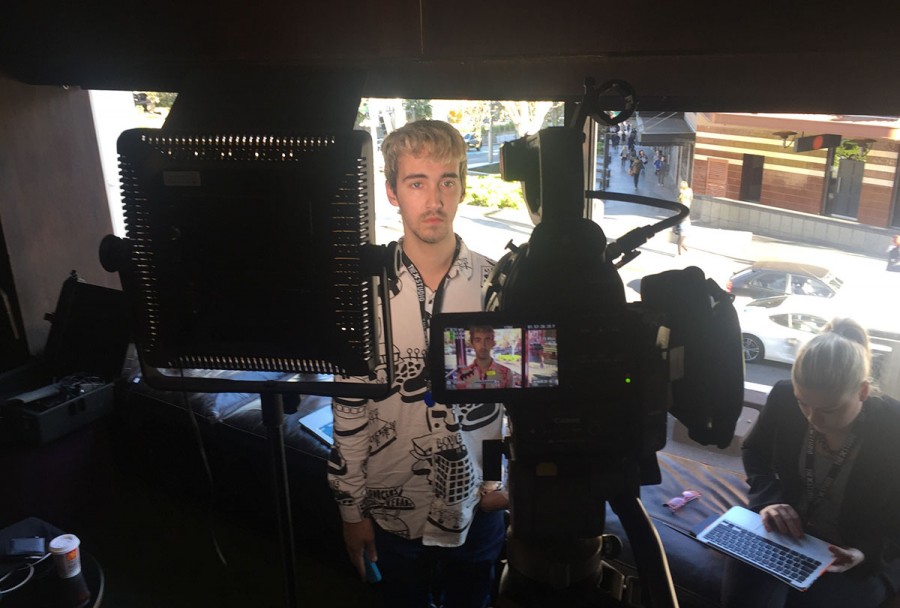 Amplify's market is primarily focused on teenagers, with topics ranging including who's getting into music, what current musicians are doing, and even random food things that people can try, with Marquee's producer Tom Maynard telling GadgetGuy that this worked simply by looking at teenagers.
"We see what is trending and what appeals to a teenager," said Maynard. "We then wrap that up into a video that teens can relate to."
As such, topics on the show appear to mostly be entertainment focused, with the few clips online including One Direction, 5 Seconds of Summer, and a whole bunch of other musicians that teenagers go nuts for.
Watching the service is free, and right now it's short video, though Maynard says there's a possibility on getting more out there.
"We start at 8am and finish late in the evening, but want to turn this into a global initiative with content hubs around the world," he said.
This means you might end up seeing Amplify updates from all over the world, not just in Australia, though it might take some time before that happens.
As for the TV, it's in no danger of being killed, and we still sit in front of it when we want to get our movie watch on, simply because watching a two hour long flick on a phone or tablet just doesn't offer the same experience, but with more technologies on the way like VR, this may soon be under threat.
For now, it only has to contend with kids and teens tuning out and keeping their heads locked on their phones, which we're sure isn't too far off what parents are already used to, aside for trying to get them to do their homework.
Twitter's Amplify is online now and trackable through either the @ThisIsAmplify username or the #AmplifyNow hashtag.