Our udoq arrived, and our first impression was an incredibly over-engineered piece of work. It's a keeper.
GadgetGuy covered the udoq in detail (article here), so we won't repeat a lot of that.
What is a udoq?
It is a charging system for any device. It uses an aluminium rail system to house a mix of charging connectors including
Apple Lightning (from iPhone 5 onwards)
Apple 30-pin (older iPhones )
Micro-USB
USB-C
And a Qi charging pad option or an Apple Watch option
Each cable is 1.5m, and the connector fits into a height adjustable slide connector. The other end is USB-A and is threaded to come out the rear of the dock and connect to a charger (not supplied).
The cables, like the udoq, are well made. I am sure that udoq will produce any new connector formats that are released. When you order it may be useful to buy a couple of different connectors as spares!
The rail
The rail comes in 250, 400, 550 and 700mm lengths. We received the 400 version that can fit four to five typical 80mm wide smartphones side by side or a mix of tablets. The only catch 22 is that the connector is on the bottom of a device.
Or you could fit an iPad (width varies from 135 to 220mm) or any combination of tablets and phones.
The rail has two removable end caps to facilitate the slider placements. A wall mount kit is available.
Charger
Our only disappointment was that it did not come with a totally over-engineered USB charger supplied. udoq do that on purpose as each device is different.
For example, some use fast charging (either more wattage like Apple) or 5/9/12/19/20V and associated amperage like Qualcomm Quick Charge.
To be fair udqo have two alternatives on its website. A four-port 5V/2.4A and 1 x Qualcomm quick charge port and six-port 5V/2.4A.
We found the ideal charger was the Laser 10-port USB at $47.97.
In total it provides 60W that can be five x 5V/1A, five x 5V/2.4A or a mix of ports up to 60W. Now don't try to use a USB hub as that does not have the power protection and intelligent trickle charging required if you leave your device docked when not in use.
After a week of use
Using a dock implies that you will leave the device on it when not in use. That change of habit did not come easily.
The 400mm rail is large. You need to find a spot for it that is convenient for all.
After we found the Laser 10-port charger our grumbles with having to use separate chargers and a power board disappeared. These two devices belong together.
We did not need Qualcomm or Apple fast charge – if you left even an iPad 12.9" it was charged overnight.
One other design feature is that sometimes you just need a cable, sans dock. udoq caters for that by allowing a cable to exit the rail end caps.
GadgetGuy's take. You don't need udoq; you want udoq.
udoq is a beautifully designed, over-engineered piece of furniture that allows multiple smart devices to dock and charge. Its best located (for me anyway) near the front door.
It is one of those things that if you must ask the price you probably can't afford it.
Pro
Incredibly well made – a keeper
Works with most protective cases (adjustable height)
Flexible configuration if you buy a couple of spare cables
More family oriented and a piece of the furniture
Con
We had a few grumbles about not having the smart device with you in bed – that is what batteries and USB chargers are for!
We had a few grumbles about remembering to place smart devices in the dock
Rating
We are going to rate it both as an Objet d'art rather than just a charge dock system. Because in the end, you will buy it to fill a want rather than fill a need.
Overall:  4.6 out of 5
Features: 5 out of 5 – meets or exceeds expectations but buy a couple of spare different connector cables just in case
Value for Money: 3 out of 5 – but what price do you put on an Objet d'art?
Performance: 5 out of 5 – does what it says
Ease of Use: 5 out of 5 – Once we found the Laser 10-port charger it was effortless to use
Design: 5 out of 5 – It is attractive as an Objet d'art
Price
It depends on dock size, number of cables, charger etc.
The 400mm rail is US$115, five connectors under US$80 and the Laser charger at A$47.99. All up in Australian dollars including GST around $350.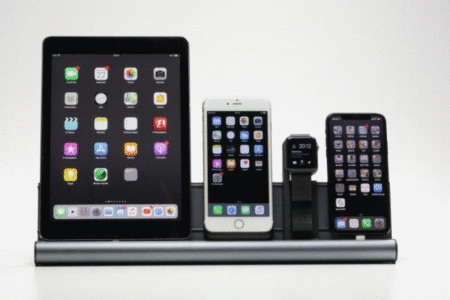 You dont need udoq; you want udoq
need to change your charging regimen