The other thing that you'll find out quickly is that this speaker is loud.
It's not just a speaker with a decent amount of volume, but rather one that turns it up past Spinal Tap's 11, with an immense amount of sound capable from the slim and light cylinder that makes up its design. We suspect we've irritated the neighbours in testing this, but it was sure worth it, pushing it close to 100dB in our tests.
That's a serious amount of volume, and one without a heavy level of distortion, making it a speaker truly designed for outdoor use.
You don't have to go outside with it, though, and the UE Boom app available for Android and iOS makes it easy to change the internal equaliser to something more fitting of indoor activity, outdoor activity, or movies.
It also comes with the bonus of being able to pair two Boom speakers, either turning them into a proper left and right channel, or making the music louder by sending identical sound streams across the cylindrical Boom speaker, a very cool function, and one that really heightens the suggestion that this speaker is designed for a social activity like heading to the beach, picnics, or having a pool party.
If you're looking for strong bass, though, look elsewhere. You can certainly hear the lows without distortion, but the bass can feel a tad empty, with no real thud behind it.
In Rage Against The Machine's "Take The Power Back," the instruments sounded excellent and clear, but the bass just didn't have much oomph, at least not the sort you expect from a powerful track like this. Fall Out Boy's "Sugar, We're Going Down" had the same response, the poppy rock lacking the pushy bass we're looking for.
This effect seems to present itself more in rock, exhibited also in The Dear Hunter's "Girl" and Dave Matthews Band's "Crush," the latter of which sounded clear across the bass and drums, but still was a touch too hollow for us.
Electronic music improves the bass provided you turn up the volume, though it's still clear that the Boom is designed with mids and highs more in mind.
One of the coolest features of the Boom has to be its water-resistance.
Essentially, the IPX4 resistance includes a hydrophobic coating used in its construction, making it splash-resistant and perfect for taking down to the beach, pool, bath, or even using while your hands soak in a tub of warm dishwater.
You've probably been in a situation where, while by water, someone throws a splash and the water stream inadvertently hits a gadget, making you rush out of the water to inspect the damage immediately.
In the case of the Boom, that hurried investigation appears to be unnecessary, and with every splash, the Boom didn't stop playing, making it suitable for sitting right by the water at a party.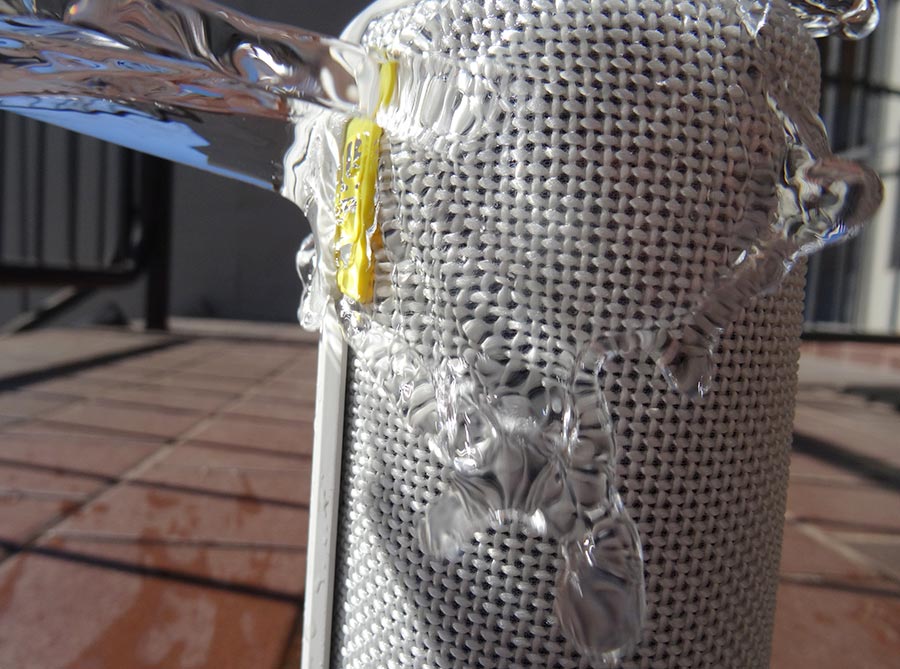 One thing we'd suggest would be to put the rubber water stopper in underneath, something that requires you to unscrew the tripod mount screw (and subsequently screw it back in to keep the stopper in place).
The rubber here will block the two ports underneath from being damaged by water, which is useful since these allow you to send audio to the Boom using the 3.5mm stereo jack, while the other port — a microUSB — will let you charge the speaker.
Conclusion
Bluetooth speakers are a dime a dozen these days, but the Ultimate Ears Boom shines, partly due to how unique some of its features are, but also because really it's a speaker that sounds great and looks eye-catching when sunlight hits water drops sitting on its surface.
If you're looking for an immense amount of sound and the ability to survive more than just a desk, the UE Boom delivers, and for a price that's easily worth it.
Very loud; Loud; Works while being charged; Highly water resistant; Tripod mountable; Can be paired with a second Boom speaker for more sound or stereo separation;
Bass isn't as strong as you might like; Tripod mount is very, very hard to remove the first time;