With the release of a new speaker from Ultimate Ears, we look back at what started the company, and why it puts so much work into making its speakers something special.

It's probably not a terrible assumption that most people have wanted to be a rock star when they were younger, some probably still do today, and it's easy to understand why.
You get to tour the world, playing the music you love, expressing yourself through song, and channeling that expression into songs that people scream at and sing to. Music has long been considered one of the most universal forms of language, so it's easy to see why a career stemming from this method of communication could be desirable.
Some of us even get close, with teen and adult bands nearly rocking the big time. This journalist's claim to fame when he was younger was being in a band that played with Skulker, and the lesser known Imbruglia, Laura (we were the Troll Cookies; don't worry, you've never heard of us).
In a way, being in a band is much like making a product. Oh sure, there's less crowd surfing, fewer people asking you to sign their appendages, and not as much likelihood that you're going to have groupies follow you around because of the product you make (although fanboys tend to prove us wrong), but it's a very similar concept.
Once again, you have an idea, and you express this idea in the form of a product, putting it on sale and showing the world just how awesome an idea it is as more people buy it.
Sometimes, though, these worlds come together, clashing and combining in such a way where a product can form based on the experience one has with a music group. It doesn't occur often, but it can occur, and that's certainly where Ultimate Ears got its start, the products forming as a result of one of the Van Halen brothers — Drummer Alex Van Halen — trying to solve a conundrum with then-sound engineer Jerry Harvey to make on-stage music monitors provide better sound so they could hear themselves properly.
Back in 1995, when the speakers relaying the sound to the members of Van Halen, all were competing for the heaviest volume on stage, and no one was getting what they needed, when they came up with an idea: why not take the monitors and shrink them down, letting the musicians wear the monitors and hear each instrument clearly.
At that time, the in-ear monitor was born, with Ultimate Ears created as a result of that product, with the IEM — as many call it — really helping to "transform how musicians perform on stage over the years" according to UE's Senior Vice President, Rory Dooley.
"That's become more and more important in today's music industry," said Dooley. "In 1995, most of the money was made in recording, and now it's shifted 180 degrees, where most of the money is made in performance."
According to Dooley, the Ultimate Ears custom in-ear monitor business is still run out of its offices in California, where it serves around 70 percent of the world's top artists, and it's partially this reason, this emphasis on the music, that led Logitech to Ultimate Ears.
"We really felt Ultimate Ears had transformed how musicians performed on stage," said Dooley. "The way consumers consumer music was changing again, and we wanted to participate in this never revolution and really transform how consumers experience music out in the world."
Part of how that would happen stems from the in-ear monitor business being cut down to consumer grade earphones and headphones, but more than that, there was the speaker. The way we listen to music and the way we take it with us has changed over the years, that's for sure, with the speaker changing with it.
"We used to go to the music room to listen to music," said Dooley, "and today, what happens is you can listen to the music where ever, when ever."
That evolution, that ability to make our music play from any location, made Ultimate Ears think about how it wanted its first speaker, the UE Boom, to look and feel.
"We approached the design of UE Boom and looked at the overall music ecosystem," he said.
"Back in 1995, people had a physical collection of music, [and] people had physical devices on which they played their music: they had cassette players, they had turntables, they had cd players. Fundamentally, the things we were used to, the analogue things, the things we touch hold and feel which are really important to human beings from a design point of view, those were disappearing.
"The speaker had always been this humble peripheral object in the corner on the left of the music system, on the right of the music system and we really felt strongly the speaker was going to become the central element, and really the last tangible element in the music ecosystem."
That last element took some time to design, with Rory telling us that UE wanted something that would sit in the centre of a room, that wouldn't be a precious object for people to carry or be afraid of dropping, and that people would feel comfortable using.
"We wanted to come up with something designed from the ground up for the way people consume music today, and not sort of take a big speaker and make it smaller," said Dooley.
The result was the UE Boom, a wireless speaker we praised when we reviewed it two years ago, and still to this day holds itself pretty well, marrying water-resistance, solid design complete with a counter-balance to keep it steady when sitting on a table, and some excellent sound quality from a battery-based speaker.
UE isn't done, though, and Dooley is in town this week launching a new model, the UE Megaboom, a larger speaker model announced at CES earlier in the year and made for people who want louder sound that they can take with them.
The design is familiar in the model, and because UE did so well with that first Boom, winning design awards around the world, it mostly kept things the same, increasing the size to match.
UE has thrown in stronger Bluetooth, though, working at a range of 30 metres now, while also increasing the water resistance to being "water-proof", thanks to a built-in weather-door which Dooley says makes this suitable for the shower.
Even the waterproofing lends itself to another feature, which UE considers a form of multi-room, with the idea of taking a speaker with you — from room to room — as being multi-room. That's a loose definition, and is different from the technology Sonos and its competitors carry, but still makes sense, because you can get the speaker wet without it breaking, and that means you can take it to the bathroom.
"People always think of water resistance and water-proof as pools and beaches, but the reality is we all start our day in the shower," said Dooley, who has one in his shower, as did other Logitech people in the room with us at the time.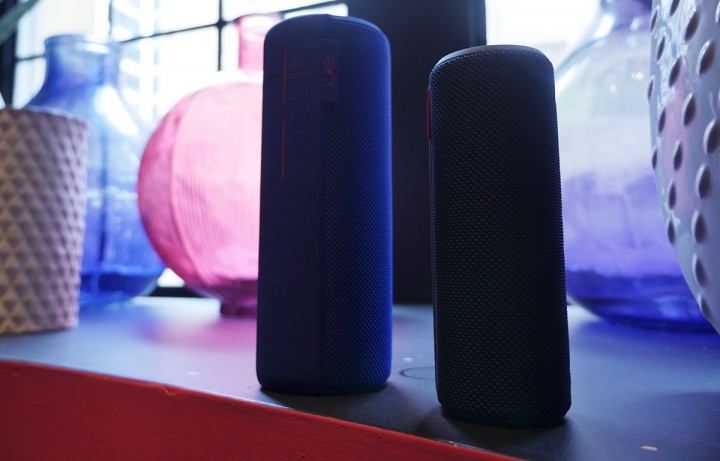 But there's another reason why Ultimate Ears is making a bigger Boom, and that's sound.
"The physics of sound is about moving air, and the more air you can move, the better you can do at the lower frequencies," said Dooley. "By having more air in the device, we can generate a better sound reproduction at the lower frequencies."
Another feature on its way in the next few months promises to make the Megaboom more of a party favourite, with a special mode that will let over ten Boom speakers connect to each other. Called "X Up", this mode won't discriminate, and will allow a regular UE Boom or the new UE Megaboom to talk to each other, with the music sent through all of the connected speakers to turn the cylindrical speakers into a well spread party sound system.
The feature won't be rolled out to speakers until halfway into the year, but it will come to the UE Megaboom by way of an over-the-air update, a first for a wireless speaker from Logitech, which previously has needed a computer to complete updates.
Ears-on with the UE Megaboom this week and while our testing was brief, the new speaker handles itself quite well, tested with Dave Brubeck's "Take Five" and showing off clarity between the instruments, while Bastille's "Bad Blood" showed that prominent punchy bass wasn't wasted to fuzz or buzzing sounds, the sort you might expect on many speakers.
In the hands, it hardly feels bigger than the original Boom, and if you stick the two next to each other, you can see why: there's a little difference in size, but it's not a big deal.
Overall, we're intrigued, and we're hoping this will be as good — if not better — than the original UE Boom.
Both will sit on shelves together, though, with the original UE Boom retaining its $199 price tag, while the UE Megaboom is slated to hit store shelves in February for a recommended retail price of $349.
Maybe we'll play some of our teenage rock music through it.