When UMIDIGI asked GadgetGuy to review the UMIDIGI F1, we asked two questions. Who the hell is UMDIGI, and what has motor racing go to do with phones?
Well, we found out that UMI has rebranded to UMIDIGI. It is a Chinese smartphone maker based in Shenzhen (as you do) since 2012. It now sells in 20 countries. Other than that, we have no background om factories, capacity etc.  And this year it released the F1.
It is not a flagship killer. Don't take this the wrong way – it is a very well priced mass-market phone with many mid-range specs. But its no Galaxy class terminator!
And we cannot comment on local service (and smartphones seldom go wrong in warranty). It sells via an Amazon AU Store at A$279.99 including delivery or eBay or GearBest.
Our review is more about unravelling the innards to see if it is worthy of our review and rating.
How we rate smartphones
We develop paradigms to slot them into market segments.
Foldable $2500+
Premium Flagship $1600-2499+ (usually a flagship with more memory/storage, additional camera lens and now 5G)
Flagship $1000-1599 (Globally phones $1000+ account for about 10% of sales)
Premium mid-market $800-999 (a new category not seeing much action – 10% at best, usually offering flagship specifications for a run-out price)
Mid-market $500-799 (about 25% of the market)
Mass-market $200-499 (about 25% of the market)
Value pre-paid <A$199 (about 30% of the market – good for pre-paid and children)
At $279.99 the UMIDIGI F1 is in the lower end of the mass-market up against better-known challengers from Alcatel, Motorola, and Nokia.
Buy here – or you will regret it
We normally issue the standard warning that you must buy the genuine model with Australian firmware. That may be redundant here – from what we can tell the F1 is a 'global model.'
It must natively support all Australian bands 1, 3, 5, 7 , 8, 28, and 40.
If the website is correct it supports LTE bands 1, 2, 3, 4, 5, 7, 8, 12, 13, 17, 18, 19, 20, 25, 26, 28A, 28B, 34, 38, 39, 40 and 41 so it should be fine. That is a huge number of bands for a mass-market device.
Be aware there is an F1 Play version with a 48MP rear camera but less storage.
Review: UMIDIGI F1
Global Website here
In the box (as specified by UMIDIGI)
Handset
Charger USB-C, USB-5V/2A, 9V/2A, 12V/1.5A (18W) with Australian Pins
USB-C to USB-A red plastic covered cable
Black textured plastic bumper case
Pre-fitted screen protector
Missing: buds/mic
The first impression
It has a lovely, almost metallic 'lava' red back and sides (available in metallic look Gold and Black), a teardrop 6.3" screen, rear fingerprint reader, and reasonably narrow side and top bezels with a small chin at the bottom.
The rear dual camera (in the usual Apple placement) protrudes slightly.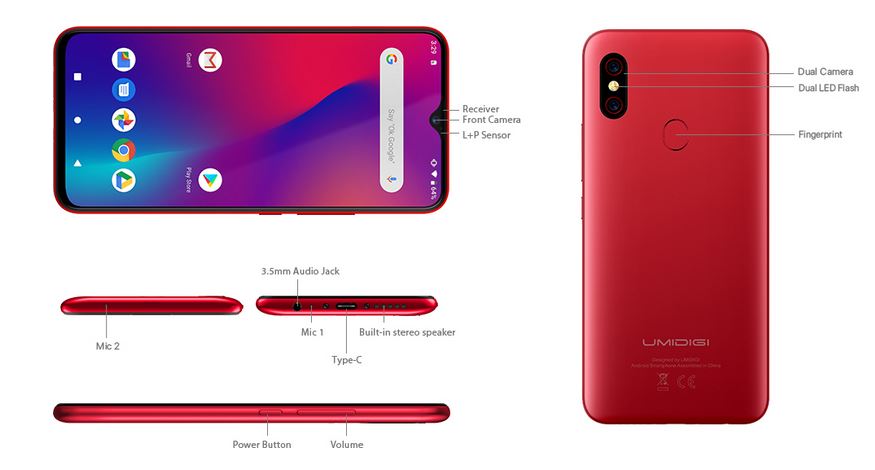 Setup is typical stock Android with no hint of a UI or other overlays, nor does it try to get you to create a UMIDIGI account at setup – good so far. And you can recover old apps by signing into Google Play or copy apps and data over from another Android phone.
Overall it feels much more expensive than the price dictates.
Screen
Size: 6.3-inch
Resolution: 2340 x 1080
PPI: 409
Ratio: 19.5:9
Type: LTPS (low-temperature polysilicon)
S-T-B-R: 92.7% claimed (83.7% measured)
Colour depth: 16M
Brightness: 420 (claimed) tested 330
Contrast: 1500:1 (claimed) – tested under 1200:1
HDR: No
Colour gamut: Not specified but close to full sRGB if you use calibration software and MiraVision
Notch: top middle teardrop
Screen protection: pre-fitted plastic film. Called scratch resistant
Reflectivity: It is quite reflective so limited for daylight use
The screen is clear and reasonably bright although favouring warmer colour tones.
LTPS allows higher pixel densities, higher refresh rates and lower power use over standard LCD screens. The minor drawback over an IPS screen is a lesser viewing angle and loss of saturation when viewed off-angle.
It has MiraVision (from MediaTek) that allows users to select Standard or Vivid modes or user adjustable. The latter allows control of contrast, saturation, brightness, sharpness, colour temperature, contrast, and reduce BluLight. I don't mind that, but without professional calibration tools, you can make an awful hash of colours etc. Luckily there is a reset button!
It uses PWM (pulse width modulation) to adjust brightness. Given that you are going to use it a 100% brightness most of the time, there no perceptible flicker. You can use the BluLight reduction that makes colours even warmer.
In tests it did not reach 420nits, topping out at 330 nits. We suggest turning Auto brightness off because it is too aggressive towards battery saving.
Screen summary: The screen is well above what you expect for this price.
Performance
Processor
Mediatek MT6771V Helio P60, 12nm
4×2.0 GHz Cortex-A73 & 4×2.0 GHz Cortex-A53
GeekBench 4 single/multi-core 1502/5206
GPU
Type: Mali-G72 MP3
Three cores/800Mhz
Video formats H.263/4/5 (decode), AVI, MKV, MP4, Xvid, WMV and more
RAM
RAM: 4GB LPDDR4X-1800 dual channel
Storage: 128GB eMMC 5.1 (free 107GB)
OTG Support: Yes
Micro-SD card slot to 256GB VFAT (hybrid with sim 1)
The MediaTek Helio P60 is a mid-range competitor to the Qualcomm SD660.
In a mass-market phone, you would normally see a Qualcomm SD4XX competitor.
The idle speed brings all cores down to 793Mhz and as load ramps up four will jump up (Big.Little) style. Typical ARM architecture.
If there is a weakness, it is video performance – it is about 30% of the SD660 Adreno GPU. It should support most mobile games to 30fps.
Storage is eMMC 5.1, but it is slower than UFS 2.1 storage. Again it's a price issue.
Summary: This is a good chip, and it is unusual to see it in a mass-market $279 device.
Comms
Comms
Wi-Fi AC, dual band 2.4 and 5GHz, 1×1 MIMO
Wi-D Miracast, Hotspot
Bluetooth: 4.1 SBC
USB-C 2.0
NFC: Yes
Wi-Fi N is a fact of life in the mass-market. Enter the UMIDIGI F1 with dual band Wi-Fi AC although it performs more like N due to a 1×1 antenna stream.
Signal strength at 2m from our D-Link reference router was 86Mbps (low) and -61dBm (strong). It held that to 10 metres and then swapped to 2.4GHz to about 30 metres. Overall its acceptable performance given its antenna design.
However, to put that in perspective, a Wi-Fi AC device like the Samsung Note9 will achieve 866Mbps (and up to 1.2Gbps) and signal strength of -35dBm.
NFC works well, e.g. Google Pay and is a rarity at this price.
Summary: It is slow Wi-Fi AC, but it is a very acceptable trade-off over single band N 2.4Ghz. NFC – at this price is great.
Sound
Sound
3.5mm audio jack
Earpiece speaker
Down-firing speaker (stereo with the earpiece)
Mics: 2
Google Assistant: Yes
FM Radio: Yes (not tested)
Codecs: SBC
Formats: MP3, AAC, FLAC, OGG, WMA, WAV and more
Few earpiece/single speaker phones do well with music – this is no exception. Maximum volume was 74dB, but it was too harsh and had too much distortion. At 65dB, this was back to acceptable listening levels.
Our spectrum analysis determined (Note: Frequency response is from 20Hz to 20kHz)
Deep Bass: 20-40Hz – none
Middle Bass: 40-100Hz – none
High Bass: 100 to 200Hz – none
Low-mids: 200-400Hz – none
Mids: 400-1000Hz – starting to creep in and flatten (good)
High-mids: 1-2kHz – flat (good)
Low-treble: 2-4kHz – flat (good)
Treble:4-6kHz – flat (good)
High Treble: 6-10kHz – declining
Dog whistle: 10-20kHz – none
It is a bright vocal signature – quite clear and crisp for voice but too shrill for music and movies.
Bluetooth: 4.1 is an old standard and only supports single point connections and SBC codec. Sounds were as good as SBC gets using our reference BT headphones.
Handsfree: Adequate volume and crisp sound. Dual mics do not appear to support noise cancellation, and you need to place the phone quite close to your mouth.
Other
Other
GPS, GLONASS, BeiDou
e-compass
All necessary sensors
FM
Yes
Fingerprint
Rear sensor
Face ID
2D recognition
GPS was a little slow; sometimes you can be 5-10 metres past a turn. I suspect this is due to too many apps running in the background. We found a DuraSpeed setting that effectively disabled much of the background activity and gave preference to the main running app. That worked a treat.
The fingerprint sensor was 'iffy' working first time about 60% of the time. Face ID was fast and accurate about 90% of the time.
Battery
Battery
5150mAh Li-Ion
Charger type: USB-C 5V/2A, 9V/2A, 12V/1.5A (18W)
MediaTek Pump Express fast charge 75% in 40 minutes and a full charge in 2 hours
Approx recharge time using standard 5V/2A charger is just under 3 hours
The battery is very large for this class of device.
Tests:
1080p Video loop, 50% brightness, Airplane mode – 16 hours
Under 100% load, maximum brightness and everything turned on it was empty in just over 6.75 hours
Given typical use we expect this to run 48+ hours between charges.
Summary: Buy it for the amazing battery capacity alone!
4G/LTE
LTE
Cat: 7 300/100Mbps
Bands : 1, 2, 3, 4, 5, 7, 8, 12, 13, 17, 18, 19, 20, 25, 26, 28A, 28B, 34, 38, 39, 40 and 41
Covers Australian needs and so much more
Sim
Dual (hybrid with microSD)
Both sims can be LTE, but the manual says to select your 4G sim to call out on
Other
VoLTE and VoWiFi (or VoWLAN) depends on the carrier
It achieved a -83dBm strong signal. We are not sure if it covers 20+ LTE bands but appears to do so.
It receives calls on both sims (only one at a time) but defaults to call out via the nominated sim.
Download/upload speed over LTE was 100/25Mbps – fair.
LTE Summary: If it indeed does support 20+ LTE bands and with dual sim, it would be a great international travelling companion.
Operating system
OS
Android: 9
Update policy: Not specified
UI: Pure Android
Google Assistant: Yes with app
Pie has loads of new features, including AI, to learn about your use and adapt the phone to it. In the test week, we started to see minor improvements, especially in the over aggressive adaptive brightness setting.
But we are not sure if UMIDIGI issues patches or Google. The security patch was 5 January.
Build etc
It is has a certain quality feel. I strongly recommend using the black bumper case and screen protector if you intend to keep it for a few years.
What's missing
Missing
IP rating
Notification LED
Are they deal breakers? Do you expect them in this price category?
Camera
Rear Camera 1
Primary
MP: 16MP
Sensor: Samsung S5K2P7 ISOCELL
Pixel: 1.12um
Lens: 6-element
F-stop: f/1.7
ISO: 100-1600
Stabilisation: EIS on video
Focus type: phase detection AF
AI: Face recognition
HDR: Yes
Flash type: dual
Saved images: RAW or JPEG
Video: 1K@30fps
Google Lens: Yes
Rear Camera 2
MP: 8MP
Sensor: Samsung S5K4H7 BSI
Pixel: 1.12um
F-stop: f/2.0
Selfie
MP: 16MP
Sensor: Samsung S5K3P3 ISOCELL
Pixel: 1.0um
F-stop: f/2
Lens: 5-element
Stabilisation: None
Focus type: Fixed focus
2D Face unlock: Yes
HDR: Yes
Flash type: screen fill
Saved images: JPEG
Video: 1K@30fps
Camera overview
The main 16MP sensor is a Samsung S5K2P7 ISOCELL which allows for RAW and JPEG shots and uses fast Phase Detection Auto Focus (PDAF). It is backed by the S5K4H7 8MP for depth processing (foreground image separation), some of the portrait features and uses contrast Autofocus.
The two work well together and offer good daylight and reasonable low light photography (as the sensors work together to gain as much light as possible) and allow for bokeh adjustment.
Many brands use the 16MP Samsung S5K3P3 selfie sensor.
The camera app appears to be a UMIDIGI special (MediaTek), and it is very limited. We note that you can install Google's camera app as well, which will open up more customisation. Google Lens is supported.
All our tests are in Auto
Daylight, outdoors (overcast day around noon)
The colours are accurate and natural, with no obvious post-processing. I felt the shots could have been brighter, but unless you were comparing it with a flagship, you would say its an ideal 'social' quality camera.
1/1000SEC, ISO 121
Indoors Office Light (500 lumens cold white)
Colours are good but it lacks fine detail, the background is not sharp and lacks tone. Again it's a great social class shot.
1/30sec, ISO 164
Low light (room with less than 100 lumens)
This is the Achilles heel – poor low light shots. The PC screens are blown out, there is virtually no colour in the red furniture, and there is too much noise. Yes, we could have used flash but our all reference shots are with that off.
1/15sec, ISO 459
Bokeh
The rear 8MP does a reasonable job of separating the foreground from the background. It is a little soft but not bad.
Selfie
The 16MP, 1.0 um, f/2.0 is fine in good light down to office lights (500 lumens). Fill flash (screen) is erratic and simply makes faces harsher.
Video
1K@30fps with passable EIS. Again good in daylight and office lights.
AI software
Negligible and you don't expect it at this price.
GadgetGuy's take: UMIDIGI F1 is a well featured, great value, mass market phone.
I don't usually review too many mass-market devices. Manufacturers want to inspire you with their flagships and establish brand cred. Apart from the UMIDIGI F1 Play (with a 48MP rear camera), this is its aspirational model at $279.99.
This is a good all-round phone with very few compromises – Wi-Fi AC and a camera that is good – not great.
On the plus side is the huge battery with fast charge, and over a week of use, I could not fault it. In fact, I quite liked it.
In Australia, we tend not to buy unknown brands so it will be for those that want maximum value for the best price and are prepared to accept any trade-offs.
We rate by paradigms and price. UMIDIGI F1 meets or exceeds all mass-market paradigms, and its price is well below the competition.
UMIDIGI statement on after-sales policy
If the product does not meet your expectations, you can request a refund or exchange within seven days from the delivery date (buyer pays return freight).
If the product has a manufacturing defect within 15 days of receipt, you can return it for a full refund or replacement. (UMIDIGI will pay both freight costs).
Beyond 15 days but within the 1-year warranty, a full refund is not available, but a part refund or repair is negotiable. You pay return freight, and UMIDIGI will pay return freight of the repaired unit.
If the issue is not a manufacturing defect, there is no refund or replacement. You can elect for repair and will pay any service charge, freight and other fees.
Note under Australian Consumer Law (ACL); an Australian retailer must pay for freight both ways, and you, not the retailer, have the option of a repair or refund. Other than that and some heavily edited Chinglish, the intent is fine but there is always an added risk buying from a company not under ACL.
Price includes 128GB storage
Pure Android but not part of the Google Android One program
Huge 5105mAh battery
Well-made and love the red lava back
Lots of features like NFC not seen at this price
IP rating not declared
Fingerprint sensor is erratic
No notification LED
UMIDIGI is a Chinese company not governed by ACL so the risk is with warranty, update and support.