Sponsored
Uniden
When you're in the market for a home security camera, Uniden's Guardian App Cam range should be at the top of your shortlist. The new App Cam Solo Pro packs a bunch of powerful and useful features, and there are plenty of other options from the Uniden range too.
You probably recognise the Uniden brand from its long history in phones, two-way radios, and in-car tech. But for some years now, Uniden has also provided reliable and simple to set-up home security cameras.
We're talking self-contained units with rechargeable batteries that can record to SD card, but at the same time hook up to your home Wi-Fi to form part of a home security network you can access from an app or PC. You can store recordings on SD card, on your device, or even using the seven-day rolling cloud storage plan that comes with Uniden's smart cameras.
Free solar panel
And right now, if you buy a qualifying Uniden camera, you can get a matching solar panel to help recharge it during the day.* That means a constant, reliable home security camera system that doesn't need to be wired into your mains power, OR need its batteries taken out and recharged by you. The panel takes care of that for you.
Let's dig a bit deeper into some of the features of Uniden's home security smart cameras.
Uniden Guardian App Cam Solo Pro security camera
For a security camera that does it all, the App Cam Solo Pro has you covered. It's a full 1080p HD wire-free camera, which means you won't need to wire it in to the mains or need a power point (which limits where you can position it). Instead, you have the freedom to place the camera wherever you want – inside or out – thanks to an on-board rechargeable battery.
The App Cam Solo Pro doesn't just offer full colour 1080p daylight vision either. Thanks to its Starlight CMOS sensor, you'll get colour night vision, at a range of up to 10 metres. And if something suss does seem to be showing up on the camera at night, hit it with the powerful built-in spotlight (great for disincentivising cats from walking on your clean cars!). And the camera has ThermoSense to prevent random objects from triggering activation – it intelligently responds to thermal images, especially human-sized.
Wide view lens
With a 120-degree wide view, the App Cam Solo Pro captures a large slice of what's going and is ideal as a front door camera. Two-way talk lets you respond to anyone standing in front of the camera, and there's a siren as well if you want to, shall we say, send a message.
Like all of Uniden's home security cameras, the App Cam Solo Pro connects to your home Wi-Fi network, and combined with other Uniden cameras, can create a network of cameras to keep your home safe inside and out.
Everything the camera captures can be uploaded to an included seven-day rolling cloud account, which is included free for the lifetime of the camera. That means recordings made in the last week are stored online where you can access them from anywhere.
And don't worry – the App Cam Solo Pro has privacy shielding functionality: you can block out certain sections of the view and just focus on what you want – for example, you might have a camera overlooking your TV/stereo in the lounge, but you can block out the couch itself so you don't record yourself picking Jatz crumbs out of your navel!
Built for Aussie weather
The App Cam Solo Pro is weatherproof, so you can use it inside or out, and its rechargeable battery can be powered by an optional solar panel. Set the panel up near the camera, and you won't even need to worry about recharging – the panel keeps the camera topped up during the day so it can operate at night.
You can grab a Uniden Guardian App Cam Solo Pro with Spotlight for $249.95, or save with a twin ($449.95) or quad pack ($899.95). Oh yes – and you can get them in black or white.
Uniden Guardian App Cam Solo PT security camera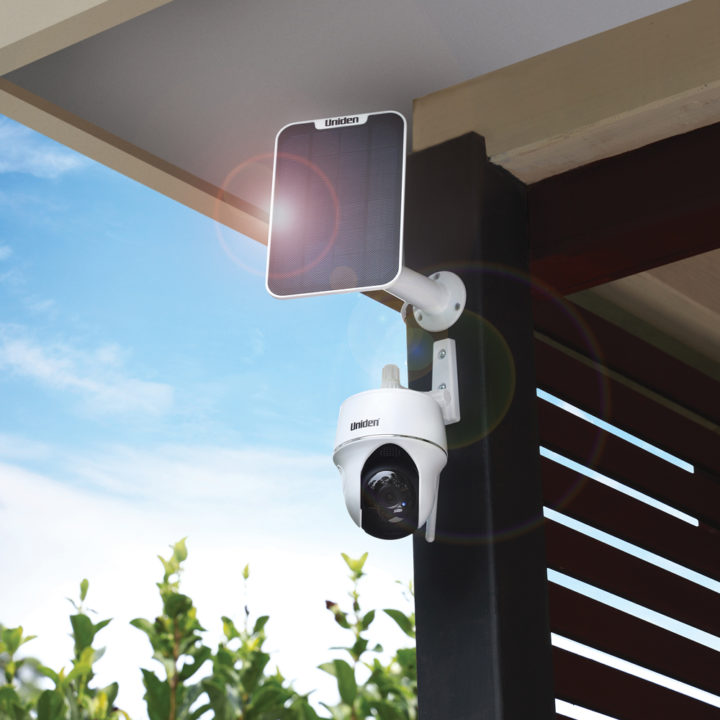 If you're after something a bit more hardcore for your outdoor areas, and especially if you have a complicated property footprint, then the Uniden App Cam Solo PT is here to help.
The PT stands for 'pan and tilt' and the camera (in black or white) is mounted in a gimbal that can pan through 355 degrees, and tilt through 140 degree. You still get full 1080p HD recording, two-way talk, and a siren alert. And the camera records to its internal SD card, and, once connected to a home Wi-Fi network, a seven-day rolling cloud backup that's good for the lifetime of the camera.
Pan and tilt coverage
Where the Solo PT comes into its own is with that pan-and-tilt function. This makes it ideal for awkward spots outside the home, such as a narrow side access. The 120-degree vision of an App Cam Solo Pro is good, but with a Solo PT you can use the app or a web browser interface to pan the camera and check out those dark corners (thanks to Starlight CMOS night vision).
Another use case is to place the camera high up overlooking the whole front of your property. You can get almost full coverage of a massive area, without having to swap between cameras to track an unexpected visitor. Naturally, you can still install several other Uniden Guardian App Cams and make use of their spotlights, though the Solo PT does include the same siren alert.
Rechargeable battery
Like the other wire-free cameras in Uniden's line-up, the Solo PT has an onboard rechargeable battery. It's also compatible with Uniden's solar panel, so it can be kept topped-up during the day and go on to last all night – without you needing to worry about the battery running down.
The Uniden Guardian App Cam Solo PT comes costs $299.
Uniden Guardian App Cam Home+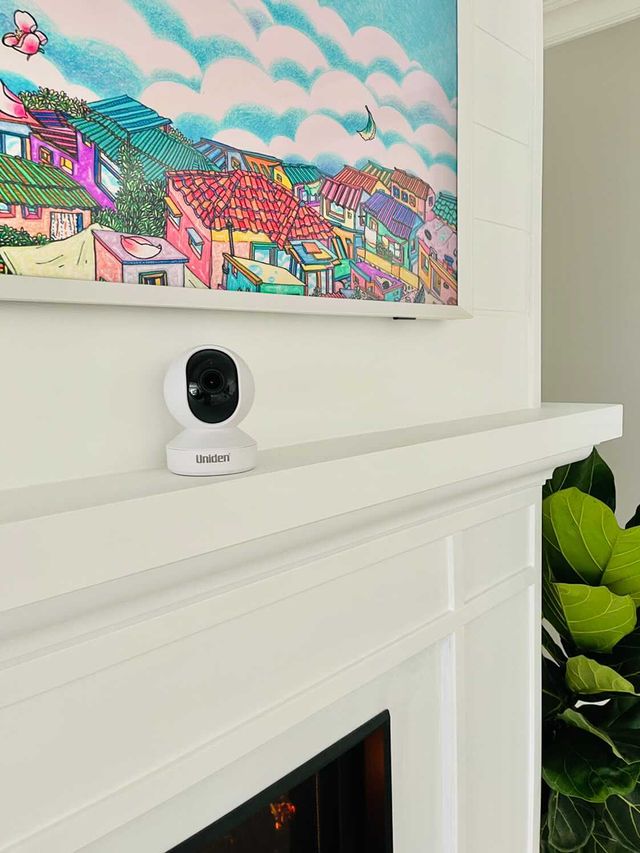 While the Guardian App Cam Solo PT offers a unique pan-and-tilt camera for outside the home, there's a similar camera for inside the house too – and it has some of Uniden's coolest tech on board. The Guardian App Cam Home+ is a dedicated indoor camera, and comes with a massive 5MP resolution and pan-and-tilt function too.
Powerful optical zoom
To let you make use of that super high resolution 5 megapixel sensor, the Home+ also has a 3x optical zoom – and this along with the pan and tilt function, gives you a lot of control over what the camera captures.
You can use the app to pan (355 degrees), tilt (55 degrees), zoom in on areas of interest in the camera's field of view, and record with exceptional clarity. In fact, 5MP gives you 2.5K Super HD recording. And since this is an indoor camera, it supports privacy masking.
What the Solo PT does capture gets uploaded to the cloud account that keeps a free rolling seven-day record, for the lifetime of the camera. To use this, the Home+ needs to be connected to your home Wi-Fi and the internet.
Plug and play
Designed for the indoors, the Guardian App Cam Home+ simply plugs in to any 240V power point, so there's no need to worry about batteries or charging. It just works!
One unique feature of the Home+ is what's called pre-motion recording. When the camera is activated by movement or a thermal signature, it includes a four-second buffer of video from before the activation, so you capture the whole of the 'incident' (and can work out which dog to blame for knocking over the Christmas tree).
The Uniden Guardian App Cam Home+ comes in white and costs $149.95.
Control your vision!
All of the Uniden Guardian App cams covered here can be controlled via an app on your smartphone or tablet. The app is free, and will help guide you through the simple set up of your camera to get it connected to your home Wi-Fi and to the internet (if you want to use the seven-day rolling cloud backup).
As well as the app though, you can control your cameras using OK Google and Amazon's Alexa voice assistants. The app will help you connect the camera to your Google Home or Alexa network, and show you what commands work – this function is especially great for using a camera mounted at the front door for contactless deliveries.
Learn more about Uniden security cameras at GadgetGuy news and reviews.
For shopping tips, read our How to buy a Wi-Fi home security camera guide.
*PROMOTION DISCLAIMER. Bonus Uniden Solar Panel, via redemption, with the purchase of selected Uniden App Cam Solo Security Cameras (APP CAM SOLO Pro (Single Pack), APP CAM SOLO Pro (Twin Pack), APP CAM SOLO Pro (Quad Pack) , App Cam SOLO PT, App Cam SOLO + (Single Pack), App Cam SOLO + (Twin Pack), App Cam SOLO + (Triple Pack) and App Cam SOLO + (Quad Pack) – Kits that include the solar panel in the packaging are not part of this promotion
Offer is valid for consumer purchases from the 15th of September 2021 until the 30th of April 2022 (inclusive)