Forgive me for calling the vivo Y12 and vivo Y17 worker's phones – but that is what they are. For want of a better comparison – they are the base model Hyundai.
And that is not disparaging in any way – good, solid reliable, and perhaps a tad dull describes the Hyundai and equally the vivo Y12 and vivo Y17.
I don't want to go into the vivo Y12 and vivo Y17 heritage apart to say that vivo is part of the BBK group that owns OPPO, realme and OnePlus. You can read more here but suffice to say that the group is making significant inroads due to, as Donald Trump famously put it, "My way, or the Huawei".
vivo Y12 and vivo Y17
We are doing a review of these two as a pair because they are very similar and priced with different options to meet the $249/329 price points – a mere $80 difference. Not that their bigger brother the vivo S1 at $399 is all that more costly either.
Y12

Y17
In fact, we have put a comparison table at the end and what it shows it a good, better, best situation – optioning the Hyundai up with a bit more horsepower or a fancy screen.
The rear camera is the same – good quality – certainly a step above social media quality that you expect at this price. The Y17 has a slight post-processing edge due to a slightly faster processor and more ram.
Screen 1544 x 720
Both are identical and are very good for the price. Here we don't measure nits, brightness, colour gamut – you rate it subjectively, and I think it is great.
Both have fingerprint sensors on the rear, and 2D face unlock. The latter is reliable but slow in daylight.
Processor
Y12 – MT6762  3GB LPDDR3-933Mhz/64GB eMMC/microSD (47GB free)
Y17 – MT6765  4GB LPDDR3-933Mhz/128GB eMMC/microSD (103GB free)
CPU throttling
Neither had any indication of throttling. But it became obvious that the Y17 has more horsepower – 101,935GIPs to Y12 at 81,119GIPs. Again, use the car analogy – slightly bigger engine.
Y12

Y17
Geekbench 5 (single/multi-core)
Y12 158/814
Y17 167/1013
Neither is a powerhouse or gaming SoC and compare to the entry-level Qualcomm SD4XX or SD6XX series. Instead, they focus on camera post-processing, have EIS, depth of field algorithms (but the smartphones have depth cameras as well) and support face unlock. They encode H.264 and decode up to H.265.
RAM and storage are slower to meet the price point.
Summary: Fine for everyday use as a phone and camera.
Battery – 5000mAh
Over two weeks we charged and flogged these, and they still had battery life to burn.
The Y12 is a straight 5V/2A micro-USB performing a linear charge in about four hours.
The Y17 has a 'dual-channel' charging. Looking at our battery graph, it uses 9V/2A for about 65% charge in 1.5 hours and then the 5V/2A for the remainder coming in at just under three hours.
Why micro-USB? It is so yesterday, but it is what the local market demands.
Under load is where these devices shine.
100% load with everything on they empty in about seven hours – most phones don't get more than 3-4 hours.
Typical use – still going at over three days
720p video loop – 21 hours
These are 2-day+ phones.
LTE
Not surprisingly, both perform the same in LTE at a rock-solid -93dBm. They also find the next two towers at -95. These should be good in rural areas.
Wi-Fi
Both are N dual-band with a 1×1 antenna. That means a strong -27dBM signal and 135Mbps. If speedier Wi-Fi is your need, then the S1 has Wi-Fi AC.
GPS
It is strictly a GPS for walking. Single-band, single antenna means 10m accuracy and slow to acquire signals. Missed turns and route recalculation takes more time than a driver has.
But its perfectly fine for Google Maps.
Sound
Fine for handsfree and calls but the mono, the down-firing speaker is pure mid-centric.
BT 5.0 and SBC codec is all you need, and it produced good volume and music quality in our Sony WH-1000XM3 reference headset.
FunTouch
If you though OPPO's Colour OS was different you ain't seen nothing yet. Square icons swipe up for notifications and – well yes there is Android 9 hiding under there somewhere. And a full suite of Google apps.
It is jam-packed with bloatware like vivo cloud, vivo.com, and Google substitutes like iThemes, iManager, iMusic, and Jovi smart camera.
There is a learning curve.
Build
Both have a plastic (polycarbonate) chassis, frame and back. While the back looks like glass, it is not.
Still, they feel solid and are fingerprint magnets – use the clear bumper case provided.

Camera
Front f/1.8 (8MP)
Rear f/2.2 (13MP) + f/2.2 (8MP) + f/2.4 (2MP)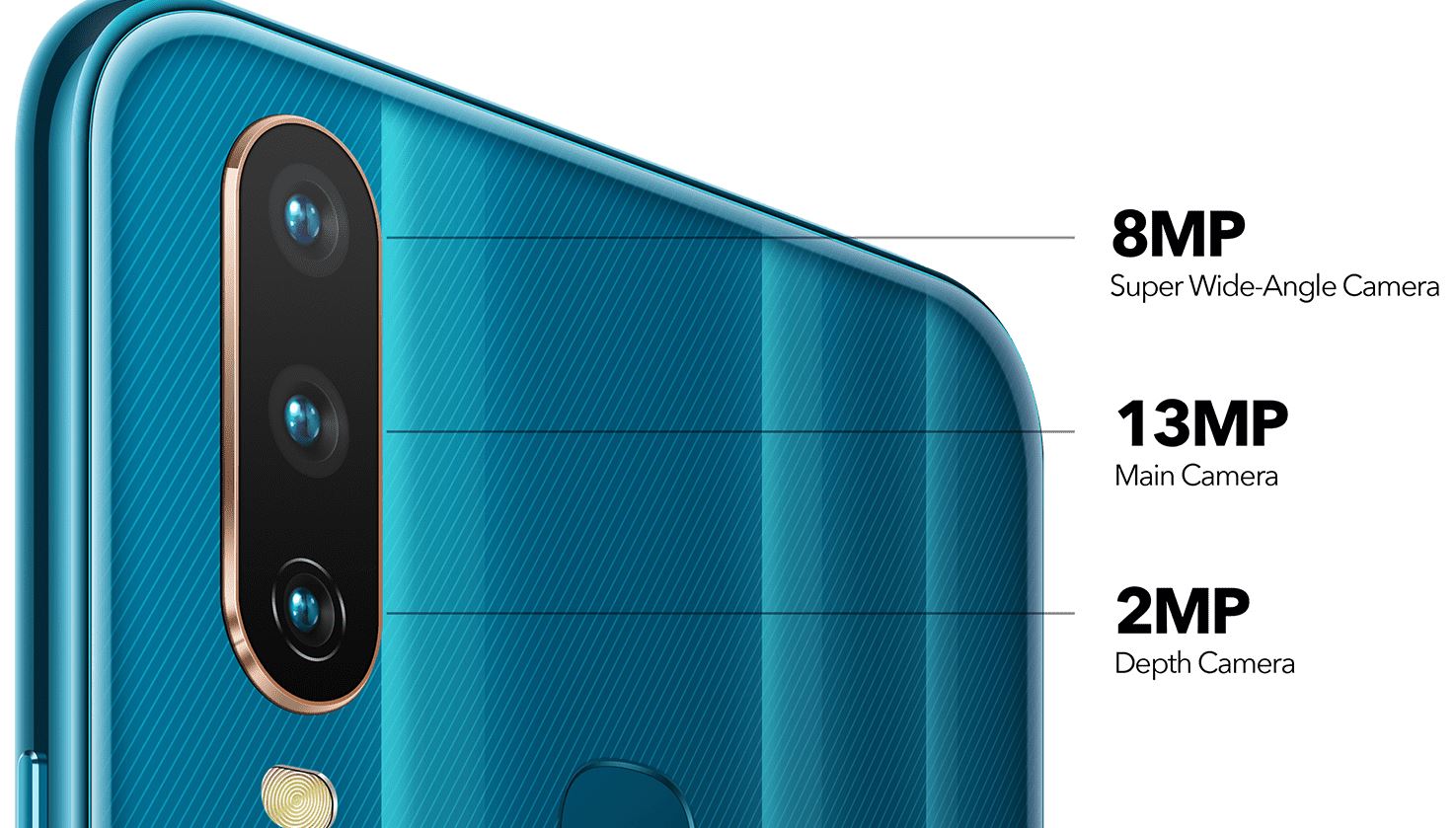 Features: Auto HDR, PDAF, some AI
Unfortunately, our test software does not identify camera sensors with MediaTek SoC. We suspect the main sensor is a Samsung S5K3L that has 1.12um pixels and is in the same as the Nokia 2.2/4.2 with an 80° FOV.
What that means is that it has a good sensor that is great in day and office light and adequate in low light.
The shots are Y12 and Y17 and for the most part they are identical, save some extra post-processing power in the Y17.
Y12

Y17
Video, bokeh etc
Video: 1K at 30fps and no EIS means good colours but a lack of sharpness
Bokeh: The 2MP Bokeh rear sensor does a poor job of separating the foreground from the background. It needs relatively clean lines to differentiate.
GadgetGuy's take – vivo Y12 and vivo Y17 are indeed the worker's phones
Sorry that we have not conducted the usual in-depth review. Because at this price all you need to know how well it works, and what if any drawbacks there are.
They are the same phone bar the good/better scenario. But then there is little compelling reason to buy the Y17 over the Y12. What I would say is that if you only have $199 to spend then find the $50 extra for the Y12 if only for the extra ram/storage and a better selfie.
To me, this is the phone you buy for incredible battery life, a reasonable camera, and coming out of the BBK (OPPO, realme, OnePlus) stable it is well-made and well- supported.
Hyundai buyers – this is for you!
vVivo Y12 and vivo Y17 specifications with S1 for reference
Specification
Y12 1904
Y17 1902
S1
Dimensions
159.43×76.77×8.9mm
same
159.53×75.23×8.13mm
Weight
190.5g
same
179g
Price
$249
$329
$399
Processor
MT6762
Helio P22 12nm
8-core A53 2GHz
MT6765
Helio P35 12nm
3 x 2.3+4×1.8
MT6768
RAM/ROM
3/64/microSD 256GB
4/128GB/microSD
6/128GB/microSD
Battery
5000mAh
5000mAh
4500mAh
Charging
5V/2A
5V/2A and 9V/2A (18W)
Same as Y12
Colour
Aqua Blue
Burgundy Red
Mineral Blue
Mystic Purple
Aqua Blue
Cosmic Purple
Operating System
Funtouch OS 9
Android 9.0
same
same
Screen
6.35-inch 19.3:9
89% STBR
same
6.38-inch
Resolution
720 × 1544 268ppi
same
1080×2340 404ppi
Type
LCD
same
Super AMOLED AOD
Touch Screen
Capacitive multi-touch
same
same
Camera
Front 8MP
Rear 13MP+8MP+2MP
Front 20MP
Rear 13MP + 8MP + 2MP
Front 32MP
Rear 16MP+8MP+2MP
Aperture
Front f/1.8 (8MP), Rear f/2.2 (13MP) + f/2.2 (8MP) + f/2.4 (2MP)
Front f/2.0 (20MP)
Rear f/2.2 (13MP) + f/2.2 (8MP) + f/2.4 (2MP)
Front f/2.0
Rear f/1.78 (16mp) +f/2.2 (8MP) +f/2.4 (2MP)
Flash
Rear flash
same
same
Scene Modes
DOC, Professional, PDAF, Palm Capture, Voice Control, Time-Lapse, Slow, Live Photos, HDR, Panorama, Portrait Bokeh (single front camera), Watermark, AI Face Beauty, Camera Filter, Super Wide-Angle Camera
same
Rear: Y12/17 plus Time-Lapse, AR Stickers, Video Face Beauty, Selfie Lighting, AI Filter, AI Portrait Framing, Super Wide-Angle Camera, Fun Video
Front: Panorama, Live Photos, Gender detection, Face Beauty+ Bokeh, AI ilter, AR Stickers, Video Face Beauty, Selfie Lighting, AI Face Beauty, Fun Video
Wi-Fi
N 2.4G + 5G
same
AC 2.4G+5G
Bluetooth
Bluetooth 5.0
same
same
USB
Micro-USB 2.0
same
same
GPS
Supported
same
same
OTG
Supported
same
same
FM
Supported
same
same
SIM Slot Type
Dual SIM/Standby Mode/SIM Slot
same
same
Standby Mode
Dual SIM and Dual Standby
same
same
4G FDD-LTE
B1/3/5/7/8/28
same
same
4G TDD-LTE
B38/40/41
B38/39/40/41
same
Fingerprint
Rear
same
In-Display Fingerprint Scanning
In the box
Y12 No buds
micro-USB to USB-A
USB Charger
Protective Case
Protective Film (applied)
Y17
Buds XE100/Mic
micro-USB to USB-A
USB Charger
Protective Case
Protective Film (applied)
S1
Same
micro-USB to USB-A
USB charger
Protective Case
Protective Film (applied)
Battery, battery, battery
Pretty good 720p screen
The camera is well above social media standard
Smooth but not snappy performance – gamers – NO