When you think of a company synonymous with making safe cars, it's hard to see a company other than Volvo topping that list, and while undergoing a massive transformation, in terms of design ethos, drivetrains, technology, power and efficiency, the Swedish car maker is still placing safety on the top of the list.
To test out the priorities, Volvo gave GadgetGuy's Valens Quinn the opportunity to road test Volvo's new 7 seat premium SUV, the XC 90 in Canberra.
The XC 90 is a very important car for Volvo as it's the first model that reflects Volvo's new direction.
It's not just about safety, we were told, as the XC 90 offers "the most comprehensive and technologically sophisticated standard safety package available in the automotive industry."
Utilising these and future systems, Volvo plans to take a big step closer to its vision that "no one will be killed or seriously injured in a new Volvo car by 2020."
Run off Road Protection
The first of two world-first safety systems that comes standard with the XC 90 is something called 'Run-off Road' protection.
Approximately 50 percent of traffic deaths in the US are caused by run off road accidents, where a driver leaves the road at speed because of distraction, fatigue or poor weather conditions, and so this technology exists to prevent this.
The 'Safe Positioning' system in the XC 90 is able to detect a run-off road scenario and prepare the car's occupants by tightening the seat-belts while the car is in motion, holding them in firmly in place.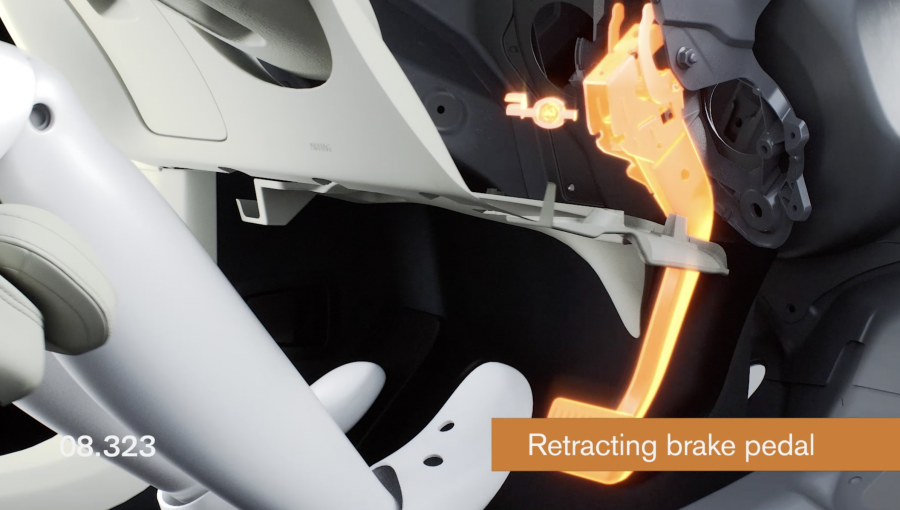 Meanwhile, a spine protection system reinforces the seat's spinal area, reducing vertical pressure on the spine by 30 percent, which could otherwise contribute to serious and common spinal injuries.
The brake pedal also releases to protect the driver's feet from injury caused in traumatic situations.
To prevent the XC 90 from running off the road in the first place, Lane Keeping applies extra steering torque if the car is veering out of its lane unintentionally, and there's even an amount of Driver Alert Control to warn tired or inattentive drivers. Another handy feature is Rest Stop Guidance, which will tell the driver how to get to the nearest rest stop.
Auto-brake
A second world first for the XC 90 is its ability to automatically brake at intersections.
This is a fairly common scenario at busy and high-speed intersections, where a driver is attempting to turn left or right, but does not yield to an oncoming car coming from the opposite direction.
In these circumstances, Volvo's XC 90 detects the oncoming car and brakes to mitigate the collision.
"These two world firsts are further examples of how new technologies target substantial real- life traffic problems," says David Pickett, Technical Manager at Volvo Car Australia.
The XC 90 includes a number of other clever safety systems including pre-crash protection in rear impacts.
This happens when rear-facing radar detects an impending collision and tightens up the seat belts to keep the occupants in place, as well as locking the brakes to prevent the car from being pushed into a dangerous intersection.
The rear lights will also flash to signal the approaching car of a collision, and Volvo's whiplash protection seats provides a pre-crash function to help reduce whiplash injuries.
Meanwhile, when it comes to loss of control, the XC 90's rollover prevention and protection system adjusts elements including engine torque and applies the brakes to one or more wheels to counter the momentum needed to flip the car.
City Safety
Then there's the situation of driving in close proximity, which is where quick thinking is often needed.
To deal with this, Volvo has introduced a suite of systems called "City Safety" used to brake the vehicle when something gets in the way and the driver does not brake in time.
"City Safety is one of the most advanced standard crash prevention offers you can find in a modern car. It now covers vehicles, cyclists and pedestrians in front of the car, day and night," explains David Pickett.
"We are now able to cover the whole span from dusk to dawn by a smarter and faster high- sensitive camera combined with advanced exposure control."
Blind spot detection adds to this technology to help inform the driver when a car is hidden from the mirrors, with an alert if vehicles are approaching fast from behind and tailgating.
Reading the signs
Sometimes it's not all that clear what the speed limit is, so Volvo's Extended Road Sign Information system will remind you by using a camera to look for and interpret road speed signs, and place a speed indication symbol directly on your speedometer. This is certainly handy and was surprising accurate considering the different colours and sizes of speed limit-signs that we drove by.
Follow the leader
The last feature to grab our attention felt built for the tedious stop-start that is city driving, and that was Queue Assist.
This essentially allows the vehicle to 'follow' the car in front of it, including starting and stopping as well as turning.
While it's not recommended to take your eyes off the road, Queue Assist alleviates some of the concentration required during long traffic jams, and prevents minor fender benders. The system disengages above 60kph, and you still need to have one hand on the steering wheel for it to activate.
Volvo's XC 90 is on sale in Australia now, with drivetrains ranging from diesel (D5) to petrol (T6) with a hybrid version (T8) to be released later in the year. Depending on the model, prices range from $89,950 to $100,950 before on-roads.