When you think of a company synonymous with making safe cars, it's hard to see a company other than Volvo topping that list, and while undergoing a massive transformation, in terms of design ethos, drivetrains, technology, power and efficiency, the Swedish car maker is still placing safety on the top of the list.
To test out the priorities, Volvo gave GadgetGuy's Valens Quinn the opportunity to road test Volvo's new 7 seat premium SUV, the XC 90 in Canberra.
The XC 90 is a very important car for Volvo as it's the first model that reflects Volvo's new direction.
It's not just about safety, we were told, as the XC 90 offers "the most comprehensive and technologically sophisticated standard safety package available in the automotive industry."
Utilising these and future systems, Volvo plans to take a big step closer to its vision that "no one will be killed or seriously injured in a new Volvo car by 2020."
Run off Road Protection
The first of two world-first safety systems that comes standard with the XC 90 is something called 'Run-off Road' protection.
Approximately 50 percent of traffic deaths in the US are caused by run off road accidents, where a driver leaves the road at speed because of distraction, fatigue or poor weather conditions, and so this technology exists to prevent this.
The 'Safe Positioning' system in the XC 90 is able to detect a run-off road scenario and prepare the car's occupants by tightening the seat-belts while the car is in motion, holding them in firmly in place.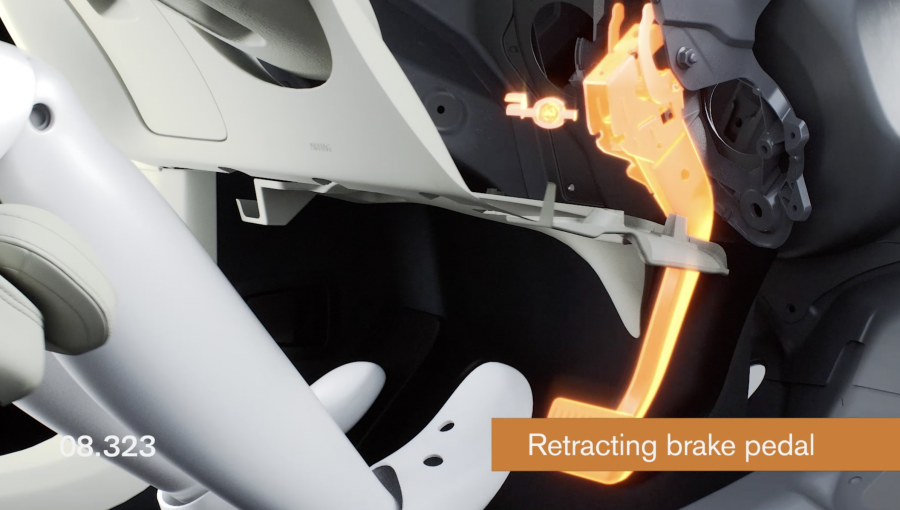 Meanwhile, a spine protection system reinforces the seat's spinal area, reducing vertical pressure on the spine by 30 percent, which could otherwise contribute to serious and common spinal injuries.
The brake pedal also releases to protect the driver's feet from injury caused in traumatic situations.
To prevent the XC 90 from running off the road in the first place, Lane Keeping applies extra steering torque if the car is veering out of its lane unintentionally, and there's even an amount of Driver Alert Control to warn tired or inattentive drivers. Another handy feature is Rest Stop Guidance, which will tell the driver how to get to the nearest rest stop.