While the term "tablet" might sound new in the iPad post-PC era, before the digital flattop portable computer, it was one associated with graphics tablets. This week, the company that practically started it all announced all new products, and we're excited to see the graphic tablet is all grown up.
Fresh from an announcement overseas, Wacom has a few new products coming that take the graphic pen and move it to a new level, making it work for users of Windows, Android, and yes, even iOS.
We'll start with Windows and Android, because it's the announcement here that has most of our attention, and it comes in the form of a new Cintiq.
Previously, models that wore this badge were touchscreens designed for Wacom's pen technology, capable of recognising over a thousand levels of pen pressure so you could draw directly on the screen of your computer.
In 2013, though, the Cintiq is a true companion. Literally.
Called the "Companion," Wacom is bringing its pen-based touchscreen technology to two tablets, with Windows 8 running on one and Android running on the other.
Both tablets pack the Wacom digitiser technology under a 13.3 inch screen running Full HD's 1920×1080 resolution, and bring with it a pen capable of pushing out 2048 levels of pressure supporting up to ten replaceable nibs.
But with two different operating systems, there are two different sets of technology.
For the Windows 8 Cintiq Companion, you'll find a third-generation Intel Core i7 processor clocked at 1.9GHz, Intel HD 4000 graphics, 8GB RAM, Windows 8, and a choice between either 256GB or 512GB solid-state storage, which should be plenty of space, though a microSD slot will be offered in case a boost is needed.
With Windows built into the tablet, people will be able to take their graphic programs on the go and work without a desk, drawing directly into Photoshop, Sketchbook, Illustrator, or anything else that's supported.
The second computer will carry a different price tag when it eventually comes out here, but will be made for people who prefer Android.
This one will be called the Cintiq Companion Hybrid, and packs in a quad-core NVidia Tegra 4 processor, 2GB RAM, Android 4.2, microSD slot, and a choice of either 16 or 32GB storage.
Both models will feature Bluetooth, WiFi, 2 megapixel front-facing camera, and a rear 8 megapixel camera, but only the Companion Hybrid will be able to be plugged directly into another computer and used like a touchscreen digitiser monitor on Windows or Mac.
Pricing and availability has yet to be announced in Australia, but from what we've heard, we don't expect it will be cheap.
If you're looking for something a little bit better priced and already on an iPad, Wacom will have something in this area, too, with the announcement of the Intuos Creative Stylus.
Unlike the capacitive stylus products you can find on the market already, Wacom's version will work via Bluetooth and provide the same 2048 levels of pressure sensitivity in the various apps available on the iPad.
There are some catches, though, with only the iPad 3, iPad 4, and iPad Mini supported here, with some apps not yet supported by the pen and its pressure sensitivity.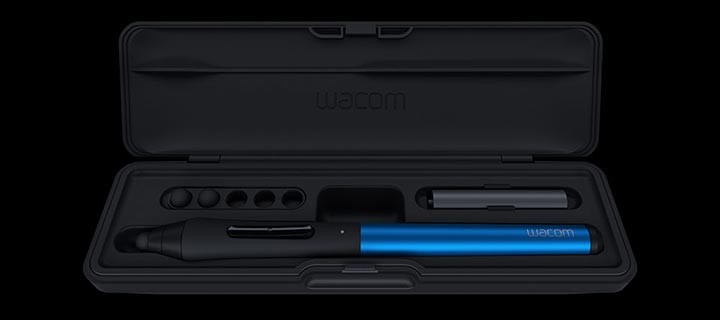 In America, the Creative Stylus will be carrying a price tag closer to the $100 mark, so even factoring in the typical Australia tax locals are charged against American pricing, this should still come in under $200.
Regardless, both products are expected to be announced locally within the next couple of weeks, so as always, we'll keep you updated.