Bigger laptops might soon have the speed of an Ultrabook while still retaining terabytes of storage, thanks to a new development from Western Digital.
Designed to replace the drive inside laptops, the WD Black 2 drive is a pairing of technologies aimed to offering speed and an abundance of storage. The hard drive is unique because it links up a 120GB solid-state drive with a 1TB conventional hard drive, and stores both within the one 2.5 inch hard drive bay.
"Our customers told us they like our Solid State Hybrid Drive technology, but our tech savvy users asked for more control of where they store their data," said Matt Rutledge, WD's Senior Vice President of the Storage Technology Business Unit.
"The WD Black2 dual drive is direct result of our interaction with our customer base through WD Labs initiatives. WD devised our beta labs program to provide an exclusive testing arena for key customers and technology influencers of existing and emerging WD storage products."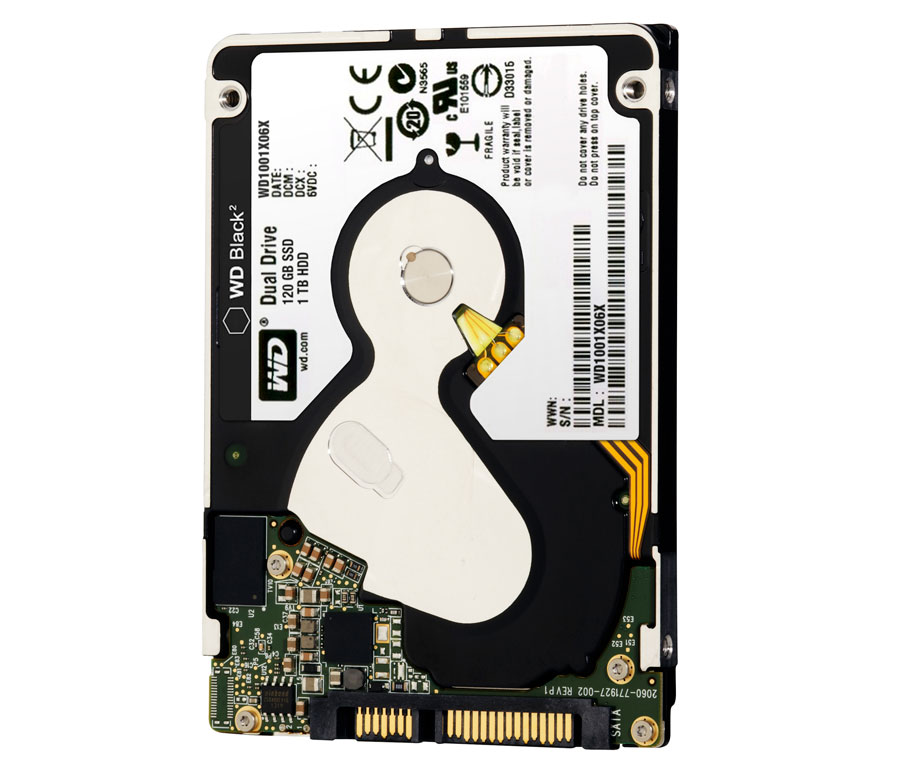 Hybrid drives like this have existed in the past, but traditionally have offered far less solid-state storage, with storage amounts closer to 8GB.
With 120GB of solid-state storage employed, an operating system and key programs can be installed to this speedy section of the drive, while files and other things can be left for the 1TB of storage, making this drive as capable as what's inside some of the thinner and lighter machines out today, but with more room to move.
The technology used here might even be similar to one we've seen pop up in the past from Apple, with this combination of large solid-state drive technology and conventional hard drive seemingly close to what Apple offers in Fusion Drive technology.
Fusion Drive is more than just about linking the two drive technologies, with the software also intelligently moving files to the various sections of the hard drive — SSD or HDD — to make things faster. In Fusion, files and applications you frequently use will run from the SSD, while other files that aren't accessed as often are moved to the hard drive, because the quick solid-state speeds aren't as required for these.
While the drive technology WD is employing could be similar, the laptop would still need a software counterpart to make the "Fusion" concept work like an Apple can, and that's something we don't think Windows PCs are quite ready for yet.
That said, with the introduction of such a big SSD/HDD hybrid, WD could pave the way for someone to bring this sort of technology to Windows laptops.
For now, anyone keen on upgrading their laptop with the power of a 120GB SSD and 1TB drive can do so provided they can replace the hard drive with a 2.5 inch drive, and can find one of the WD Black 2 drives, which go on sale this week in Australia for $409 RRP.