My, hasn't the Walkman come a long way? The original chunky portable cassette player from 37 years ago has shrunk, become more robust, delivers far higher quality sound and is less than half the price. I'm talking about Sony's new WS623 Sports Walkman.
With a price in Australia of $199 (the original Walkman's inflation adjusted price was north of $US500), the WS623 is kind of a combination of wireless headset and music player. And rather than reluctantly providing some water resistance, Sony boasts that while wearing it, you can "swim to a depth of two metres with up to 30 minutes of submerged time". In salt water.
That's due to the IP65/IP68 ingress protection rating. The "5" means that it can withstand water jets. The "8" means it can go into water deeper than a metre for up to half an hour. The "6" means it's completely dust tight. Which means, says Sony, "it can withstand small particles – making it perfect for any sand based activity or a run along the beach".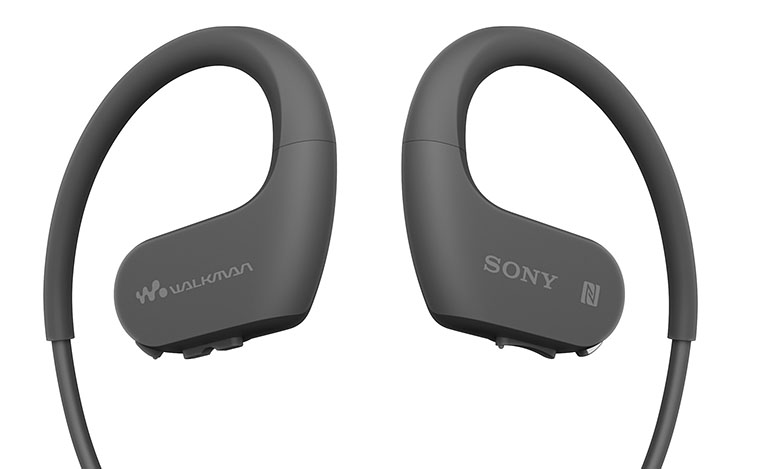 There are eight sets of earbuds included – by that I assume they mean silicon tips. Four are regular ones in four sizes, while the other four, also in four sizes, provide waterproofing for the device. And remaining on the subject of robustness, the thing is designed to operate in temperature ranges from -5°C to 45°C. It's fairly light, too, at 32 grams.
There is 4GB of built in memory, which is enough for something like a thousand songs (assuming 128kbps MP3). In addition to MP3, AAC, PCM, WMA and FLAC formats are supported. How you select tracks is unclear in the absence of a display.
Most likely all that is managed through an app on your phone, for the WS623 can also connect via Bluetooth to play back music from your phones. Connection with many Android devices is easy with NFC pairing. Presumably you won't be taking your phone under water with you, so I imagine you'd set up a play list using the phone as a controller, and only have minimal control over the music while it's playing. The information released doesn't mention it, but I would be surprised if you couldn't use the unit for hands free talking on your phone, and for communicating with Google Now/Assistant and Siri.
There's a "Dynamic Normaliser" process available, which would keep tracks to a fairly consistent level. That's something that's very useful for those wishing to concentrate on their activities, and not have to dart to the volume control when an unexpectedly loud track starts.
And there's an "Ambient Sound Mode" which pipes in the sounds around you, reducing the chances of you stepping off a curb in front of traffic.
The unit is rated at twelve hours playback … if you're listening to music on its internal memory. That falls back to four hours when streaming via Bluetooth. Charge time is an hour and a half, with a three minute quick charge to give an hour's playback.
There's a little wait, though. The Sony WS623 Sports Walkman won't be available until June.