Being a GadgetGuy is tough. Reviewing hundreds of lifestyle/tech items and usually having to send them back afterwards. And the inevitable party small talk, "What 2020 Home tech excited me?"
This is a companion article to What 2020 Tech excited me? covering ten of the best in routers, smart home IoT, LED lighting, security cameras, storage, laptops, computer accessories, monitors, printers and power.
With the caveat that we have reviewed these (and there may be other brands out there) let's go.
What 2020 Home tech excited me? Domestic desires
While Samsung, Sony and Hisense all have excellent comparable TVs, two LGs stood out from the pack.
The LG 65″ OLED has everything a TVphile could want. Dolby Vision and Dolby Atmos decoding, HDMI 2.1, eARC and 120fps native refresh. The ultimate gamers TV with HGiG mode, Nvidia G-Sync, AMD FreeSync, Variable Refresh Rate and Auto Low Latency Mode for smooth, responsive gameplay.
If you see a Dolby Vision/Atmos movie, you will see there is no better OLED. RRP is $5399, but you can bag a bargain from $3780 from Videopro.
Runner up – LG Nano 91 series – Quantum Dot LED with OLED electronics and a very bright backlight. Perfect for large Aussie lounge rooms. Our pick is the 65″ 65NANO91TNA with an RRP of $3239, but you can get it from Videopro for $1880.
Honourable mention: Sony X9500H Full-Array LED
The $1899 has separate rear upwards and forwards firing speakers and a full complement of front speakers. It handles Dolby Atmos flawlessly. Why is it so good? There is no psychoacoustic trickery here trying to bounce sounds off walls and ceilings to get faux Atmos. You can get a bargain at Videopro for $1298. Although, if you are buying a TV and soundbar, then most major retailers will price match.
Runner up – none. We liked Samsung, but these are best as companions to the 2020 range of Samsung TVs. Be aware that your TV must support both Dolby Vision and Dolby Atmos for a Dolby Atmos soundbar to work. Our Dummies Guide to Dolby Atmos, and DTS is a great place to start if you need to know more about Atmos TVs and speakers.
PS – if you don't have Dolby Atmos support then the JBL soundbar range gets my tick for value and sound quality.
#3 Bluetooth ANC Headphones – various
While this area is audiophile Thomas Bartlett's bailiwick, we don't all have the money to spend. One stood out from the crowd as the best all-rounder –
Sennheiser PXC 550-II. These $549.95 are on runout sale at the ludicrous price of $299 at JB Hi-Fi. These have all the codecs you need for Apple and Android, are lightweight for travel and have the remarkable Sennheiser sound and quality.
Sure if you have the cash to splash look at others, we have reviewed, and you may opt for the ultimate Sennheiser Momentum 3, Bose 700, Sony WH-1000XM4 or Jabra Elite 85h. You would be happy with any of them.
#4 BT speaker – various
Thomas Bartlett and I are poles apart on this. He thinks the $399 BlueAnt X5 (any X-series) is a great party speaker. I think the Sony ExtraBass SRS series takes the cake. Either way, it is nice to include an Aussie company in the line-up.
Not strictly Bluetooth but Wi-Fi is the Sonos range. The Google Assistant equipped Sonos Move is the best Google speaker of the year. I also fell in love with the Sonos Five as a superb Wi-Fi lounge 3.0 speaker with six amp and the sweetest music I have heard from Spotify. OK Google can cast to it as well – they are not a Google speaker. I want to get an extra one and run them as a stereo pair – please Santa.
Honourable mention to Google Nest Audio – a giant leap forward for a $149 Google Assistant speaker. Google now dominates the smart speaker market with >75% of sales. It seems its functionality and not being part of an online megastore resonates with Aussies.
#5 Smartphone – various depending on the price
The one that stood out this year as the best all-around was – you guessed it – a quadfecta – the amazing LG Velvet at $909. Terrific camera, 6.8″ OLED screen, excellent sound, micro-SD, great battery life and wireless charge, 5G/4G and most importantly the highest IP68/MIL-STD construction of any phone. You can get it at JB Hi-Fi for $719 or Catch.com.au for $698 including free delivery.
Runner-up: Read our article Best Android phones from $100-1000 – update November 2020 and remember 85% of all smartphone sales are <$699. There are some great value and performance phones from Motorola (g9 series), Samsung (A-series), OPPO (Find and Reno series), realme and vivo.
The high-tech kitchen appliance that keeps on giving and giving. It has largely replaced my Weber BBQ, stovetop and oven in one well-designed, well-made mini Grill, Air Fry, Roast, Bake and Dehydrate. It is perfect for two people, but we made the Xmas lunch for four comprising hot baked honey glazed ham, roast boneless lamb leg, roast turkey breast, and a full complement of roast vegies all in the Ninja. Best thing – one easy to clean cook pot.
First a caveat – all Air Purifiers we reviewed this year (and there were heaps) work extremely well. Honourable mentions to Samsung, ionmax UV, Coway, Philips, Sharp ion Plasmacluster and Airfree. But there is one main difference with the Dyson – they double as effective fans and heaters.
Why buy? Simple if you suffer from allergies, hay-fever, asthma these make an appreciable difference to the air quality.
The main thing to look for is to buy a capacity (Clean Air Delivery Rate in m3) larger than the room you place it in.
#8 Robovacs
There are many ways to rate a robot vacuum cleaner. But the most practical is can you leave it unattended and trust it to do the job. This relates to its intelligence and object recognition. If you asked me in 2019, I would have said I trust none.
My favourite on the trust scale and power efficiency is the Neato D7 that 9-out-of-10 times will do the job flawlessly. It is not cheap at $1999, but the Robot Shop has it for $1199, making it the 2020 bargain.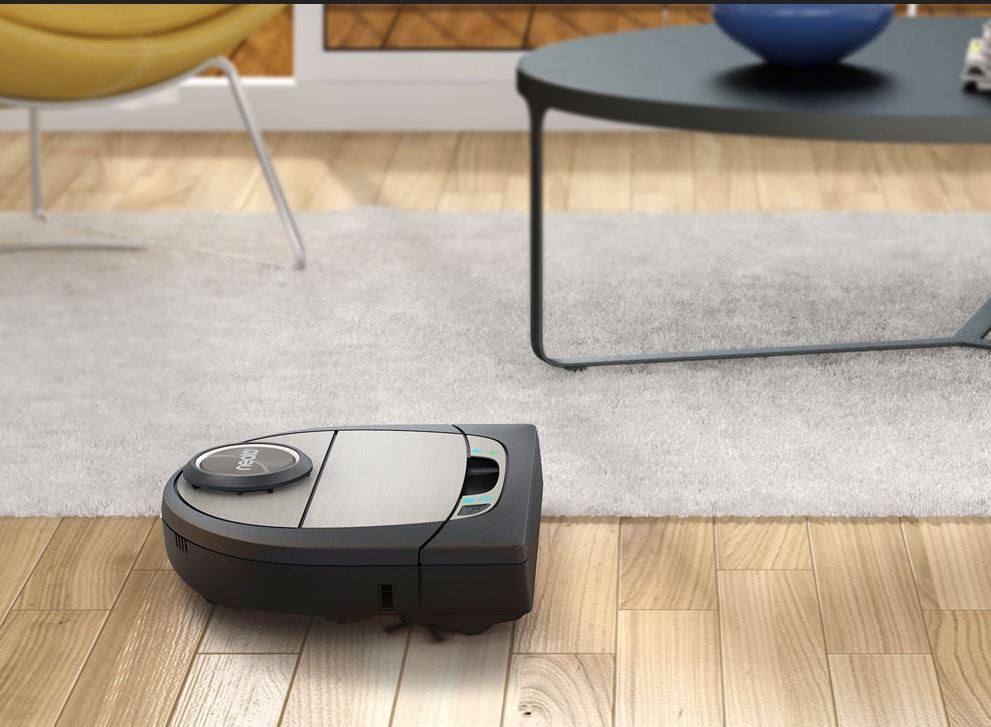 My favourite on the convenience scale is the Roomba i7 with automatic emptying at $1798 from Bing Lee.
We are looking forward to 2021 as mapping technology is moving quickly ahead and we will see more brands like Ecovacs, Xiaomi and others, power ahead at lower costs.
#9 Smart Toothbrush
Thomas Bartlett likes the $499.99 Oral-B Genius AI electronic toothbrush, and I like the $379 Philips DiamondClean 9000. He likes the Bluetooth app, and I did not. I really can't see the value in either app. In any case, both offer superior cleaning to the cheapies. My recommendation is to buy the model below that with Bluetooth.
I don't recall the last time I used a traditional under the tongue thermometer – so yesterday. The MedSense by Andatech work very well, are inexpensive, and are TGA approved. We tested two models – one that is more for home and the other more for professionals and these are the ultimate in convenience. Interestingly we learned that the difference between COVID positive or not is just .3 of a degree, so accuracy is vital.