Sizing it up
One area that has improved slighty in the new generation of the iPhone is the size.
You'll notice it as soon as you pick it up, with a drop from 9.3mm to 7.6mm and the loss of almost 30 grams of weight, making it one of the thinnest and lightest smartphones on the market.
Not even Samsung's Galaxy S3 manages to compete here, being 20 grams heavier and one whole milimetre thicker.
In real life, those measurements don't mean much, because in your pocket and hand, you're unlikely to notice sheer millimetres, or a few grams here and there.
Sufficed to say, most top-tier smartphones – the iPhone 4S included – are thin and light enough for most people to not have a whinge about it.
But there are things stopping them from getting smaller.
One of these is the screen, which we just mentioned, while another is obviously the battery, which these days has to be pretty big to help keep the phone alive for a full day.
And then there's a standard that we're including in all products that automatically accounts for at least 5mm of thickness: the headphone jack.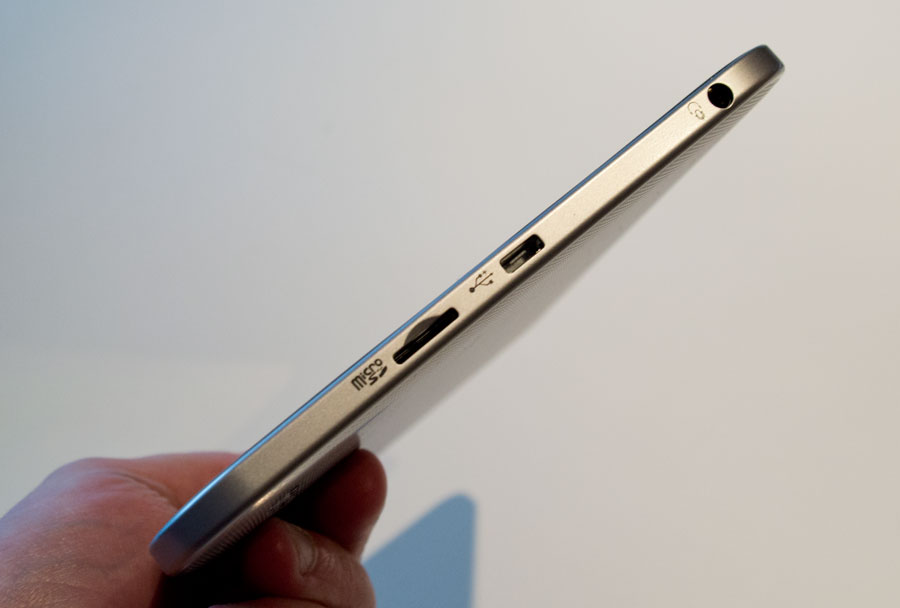 In fact, in one of the products we reviewed earlier this year – Toshiba's 7-inch AT270 tablet – we found that this was one of the things stopping Tosh from making it even slimmer.
Developed in the eighties, the 3.5mm headphone jack is now legacy technology. Sure, it's a standard that most headphones around the world cater for, and certainly every smartphone and tablet in the world supports, but it's such a thick connector that right now, tablets that support it must have a minimum size, and that's the thickness required for surrounding the jack.
I can remember that with quite a few smartphones in the late nineties, companies tried their hands at the 2.5mm headset jack formula, only to find it failed. You needed a converter for headphones, or you were forced to use the crappy pair that came in the box.
Some devices have even tried forcing the headphones through the mini- and micro-USB ports, which sounds like a neat idea given most phones use them, until you realise that once again, the plug isn't native and you need to carry a converter with you or rely on what came with the phone.
Have the supplied headphones for smartphones changed over the past few years? Sure, and Beats and Apple have had a hand in that, but they're still not amazing, and I'm pretty sure you'd prefer the option to plug in your own pair rather than rely on someone else's.
One way out of this 3.5mm headphone jack dilemma is with Bluetooth headphones, and we are seeing quite a few of those right now, with some awesome options from Sennheiser and Plantronics, to name a few. But these are hardly standard devices for everyone, and until they are, the headphone jack is one part that is going to keep us from having credit card thin phones.
Be quick
One area where Apple excelled in the iPhone 5 was its updated connections.
As the rest of the world started to support Long-Term Evolution technology, also known as 4G, Apple decided to jump on board and include it in its 2012 flagship phone.
Not just that, but we also have dual-band WiFi 802.11n technology, effectively offering faster downloads in home networks that cater to the better technology.
So we have two strong technologies on offer in the new iPhone, neither revolution, but very much needed for an evolving product.
One wireless technology is missing from the bunch, though, with Near-Field Communication absent in the iPhone 5, and people seem to be complaining.
At the moment, NFC seems to be the best bet for using mobile phones as a form of electronic cashless payment, but in the years that it has existed, we haven't seen many adopted and available uses of the technology.
This is sure to change over the years, but with Commonwealth Bank being one example that provides NFC solutions for iPhone cases, it means that Apple doesn't necessarily have to include the technology, and can let third-party players – those who work in the financial space – try their hands at it first, before Apple throws all the cards on table and includes sticks with a specific technology.