If you own a computer bought in the last seven years or so, good news: you won't have to pay for your next copy of Windows. Or possibly one ever again.
After months of speculation as to when Microsoft was going to release the next iteration of Windows — it was always going to be somewhere between May and August — the big M has confirmed that the next Windows operating system will land on July 29.
Interestingly, it has also confirmed that the next version of Windows — Windows 10 — will also be likely the last one you'll have to buy for that device, with Microsoft supporting free updates for the computer you're upgrading for "the lifetime of the device".
In theory, that means if you update a computer to Windows 10, you should conceivably have free updates for that computer until that computer dies, and the next time you buy a computer, it may have Windows 10 installed, again stopping you from buying a copy of Windows again.
That's not to say Microsoft still won't make money from Windows, as there are still likely to get something from business licenses, at least, and there's also the catch of that free update.
You might have noticed the "(for now)" in our subject line, and that's there for a good reason, because Microsoft wants you to update in the next year.
Update in the next year and the Windows 10 upgrade is free.
Don't and, well, it's not.
That's right, the free upgrade for Windows 7, Windows 8, and Windows 8.1 owners is free only if they choose to upgrade from July 29 2015 to July 29 2016, with the operating system update likely to cost money post this. We're not sure how much, and suspect we'll see Microsoft OS pricing return around that time, possibly between $50 and $200 dependent on the version in question, because there will likely be different versions of the OS that are available.
In any case, the next version of Windows is likely to get some positive attention due to it not being so reliant on a touch screen. Lots of people out there have been critical of Microsoft for this reason, and we're not sure what they were thinking when an assumption was made that touch was to be pivotal, but in Windows 10, that won't be the case.
You can have touch if you like, and you don't have to, but both will be supported, with a return to the Start button if you don't want it and a return to the Start screen if you do. It's optional, and that's the way we like to see it.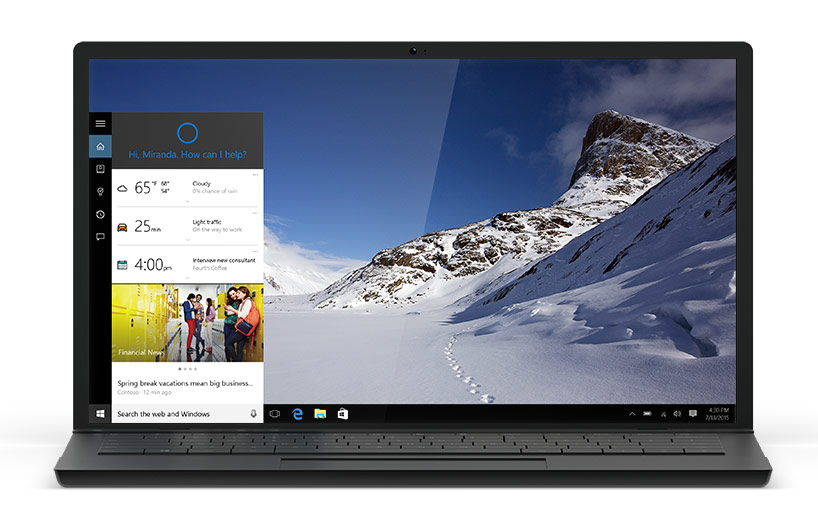 Interface changes are only part of the equation, though, and Microsoft will be integrating its virtual assistant found over on smartphones here, with Cortana aiming to help you throughout your day.
Also included will be support for "Windows Hello", a new system that when paired with the right sort of camera will let you login to your computer using your face, providing a form of biometric login of sorts.
Internet Explorer is also back, though no longer called IE, and now called "Edge" (above), which Microsoft aims to be a faster and more streamlined browser for faster and more focused web browsing.
One feature we're particularly curious about is called "Continuum" and will allow you to turn a Windows Phone into a computer if you use one, or a tablet into a keyboard-equipped laptop. Essentially, this will bridge the gap between mobile and desktop operating systems, and allow the two to function as one.
"Windows 10 is a new generation of Windows designed to empower you to do great things," said Terry Myerson, Executive Vice President at Microsoft.
"Windows 10 starts to deliver on our vision of more personal computing, defined by trust in how we protect and respect your personal information, mobility of the experience across your devices, and natural interactions with your Windows devices, including speech, touch, ink and holograms."
We can't talk much about holograms, and Microsoft has yet to release a date for when its augmented reality-holographic experience HoloLens will make its way out, but at least you'll be able to see what Windows 10 is doing from July 29.