The good thing, and the bad thing, about mobile phones is that you can expect a life of about two or three years out of one. That's bad because who doesn't want their gadgets to live forever? But it's good, because someone in your life likely needs a new phone for Christmas. And that solves the problem of what to get them,
Here are a few that have caught our attention recently.
Huawei Mate 10 smart phone – $899
Huawei has been challenging the most famous names in phones of late, and its latest is the Huawei Mate 10. It has Leica dual camera, QHD resolution on its big 5.9 inch screen, quite high end processor performance, and a USB Type-C dockability that turns a mere phone into a computing platform, from your pocket to your desk.
Read the Gadget Guy review here.
iPhone X – from $1579
Well, derr, of course! If you can stretch your Christmas budget that far, and even if your loved one already has an iPhone, they're going to love the upgrade to the iPhone X. It's the future of smart phones as Apple sees it, and since Apple invented the whole smart phone thing, it may well be right. This is a personal present, too, since the iPhone X will recognise the face of your loved one.
We certainly love it. Gadget Guy looked at the iPhone X's facial recognition here. We unboxed it here. And here were our first impressions.
Samsung Galaxy Note8 – $1499
But we also reserve a place in our heart for the Samsung Galaxy Note8. We regretted the untimely demise of the Note7, but we can put it behind us now. You're going to have to look far and wide to find any stylus-based smart phone capable of touching the Note8.
Stocking filler: pop in the Samsung DeX dock ($199) and the phone becomes the heart of a desk top system, complete with Ethernet connection and HDMI monitor.
Read the Gadget Guy review here.
Apple iPhone 8 – from $1079
But if you can't quite gather the moolah required for an X, how about an iPhone 8? A mere evolution, they say, from the iPhone 7. Which is a pretty good forebear from which to evolve. Amongst the capabilities it has evolved is wireless charging – a first for Apple.  But the main thing about an iPhone is, as always, it does its stuff consistently and smoothly, and works like a dream with other Apple things.
Read the Gadget Guy review here.
Google Pixel 2 XL – from $1399
Surely an Android phone from the developers and maintainers of Android is the way to go. Running Android 8.0 Oreo, even Google can't quite resist the temptation to add its own brand twists to the Android theme. With a big OLED 18:9 display, the latest and best processor from Qualcomm, Google Assistant easily invoked with a loving squeeze on its sides, and the best camera available, this one might even tempt someone over from the Apple side.
Read about the Google Pixel 2 and Pixel 2 XL here. And come back here tomorrow to check out the Gadget Guy review of the Pixel 2 XL. Indeed, here is the review.
Review: Oppo R11 Smart Phone – $649
Seriously, look at that price. Oppo's latest flagship phone is less than half the price of some of the others we've suggested as presents. Not everyone, after all, can afford a $1500 gift. Yet it has the fingerprint scanner, and a fast processor, and expandable memory, and the dual cameras and all that good stuff.
But the standout feature is that not only does it look a lot like an iPhone, it has an Android implementation (built on Nougat 7.1.1) closer to the iPhone than any we've yet seen.
Read the Gadget Guy review here.
Sony Xperia XZ Premium smart phone – $999
Not too many phones get to boast of a world first achievement, but that's something that the Sony Xperia XA Premium smart phone does. Note, "Premium" is part of the name, not a description. And that world first? A true 4K display. Yes, the medium-large 5.5 inch display gets 2160 pixels across by 3840 pixels tall. That's 801 pixels per inch, or almost precisely double that of an iPhone 8 Plus's display.
And it has just about the fastest processor of any phone on the market, and now the price has slipped down to under a thousand dollars.
Read the Gadget Guy review here.
BlackBerry KEYone smart phone – $899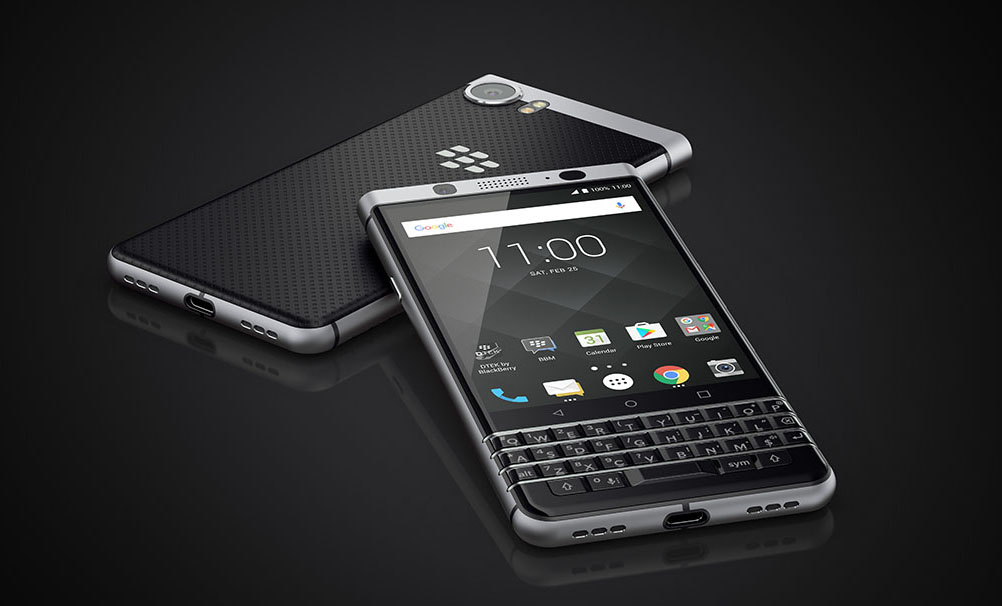 Did the love of your life have a love themselves that included a BlackBerry? Does he or she have fingers yearning to tap across that tiny physical keyboard that so many mastered? The BlackBerry OS might be gone, but the phone has been refreshed, based on Android, and with the fine keyboard in its proper place.
There are also a bunch of apps compatible with BlackBerry's traditional apps, and styling that's for once different from other phones.
Read the Gadget Guy review here.
HTC U11 Smart Phone – $999
The Pixel 2 wasn't the first squeezable phone. If your loved one squeezes HTC's U11 premium phone, they can have it respond in several different ways. Such as starting up the camera, capturing a screen shot, switching on the flashlight function, or even starting a voice recording.
And that's in a phone way less expensive that most of those running a Qualcomm Snapdragon 835 processor. One other unusual feature: a selfie camera with higher resolution than the main camera.
But read the Gadget Guy review here, and you'll see we were quite taken with the main camera.