So, time's getting close. Only nineteen days until Christmas as we write. Have you settled yet what gift (or gifts, he's likely hoping) you shall be giving the man in your life? Where better to come for advice than the Australian home of all things gadget.
You're sure to find something just right amongst these dozen suggestions.
Braun Series 9 shaver – $699
A shaver for him for Xmas is an oldie, but it's also a goodie. Especially when the shaver is the new Series 9 from Braun. It says that its "SyncroSonic" technology provides an "exceptionally gentle" shave. Indeed, this shaver will "provide an intuitive and personalised shaving experience like the world has never seen."
Surely he must have one of those. It's cordless of course, but this seems cool: it comes with a "Clean & Charge station" which automatically cleans and lubricates the shaver while charging it.
Bissell Crosswave Multi-surface vacuum cleaner – $399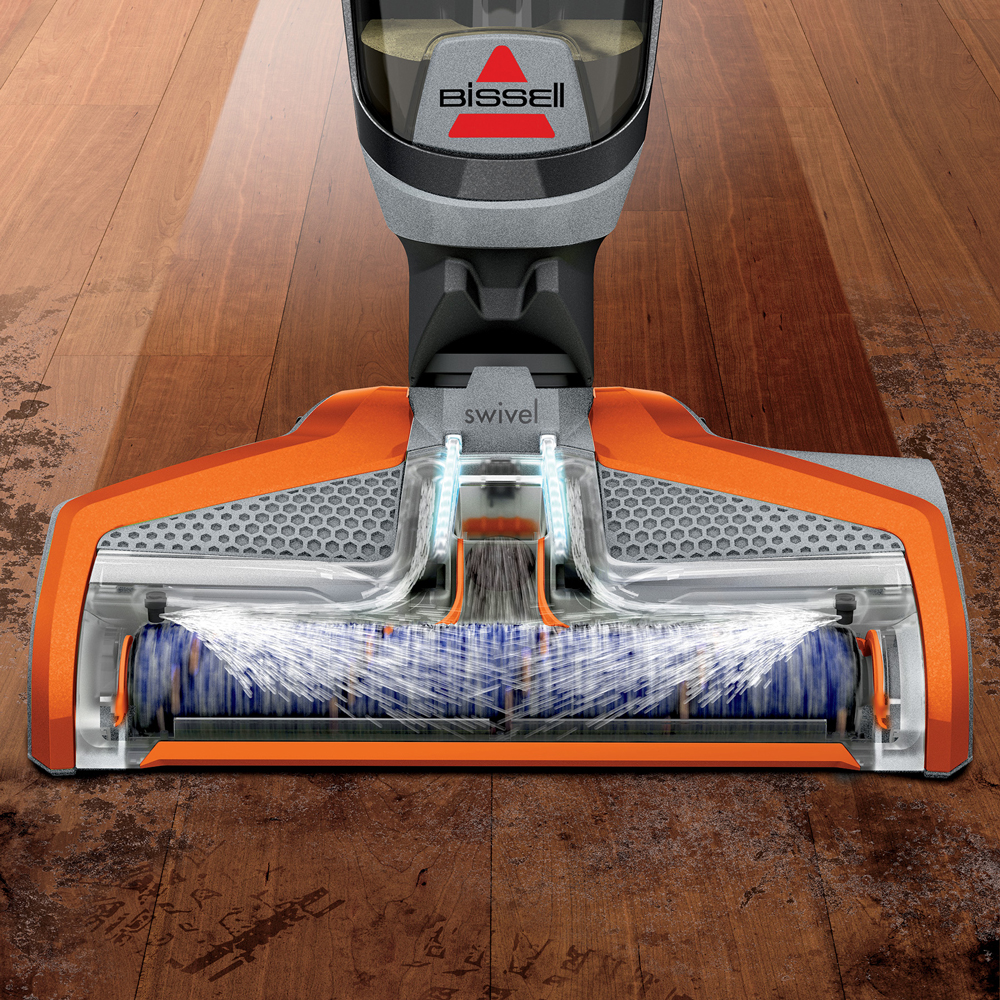 We have no doubt that domestic duties are shared in any healthy relationship, so he will be thrilled if you make his share of them easier with a multi-surface floor cleaner. The Bissell Crosswave incorporates both a mop and a vacuum cleaner in the one device. Apparently with one load of water, it'll mop up to 55 square metres of floor, which is a good sized room.
And since it'll vacuum first, it won't be mere damping down the animal fur and dust into a horrible mess. Our reviewer certainly liked the idea.
Drone-borne Pizza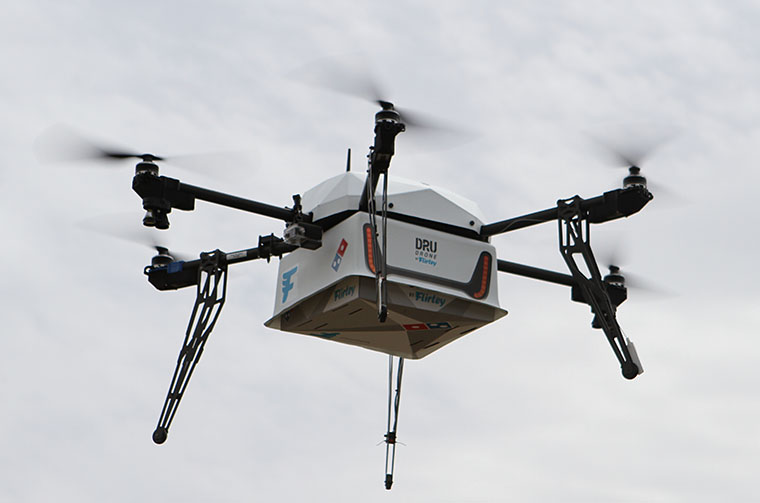 Okay, this is for those of you in New Zealand (apparently we're behind the times in Australia): how about the coolest possible meal. That is, get him a pizza delivered … by drone. How cool would that be? And that's a surprise that's relatively easy to pull off.
That's possible, thanks to Domino's Pizza (NZ) and Flirtey beginning the drone/pizza service last month. There may be disputes about who was first to do it, but for New Zealanders what's important is that it's happening now.
Fitbit Alta fitness tracker band – $199.95
Now you might need to be just a little sensitive about the Fitbit Alta tracker band. It's not as though he's overweight or anything. It's just that being a guy, you're sure he likes to keep an eye on the facts and figures of his lifestyle.
Fitbit has a whole "ecosystem", as we call it in tech land, of fitness devices, along with good software for recording everything automatically, from weight and heartbeat (with suitable tracking devices) through number of steps walked each day. With a choice of wristbands, the Alta looks good too.
Refresh that music
Does the love of your life have a collection of music consisting of vinyl discs so worn that the grooves are twice as deep as they ought to be? It's verging on half a century since "Stairway to Heaven" first appeared. Why not refresh his music collection with a remastered Led Zep (or something – perhaps – that you both like) box set?
It can be on CD, or by download. It might be high resolution download or standard definition on iTunes. And in many cases, it can be on Vinyl. Again, after all those years.
Read all about 45 years of "Stairway to Heaven" here.
Gramovox Floating Record Player – $669
If you do opt for vinyl for him, he may well need a player for those new LPs. An old stylus can turn them into junk in no time. The Gramovox Floating Record Player takes a very different approach to record playback, standing the disc up vertically.
That makes it stylish and saves a little space. It can play records on its own with the built in speakers, or be plugged into a stereo system for higher quality sound.
Denon/Marantz/Heos multiroom audio
But if digital music rather than vinyl is his thing, how about wireless network based multiroom audio? Since famed brands Denon and Marantz share the same parent company as the Heos multiroom brand, there are lots of choices for high end sound being sent throughout the home.
And he can play with it in very satisfying ways: set up groups of rooms with the same music, while having other rooms receive their own individual feeds. Oh, it does work with vinyl too. Any music source plugged into any part of the system can have its sound piped to any of the other speakers.
Bose Lifestyle 650 – $6999
There's a good chance he likes his home theatre big. Big picture and big sound. And big sound means big speakers. Or so he thinks.
Bose has been providing big sound from little speakers for twenty years or more, and the latest does it even better. The Bose Lifestyle 650 provides full 5.1 channel sound from five tiny little speakers – they're called "OmniJewels", with the deeper tones being handled by a compact subwoofer which can be hidden discreetly away. That leaves more floor space free and allows far more attractive home styling.
Samsung UA88KS9800W SUHD TV — $29,999
That's not a TV. This – the Samsung UA88KS9800W – is a TV.
Now some might regard giving one's man a $29,999 TV for Xmas as somewhat of an extravagance. But I can assure you, this man doesn't, and there's a fair change your man won't.
Especially for a TV like this. Ultra High Definition of course, using Samsung's excellent SUHD panel technology. You get a screen as big as that produced by a home projector – 223.7 centimetres! – but one that makes a bright, watchable picture without you having to switch off the room lights. And it's curved!
Kaiser Baas R30 WiFi Car DVR – $269.95
Did you know there's a Facebook page for DashCamOwnersAustralia? It's full of video recordings of unfortunate vehicular encounters, many kind of funny, some terrifying. (A lot of the language is not safe for work for obvious reasons.)
Having a dashcam can save him from a heap of legal trouble in the event that his car has one of those encounters. And the Kaiser Baas R30 WiFi Car DVR not only records what's going on in high definition, but can show you on a map where it all happened.
Astell & Kern AK70 portable music player – $999
Yes, yes, yes, he already has a phone on which he can listen to music. Perhaps he already has an iPod too. But for real portable audio quality, at a surprisingly reasonable price*, the Astell & Kern AK70 provides perfect high fidelity, machined aluminium construction, practical design and plenty of space.
Because it supports all manner of high definition audio it needs lots of space. A microSD card slot can accommodate up to 128GB. And with WiFi you can fill it up with music wirelessly.
* (Astell & Kern players can go up to north of $5000)
DeLonghi Avvolta electric kettle – $199
Look, clearly this is a vitally important gift. Without a first class electric kettle, it's hard work for him to make you your morning cup of tea. With the Avvolta, he'll bound out of bed each morning, keen to do his duty.
And since you're the one buying, you get to choose whether you want it in red, white or black.