Yamaha's new HPH-W300 headphones provide the convenience of Bluetooth, and the quality of AAC, aptX, and a true high fidelity wired connection.
Features
We all know that Yamaha is a company very much focused on music. It's not a tech company turned to musical components. Its symbol is, famously, three crossed tuning forks. It knows a bit about audio reproduction.
And, indeed, the first high fidelity headphones I ever purchased, several decades ago, were the highly regarded Yamaha Orthodynamic YH1 headphones.
Why this preamble? Well, the way I see it, the Yamaha HPH-W300 headphones are more than Bluetooth headphones. Many Bluetooth headphones have a socket so you can plug them into an analogue source, should the battery run flat. The sense I have from the HPH-W300 headphones is that these are chiefly high resolution, high fidelity headphones that also offer Bluetooth functionality.
But that Bluetooth functionality isn't a mere afterthought. In keeping with its high fidelity aims, it doesn't rely on the SBC codec required by Bluetooth Advanced Audio Distribution Profile – A2DP – used for stereo music. These Yamaha headphones also pack support for the AAC codec, which provides higher quality from Apple devices. And they include support for the aptX codec, which provides higher quality from many higher quality Android phones.
Does your phone support one of these? Any iPhone or iPad will support AAC. Check this page on the aptX site to see if your phone will take advantage of aptX. In this test I used an iPhone 8 and a Google Pixel 2 XL, so I was able to listen using both codecs.
The headphones use 40mm drivers and have a "closed" over ear design. That means you tuck your ears inside the cushions, and the closed backs tend to keep outside sounds outside. That provides some measure of passive noise reduction, but there is no active noise reduction.
The built in amplifier can produce up to 2.5mW of power. Remember, Yamaha is an audio company of long standing, and its practice to fully specify its products. I don't think I've ever before seen power output specifications for Bluetooth earphones.
Anyway, that tells us something useful because Yamaha also specifies the "sensitivity" of the headphones at 107dB for 1mW of input. That means with 2.5mW the headphones should deliver up to 110dB. Which means that they'll go ear-blastingly loud when in Bluetooth mode, and even louder when plugged into the headphone output on any device. Even my wimpy old Toshiba notebook could produce more than 10mW (ie. produce 117dB) into the 32 ohm load presented by these headphones.
The 3.5mm input on the left earpiece automatically switches off the built in amplifier and Bluetooth when a plug is inserted. The Bluetooth control stuff is on the right. There's a pairing button and an on/off switch. All regular control is via the flat surface on the right earpiece. You slide your finger in a circular motion on it to increase the volume, and the other way to reduce it. You slide forward to jump a track, backwards to go to the previous track, tap to play or pause or answer a call, tap and hold for moment to reject a call, and tap and hold to invoke Siri or Google Assistant.
Charging is via Micro-B USB (please, let's all go USB Type-C and complete the transition!) A short charge cable is included along with a 3.5mm to 3.5mm cable for analogue connection, and a cloth bag. A 3.5mm to 6.5mm plug adaptor is not included.
They are handsome in a black and stainless steel finish. They are rated to run up to 24 hours on one charge, and last for 480 hours in standby.
Practicalities
The specifications say that they need three hours to be charged, but the charge indicator light went off after something less than ninety minutes when I charged them the first time, so I guess that there was already significant charge in the battery.
Pairing was swift through the regular Bluetooth menus on Android and iOS.
The headphones don't make voice announcements to let you know what's going on. It's all by the relatively old-fashioned method of flashing lights and audible beeps. So there's no battery level announcement. If you're using an Android phone, you can duck over to the Bluetooth connections in Settings and a line under the Yamaha identifier will show you battery status. This doesn't seem to be provided on iPhones, so you'll be taking more of a guess there. Probably best just to keep the battery topped up.
I went looking through the manual to find out how to most easily switch from a connection with one paired phone to another. You see, I'd paired it with both the Google Pixel 2 and the iPhone 8. I wanted to use the former to access high resolution music from my network server, and the latter for listening to podcasts, and switch easily between them. Rather to my surprise, it turns out that you do this by connecting to both devices at once.
Let's be clear on terminology here. In Bluetooth world, two devices are "paired" when they've first been connected once, conducted their initial handshake, identified each other and remembered each other's details. Once the connection is broken all that information is retained, and they can very easily and quickly reconnect. Indeed, in most cases when you switch on headphones or earphones, they'll automatically reconnect to the paired phone if it's available.
A connection is the next step up. Not only do they devices know about each other, they are actually connected and ready to stream (or are actually already streaming) music.
These headphones can be paired with up to eight different devices, in theory making it easy to jump from one source device to another. But the only two ways to end a connection with one device is to switch off the headphones or end it at the phone's end by switching off Bluetooth or breaking the connection in its Bluetooth menu. If you switch off the headphones, then when you switch them on again they're going to reconnect to the last connected device if its available, so that doesn't help you switch to a different device.
But the manual says – in a mere footnote to a main point – that "The headphones can establish a Bluetooth connection with two devices simultaneously." Furthermore, if you start one playing, that's the one that you hear sound from. And if you pause that one, you can start the other playing and you'll hear that one. No switching required.
I had a good play with this. It turned out that with both the Google Pixel 2 and the iPhone 8 connected, starting music on the iPhone 8 usurped whatever was playing from the Pixel 2, and it started playing instead. That didn't work the other way around. To play the Pixel 2 again I had to pause the iPhone's music, whether on the phone itself or by tapping the right earpiece of the headphones, then start the Pixel 2 playing.
So while you can pair with eight devices, in practice you're going to want to go for two and then enjoy very simple switching between them.
In Use
The sound quality was simply excellent all round. This would seem to be due to the use of high fidelity drivers and fine design rather than any electronic trickery, because the quality was very similar whether used via Bluetooth or wired. I'd love to say that they sounded better, at least in part, because of the aptX and AAC codecs but the differences weren't obvious on that front. The best thing about that support is that you know you're getting about the best signal you can.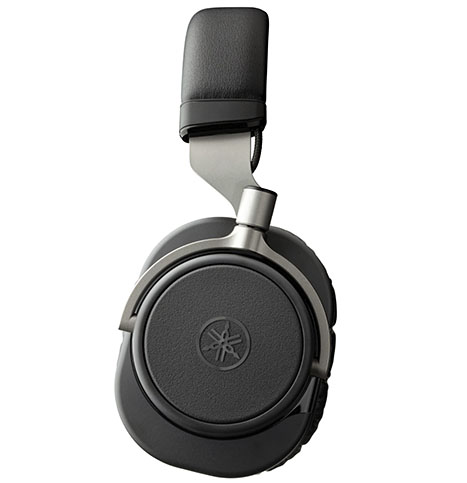 For my critical listening, though, I went for the cable and used a new portable DAC from FiiO plugged into my Surface Pro 4. Oh wow! The music was glorious, dynamic, with extended and beautifully controlled bass. In particular some jazz works lusciously recorded by Kent Poon in Direct Stream Digital format – delivered at double-speed DSD128 – where simply breathtaking. These headphones were wonderfully transparent, transporting me to the recording studio.
The tonal balance was just about perfect, avoiding the aggressive top end of much headwear, yet while retaining superb detail. The bass was extended, and also perfectly in balance.
As I said, the essential character of the sound was preserved with tracks delivered from both the iPhone and Pixel 2 to the headphones. No special DSP is built into these headphones' amplifiers, is my guess. Whether wired or wireless they were happy to go thunderously loud while remaining clean. The touch volume control sometime exhibited a hesitation before there was a response. In both cases its effect was to change the volume control of the phone, rather than act on top of the source device's control.
Yamaha has packed some first class Bluetooth circuitry into these headphones. I could wander a good forty metres away from the iPhone 8 with no breakups, regardless of orientation. And another fifteen or so, as long as my head was pointed the right way.
Conclusion
Want noise cancelling headphones? Look elsewhere. But if you want high quality wired and Bluetooth sound at a very reasonable price, you really should audition the Yamaha HPH-W300 headphones.
Excellent sound quality, AAC and aptX codecs for Bluetooth, great value for money
Uses Micro-B USB socket for charge connection