Yeti is a big furry mythical, powerful creature – it is also the name of a big cylindrical USB microphone that bears a striking resemblance.
Its maker Blue has a reputation for designing the world's best USB connected microphones, and Yeti is gaining a real following with podcasters, journalists and business, the latter if only to record meetings around the boardroom table.
It is USB powered meaning you plug it into a Windows or macOS device and use whatever sound recording software you want – there are plenty of free apps in the Windows and macOS stores offering all sorts of sound editing tools, indexing methods and enhancements.
One of the best free programs is Audacity for Windows, macOS and Linux. It is a digital audio editor, recorder, and mixer. It is a sophisticated software application that comes with an extensive list of features such as:
recording (from a microphone or mixer)
import/export of WAV, AIFF, AU, FLAC, MP3 (via LAME encoder) Ogg Vorbis files
advanced editing (cut, copy, paste, delete commands with unlimited "Undo" and "Redo," multitrack mixing)
digital effects (change the pitch, remove background noises, alter frequencies, remove vocals, create voice-overs for podcasts, etc.) and plug-ins (support for LADSPA, Nyquist, VST Audio Unit, including VAMP analysis plug-ins).
If you want to do even more then consider Adobe's Audition pro software. The more you pay, the more features you get.
And with the right adaptor (mini-USB to USB-A to USB-C and preferably with power charging pass through) and recording software, you can use it on a USB-C or Thunderbolt tablet (not tested on a smartphone).
Out of the Box – Blue Yeti USB microphone
The Yeti
USB-A to mini-USB cable
Documentation
It is a heavy little Yeti – made of metal. With the stand it is 1.55kg and stands 12 x 12.5 x 29.5cm (tall). It is a desk or screw mount – not something to slip in your pocket.
It looks like a traditional microphone from the 60s – almost cylindrical, mesh head, big knurled screws on the stand – love it.
Note that there are different colours and a Studio and Pro edition at extra cost.

Setup is simple
Fit the Yeti into its desk stand or use the standard 5/8" microphone screw mount thread on its underside.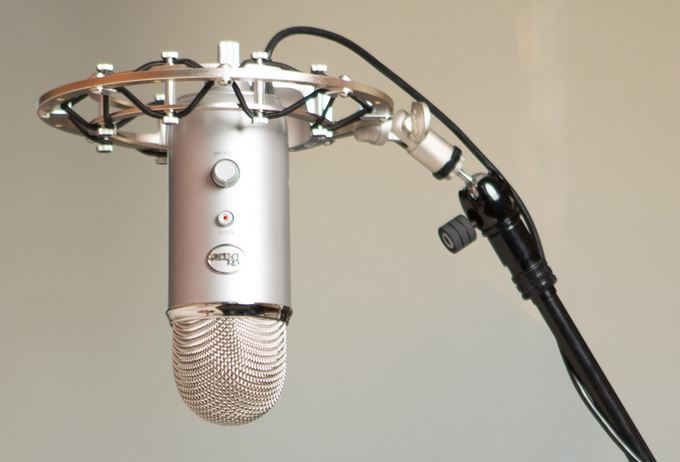 Plug it into a USB-A port, and macOS or Windows (tested) finds it and installs it as a Yeti Microphone and speakers (it has a pre-amp for headphone connection).
The Yeti secrets
It has three Blue-proprietary 14mm condenser capsules that will record
Cardioid – one direction recording – say a podcast or voice over
Bidirectional – two directions recording interviews – you and someone opposite
Omnidirectional – all directions – boardroom meetings
Stereo – left and right
The second secret is that while the microphone is analogue, a high-quality Analogue to Digital converter feeds a digital signal via the USB port to the computer. Digital signals are easily manipulated by recording software.
The final secret is that it has no finicky digital controls – you can manipulate gain and recording patterns from the mic. It has is a no latency, real-time headphone jack and volume control for that.
How good is the recording?
All tests were using Audacity on a Microsoft Surface Book i7 device with the mic set to 50% gain.
Yeti records 16-bit, 48kHz sound over the 20-20,000kHz human hearing spectrum. It can handle up to 120dB SPL (sound pressure level) – the threshold of pain or thunder.
OK, it is not pro-studio sound but for YouTube, podcasters, budding musicians, boardrooms, and more – it delivers top drawer results. The sound is clean and crisp – there is no colouration at all.
As for the pattern you use – it depends on your use. They are all effective with sound sources up to 20 metres (or more) from the microphone.
What I found extra handy was the no-lag headphone socket that allowed me to hear precisely what I was recording. When using wired headphones to monitor I picked up possibly its only Achilles heel. There can be too much surrounding noise, especially outdoors including wind. It is really meant for indoor use.
For general use, I would recommend only 25% gain as it does pick up every noise!
GadgetGuy's take
We announced the Blue Yeti and have been itching to get our hands on a review unit. After all GadgetGuy knows sound!
At A$208 for a microphone, it is not cheap, but it is so good that quality will be remembered long after price is forgotten.
It is for amateurs and prosumers – pro musos need not apply.
Pros
Records excellent audio in four user selectable patterns
Works in very large rooms like boardrooms
Very clear, detailed, unadulterated sound
Incredibly easy to use – plug and play
If you use an app like Audacity, you will need to learn that
Very well made and durable
Suits all amateur use including garage bands and vocalists
Beats the hell out of webcam and other computer mics
Cons
Fairly large – not a pocket mic
Uses older style mini-USB connector
If you are using it, close-up consider a POP filter or outside a wind filter
Rating
Overall: 5 out of 5
Features: 5 out of 5 – does what it promises in four directions
Value for Money: 5 out of 5 – really good price for the quality
Performance: 5 out of 5 – Captured clear voice up to 20m
Ease of Use: 5 out of 5 – Very easy to set up
Design: 5 out of 5 – very distinctive Yeti-like
Amazing four-in-one USB microphone