Finding food and new places to eat at is sometimes what's on the menu for many of us, but if you tire of trying to find a new place to dine simply by wandering into town and hoping you run across it, an app is on the way to help out.
This week, an app is kicking into gear in Australia aimed at offering a more complete understanding of Australian food eateries that aims to not just offer reviews by people like you, but even allow restaurants a chance to talk back to the customers.
It's called "Zomato", and it comes from the bones of what was previously known as Urbanspoon, as Zomato has apparently taken over from Urbanspoon after the former bought the latter earlier in the year.
We remember Urbanspoon, actually, and before apps were a huge deal, we can remember the Urbanspoon Spinner, a neato little way of finding restaurants using tastes, price, and luck. That was some time ago, and Zomato is looking to be a little more than a random dinner finder, grabbing reviews, curated content, and scanned menus and photos to give you an idea of what food each place offers.
In fact, depending on where you find yourself dining, you may even find the app starts to help you track where you're eating, offering your "food journey" in a chronological fashion, allowing you to check in and share little reviews to help you contribute to help others work out where they should be eating.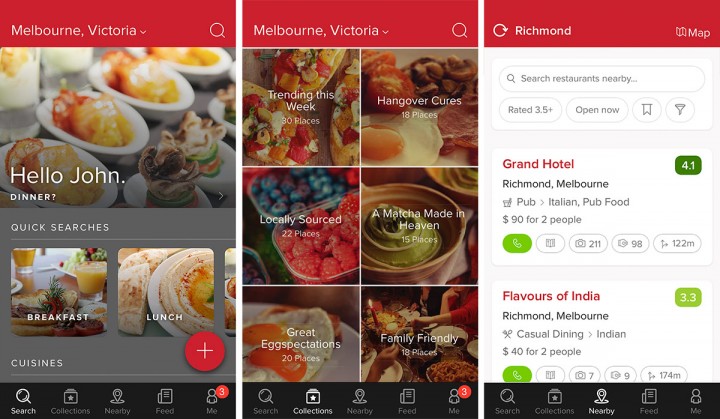 "Bringing Zomato to Australia is an exciting and important step for our young company," said Deepinder Goyal, Founder of Zomato.
"Not only does Australia play host to some of the best restaurants in the world, but it is also home to a nation of adventurous, discerning and engaged diners, making it a global trendsetter when it comes to dining out."
More than the assortment of reviews that the app and website will rely on, Zomato wants to connect restaurant managers and owners with regular people using the service, which could include special offers and menus, and may even include ordering via the app itself.
"Zomato offers an on-hand approach in ensuring our restaurant is presented to the end user in the most informative and accurate way possible," said Joseph Ancora, Marketing Manager at the Melbourne restaurant Locanda, which is currently using Zomato to talk to its customers.
Both the app and website should be live now, with the extra features rolling out later on.