While 4 megapixels will be more than enough for quite a few people, 4 megapixels is still technically just a 4×6 postcard, and barely that. You can get an A4 image out of one, but it won't be particularly pretty.
But you can always move past the printer argument and say "nobody prints anymore" (which isn't totally true), commenting instead that for online use, four megapixels is totally fine, and that's true, at least until you start to play with Instagram, which so many people do.
Instagram, as an example, crops any image to a square, and that'll mean taking the 4 megapixel shot from the HTC One and bringing it closer to one that's 2 megapixels. With that sort of size drop, that's not a lot of room to move, and means that if you decide to crop a little closer for Instagram, you'll find dottier details, rather than better image quality.
It also doesn't help that we heard the 4 megapixel logic from HTC last year, and this year, we're getting more of the same.
Even if this year's technology is capable of more detail and stronger images (which is probably debatable), HTC should have boosted the Ultrapixel size to something a little more substantial as, sadly, four megapixels doesn't really cut it anymore.
Especially not when 5, 8, and 11 is the bare minimum you get from manufacturers these days.
Hell, the front facing camera on the HTC One has more megapixels to work with, and while the sensor is better around the back, it's rather peculiar that HTC has made the selfie camera support larger photos, even if they're only marginally bigger.
Other things like HTC's special effects will also seem cool at first, but are mostly a gimmick, and one you're not likely to use over the course of a year of owning the phone, let alone the two most Australian contracts run for.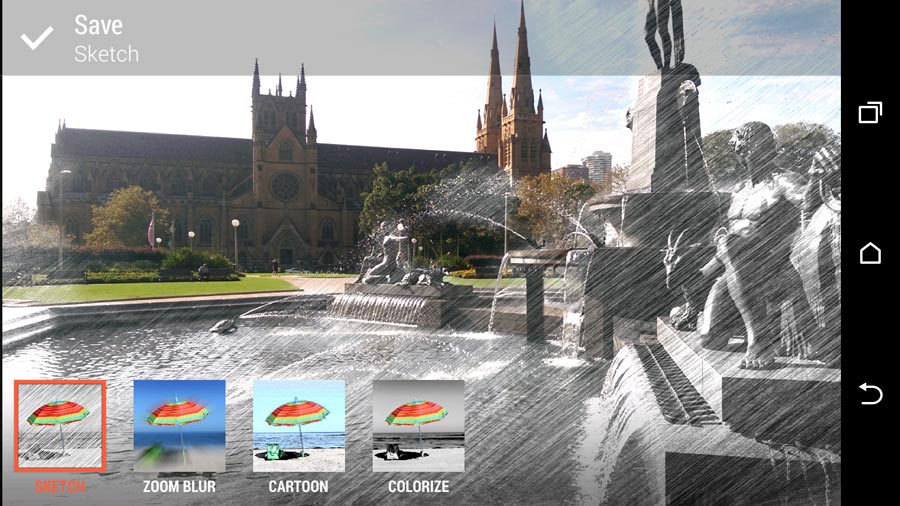 We like the idea of being able to make our backgrounds look hand drawn, and add snowflakes or flower petals falling in the distance, and even create the illusion of a true 3D image and perspective, but we probably wouldn't use the effects beyond the review, and there are some instances where you can't.
For instance, if you've taken a photo up close and HTC's macro mode has kicked into gear, these options are greyed out and you can't use them. HTC doesn't warn you about this, and you generally only find out after you take the photo and try to process them using HTC's options, only to find that sorry, you can't do this.
Some of the effects don't even work particularly well, and while the depth-based effects of separating the foreground from the background can lead to some artistic interpretations of what you saw, it's not a great example of picking the person from the background because the edges are almost always fuzzy and include part of the background regardless of what you do.
There's also no 4K support on the video camera, which is something almost every other major smartphone will release will have, but one HTC has skipped on.
Our only other complaint is with the finish, and while HTC has built one of the sexiest and prettiest smartphones with a 90 percent metal body made from aluminium, it can be a wee bit slippery.
The finish is one of brushed aluminium in the one gunmetal grey variety Australia will be receiving, and while it's gorgeous — seriously, it's simply spectacular — it can fall out of your hands easily, even more so than the matte black HTC One from 2013.
Obviously, the simple answer for this is to get a case, but you shouldn't have to, so if you don't want a case, make sure to remember to grip the phone tightly.
Conclusion
There's no doubting it: HTC's new One is one of the best phones we've ever seen, and a real contender for phone of the year.
From the excellent internals, upgradeability, speedy performance, and impressive build quality, the HTC One M8 is superb in so many ways, and outside of the phablet owners used to bigger screens and two or three day battery life, this will be a device that few will want to own.
Unfortunately, it also feels like the perfection of last year's phone, rather than a totally new product for the company.
For many, this will be ideal, as last year's HTC wasn't just a brilliant phone, but one of HTC's best products ever, and perfecting that can only be a good thing. For others keen on more megapixels and something totally new, someone else will have something for you shortly.
Editor's note: We didn't include this in the piece because it didn't feel as if any of the sections warranted it, but we have one other concern for the HTC One in 2014, and that comes from upgrades.
It's totally normal for Google to release patches and updates for its devices, and HTC — which uses and relies on the Google Android ecosystem operating system — will still be issuing new releases for these phones.
That said, in the 2013 edition of the One, the updates haven't always made the phone better. We haven't just heard it from owners of the HTC One, nor have we solely read it online from user complaints, but have even experienced it ourselves in the 2013 One, and after one of the updates — presumably to Android 4.2 — the camera stopped working properly, as its low light support practically went out the window and purple vignetting popped up everywhere.
This effect isn't really an effect, and is closer to a glitch, one that seems to result from a camera that appears to be overheating, but HTC has previously said this would be fixed in subsequent updates. Unfortunately, in the latest update (4.4), those people with a purple camera in their HTC One are still suffering from it.
And here's our concern: the HTC One 2014 (M8) currently has a very capable camera, but given that HTC may have accidentally broken the cameras in the 2013 edition of the One smartphone and hasn't yet recalled them, we are a wee bit concerned that the 2014 version of the One may get stuck with the same, if not a similar issue.
We're sure people who own last year's One are probably in the same boat, and are wondering if and when HTC will be rectifying their problem — because they didn't get the phone with the purple camera problem — but otherwise, here's hoping our concerns aren't warranted.
One of the best built phones you'll feel; Excellent system performance; Solid mobile speeds; Expandable memory (yay!); Camera that works very well in low light; Front-facing camera is 5 megapixels; Clear Full HD screen; Remote control support is still here; Day-strong battery life; BoomSound stereo speakers are still the best speakers on a phone;
Rear camera is still technically only 4 megapixels; Most camera features won't be used by people; Extra features won't even work in macro mode; No 4K video camera support; Slippery;