Tablets may well be taking over the computer space, but there are plenty of people out there who prefer a laptop, they just want them thinner and lighter. Fortunately, companies like Lenovo are listening, and have found a balance with the Yoga 3 Pro.
Features
Lenovo's latest computer is here, and if you need a new machine and like them slim and light, this could well be the laptop you're looking for.
This machine relies on a 13 inch form-factor and takes advantage of a 13.3 inch display, relying on the same 3200×1800 QHD resolution used by the Yoga 2 Pro, which is higher than the Full HD displays many laptops use, and much higher than the 1366×768 HD resolution you still see on 11-15 inch laptops.
The display type is In-Plane Switching (IPS), suggesting good viewing angles, and a touch panel has also been integrated making it into a tablet, also.
Working with this screen is a bunch of innards designed to make the Yoga 3 Pro a fast and stable Ultrabook.
As such, you'll find an Intel Core M-5Y70 processor, a part of Intel's fifth-generation of processors also known as "Broadwell."
Memory for these machines comes in at 8GB RAM, while the hard drive options are solid-state only, with either 256GB or 512GB options.
Graphics are handled by Intel's chipsets, with Intel HD5300 relied upon in this area.
Wireless technologies are also included, and you'll find 802.11ac across the range, as well as Bluetooth 4.0, while wired ports cater for connections over USB 2.0 and USB 3.0, microHDMI, and an SD card reader.
Microsoft's Windows 8.1 comes preloaded on the Yoga 3 Pro ready to be used out of the box, with some custom Lenovo software also preinstalled.
GadgetGuy's review unit was the base model, with 8GB RAM, 256GB solid-state storage, and an Intel Core M-5Y70 processor.
Performance
We're used to Lenovo building brilliant products, and have seen some great ideas come out of its R&D labs, many of which have resulted in top products, and recently, Lenovo told us another was coming.
It was to be called the Yoga 3 Pro, and it's the third (obviously) in Lenovo's Yoga laptop range, delivering Intel innards, solid-state storage, Ultrabook size and weight, and a design that makes it not just a laptop, but also a tablet and a video entertainment system.
Those form-factors can occur because of Lenovo's tendency to rely on hinges that allow the screen to be held not just at the perpendicular 90 degree angle, but at other angles, including flat, and rotated all the way around the keyboard, turning the laptop into a tablet, albeit a big one.
That makes the Yoga 3 Pro more than just a laptop, with lots of options for using the computer, whether it's work, entertainment, or casual use.
Most people will likely grab the Yoga 3 Pro for work, and when you see the machine, it's easy to see why: the outside may well be eye catching in metallic silver paint, but the inside is all business, with a dimpled black rubber, providing a soft surface for your wrists to lean on when you're writing or typing.
The bulk of the inside of the laptop is black, too, with dark orange (bordering on red) accents for the "Fn" function keys, and the line denoting where the left and right click of the trackpad is.
It's a fairly minimalistic affair, and very typical of Lenovo, which has long maintained a professional sense of design, something you can see in the numerous ThinkPad machines we've seen before.
Both open and closed, the Lenovo Yoga 3 Pro is also very minimalist on weight, tipping the scales just barely at 1.19 kilograms, and barely noticeable at that. Closed, the thickness measures at 12.8mm which isn't much at all, and makes you wonder why more computers aren't this thin.
Also in the corner of your eye, you'll see a colour that isn't quite the same colour as everything else: shiny silver, like that of a metal watch.
This silver element pops up at the hinge, and is one of the key features in the Yoga 3 Pro, as it is this element that was designed all the way Yamato Lab in Japan, the original place where IBM's ThinkPads were developed, before Lenovo took over from IBM.
The hinge is special because unlike the hinge on the Yoga 2 Pro — which could do similar things in how it moved the screen section — it is made to emulate a watch band, with several layers of interlocking parts that allow the hinge to be thinner, in turn making the laptop thinner altogether.
A special slimmer hinge means a special slimmer laptop, who knew?
It's quite an impressive hinge, too, with a design that really catches the attention of anyone looking at it, while looking so much more durable than other laptop hinges, spreading across the length of the laptop rather than pinning the screen and keyboard section in two or three places.
Once you get past the hinge, it's time to check out the computer, powering the system on using the power button found on the right side of the computer, which will get the machine to spring to life very quickly.
Under the hood, Lenovo has been lucky enough to score the first uses of Intel's Broadwell chips, also known as the fifth-generation Core processors, and for the most part, it's good.
General use of the computer is relatively quick, with typical office and writing applications working efficiently as you jump from app to app, and the touchscreen and combination of decent specs helps to make Windows 8 truly usable on this machine.
There were some performance issues here and there, noted as we scrolled through webpages, but these could be bugs with the browser, and could therefore be ironed out shortly.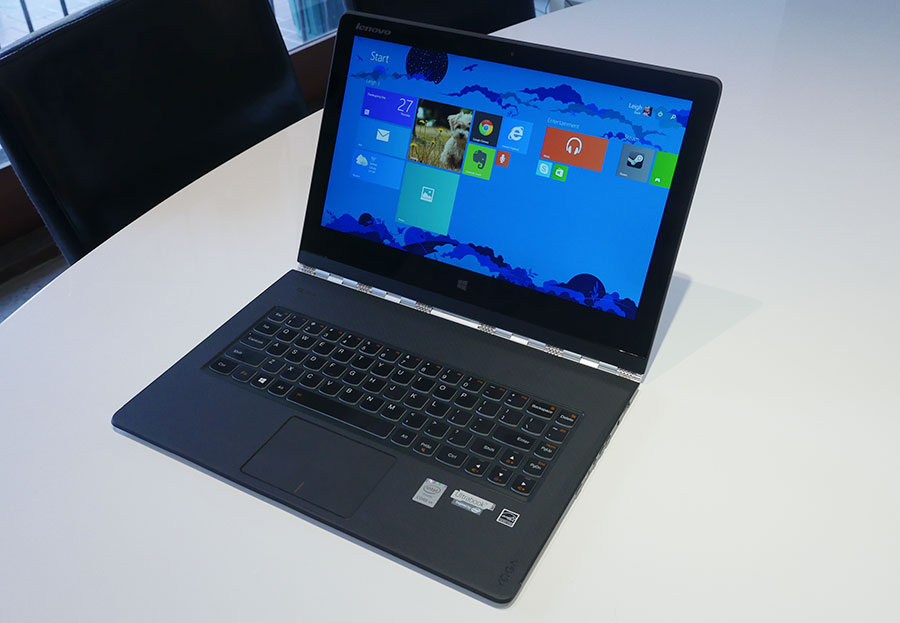 Like other Ultrabooks, you can't expect to get gaming or heavy photo and video editing accomplished here, but if you need to do a spot here and there, Intel's processor will accommodate your needs.
It's also good to note that with the introduction of Broadwell, computer makers are close to producing laptops that lack moving parts completely, making for a better turn with battery life and a lack of sound, with no fan to spin up when the system is getting too hot.
We understand the Lenovo Yoga 3 Pro may have a fan inside, but we didn't hear it go off all that often, making it a fairly quiet machine.
The 13.3 inch display also does its best not to show pixels, too, displaying a pixel clarity of 221 pixels per inch, just six pixels shy of Apple's Retina display used on the MacBook Pro 13, and it looks fantastic all the same.
Angles on this screen are excellent, with a vibrancy and crispness from pretty much any angle, which is especially helpful because of the various multi-modes Lenovo includes in the Yoga 3 Pro.
Let's talk about those modes, though, because they're things Lenovo thinks people will use.